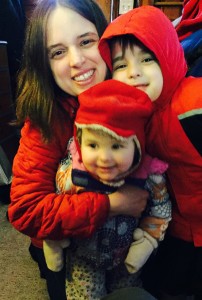 Hello readers!
My blogging has not been consistent lately. A lot of exciting things have been going on in my life. I have been working at a new job (which I enjoy much more than fast food), spending more time in my "real life" communities, and preparing to go to seminary in the fall!
Applying to seminary, attending scholarship interviews, and getting all of my books together has been a long process for me, as someone with an anxiety disorder that makes even small tasks seem impossible. Thankfully though, I have not been alone in this process. I've had the support of many friends, both online and in-person.
One such friend is Heather, who I attend church with. We began applying to seminaries at the same time, and even attended a scholarship interview together. I have chosen to attend Methodist Theological Seminary in Ohio, and Heather has decided that Asbury is the place for her.
I am thankful for my friend Heather's companionship when it came to going to my scholarship interview (which was a very big step for both of us!). I'd like to return that favor by asking you all to join me in helping her on her seminary journey.
Heather is a single mother of two great kids. She is a compassionate person who is dedicated to working for justice, both for humans and for animals. She has a great passion for caring for God's creation and treating animals with kindness. I know she will be a great addition to the United Methodist church.
Read more about her story here, and about her specific needs for her journey. If you can afford it, consider donating something to her at her GoFundMe page.
I've asked Heather if she'd like to share some of her own words here, and she has given me permission to share with you part of her admissions essay to Asbury:
---
My Life and Faith Story; Why I Am Applying To Seminary
I was raised in The United Methodist Church and participated in all the normal church activities, such as Sunday school, volunteering, retreats, and confirmation. Although I enjoyed church activities, I participated mostly because it was expected of me; it was not something that I chose for myself. Then, when I went to high school, I became involved with Young Life, an organization dedicated to sharing the gospel with students. It was at this point that I started thinking about God more seriously and decided that I wanted to have a relationship with Jesus. In college, I worked for a summer as a camp counselor at Widewater Retreat and Ministry Center, a United Methodist camp. I was responsible for leading a group of five or six campers each week, and I loved the whole experience.
I had some struggles with my faith over the years, however. I wondered how I could know for sure that God was real, especially in this multicultural world where there are so many other belief systems competing with each other. Eventually, I left the church I had grown up in, and spent the next few years exploring other options, such as Unitarian Universalism. Ultimately, they all left me unfulfilled and empty. I now believe that God allowed me to explore outside of the church so that He could lead me back and so that I could realize that Jesus is absolutely vital to fully understanding God's love and how he wants us to live.
I eventually found a home at The University Church, mostly due to the willingness of Rev. Dr. Julian Davies to discuss and answer my seemingly never-ending list of theological questions. I am involved in Bible study, planning community meals, serving on the leadership team and also with the praise band, the last of which shows how far I have stepped outside of my comfort zone. I am so hungry to keep learning more about God and growing in faith, and my biggest passion is to show people how much God loves them and to help bring the Kingdom of God to earth. The results of a spiritual gifts assessment showed that my top three gifts are teaching, compassion, and shepherding. My mentors in the candidacy certification process have told me that I can communicate on a level that they cannot, because I can relate to unbelievers and the questions they ask. I feel that God is calling me to fulfill my passion for spreading the gospel by becoming an elder, and so I am applying to seminary.
While at seminary, I hope to grow in my knowledge of the Bible and the culture in which it was written, learning how to apply its message today. I am excited that Asbury Theological Seminary's M.Div. program requires the reading of the entire Bible. I also hope to grow in my faith and trust in the Holy Spirit's leading and to continue stepping outside of my comfort zone in response.
Why I Chose This Area of Study and Ministry
I have a strong desire to keep asking questions and to learn more. The subjects of study in the M.Div. program are fascinating to me. I would love to learn more about the languages in which the Bible was written, the culture, signs, and symbols of Biblical times, as well as church history and the ways in which the Holy Spirit has moved in his people throughout the past two thousand years. I hope to then apply all of this information and experience to my calling in ministry. I think my M.Div. degree will help me better communicate who God is and how we can initiate the Kingdom of God here on earth. I also want to help other people like me who struggle with doubts and questions. I feel that my seminary education will prepare me to effectively spread the gospel message.
My life has been transformed by God through my involvement at The University Church, and I would love to cultivate another community like it, one that takes the gospel message seriously and reaches out to the poor and marginalized.
I have experienced the unconditional love of God, and through that experience, I found my voice.
I received the guidance and instruction I needed from Rev. Dr. Davies and countless other church members. I have a joy inside of me now that I want to share with others. As Christians, we need to be an example of the radical love of Jesus.
Lastly, with many churches in the Western world in decline, it is more important than ever that we start taking seriously our need to find creative ways of doing ministry in the worId today. Many people do not understand why the church is still relevant today. We need to find new ways to reach out to those outside the church and invite them to come in.
I want to be a part of the solution and to not be satisfied to stick with the safe and comfortable status quo. It seems that many, perhaps the majority, of Christians do not like change. Part of the role of the pastor is to be able to motivate people to get out of their comfort zones and make a difference. I hope to be that kind of leader.