Review of Mission: Impossible – Rogue Nation, Directed by Christopher McQuarrie
The Mission: Impossible franchise has made it to its fifth installment. The IMF is disbanded and assimilated into the CIA, leaving Ethan Hunt (Tom Cruise) on his own as he tries to dismantle the Syndicate—a transnational terrorist organization intent on beating the IMF at its own game, but for the bad guys. Curveball after curveball, mysterious twist after mysterious twist, and yet Ethan finds a way to survive, beaten and battered, and complete the mission at hand. Rogue Nation exemplifies why we keep on coming back. The missions are impossible and yet we see these very human agents attempt to accomplish them. Balancing these two facets is the heart of its entertainment value.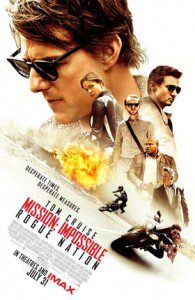 Through it all, Ethan is chasing the mastermind behind the Syndicate—a creep bespectacled man named Solomon Lane (Sean Harris) with an oddly high-pitched voice and ambiguous accent. Lane is always one step ahead of Hunt. Unfortunately, the villain's odd demeanor made it difficult to take him seriously. Rather than being sinister, his monologues are more likely to draw stifled laughter.
Whereas Lane is Ethan's nemesis, the femme fatale of the movie is Ilsa Faust (Rebecca Ferguson) saves Ethan more than once yet also has her own agenda. She is complicated and lethal, making her perhaps the most interesting character in the film. Unfortunately, those who want more character development in their entertainment will have to look elsewhere. All the characters in Rogue Nation, like Ilsa, have the potential to capture the imagination, but we are left with a fun action flick that acts as a stand-alone story rather than build on the solid foundation it could have in the prior four franchise installments.
Rogue Nation unfolds almost in a sequence of acts, each with its own distinct backdrop, required skillsets, and unexpected challenges. We travel with Ethan from an idyllic night in London to an opera house in Vienna (where Turandot is performed with Chinese costumes for some unexplained reason, other than the fact that Alibaba helped produce the movie), from the cobblestone streets of Casablanca to a power plant in a nondescript location, and back to where it all began, in London. Ethan must escape imprisonment, save dignitaries, break into highly-secure vaults, perform incredible stunts underwater, and of course the classic "impersonate-someone-by-wearing-a-mask" routine. The crazy Tom Cruise on hanging off a plane stunt featured in the trailers is actually just part of the opening scene. And the unexpected challenges? Well, I will leave that untouched since why else do you go to an action movie?
So the bottom line: Rogue Nation may not deserve the 91% Rotten Tomatoes rating it currently has, but it is a great example of an action film done well, with unbelievable stunts that are made believable by the human element of its characters. Not to mention the aesthetics of the film are beautiful and the comedy well timed.