Review of The Intern, Directed by Nancy Meyers
It started to drag at the end, but otherwise I loved "The Intern." I didn't love it because it's a first-rate piece of cinema. Like MySpace and Napster and virtually everything you did on Twitter today, I suspect it will be forgotten pretty quickly. I loved it because it hit me right in the Millennial "feels." To quote one of its Buzzfeed-curated characters: "I'm kind of in love with it."
Yes, just like Polaroids and skinny ties, I'm kind of in love with this movie in that fleeting impulsive infatuation sort of way. "The Intern" keeps firing away at that omg-I-can-totes-relate sweet spot, stoking the hope that that Instagram-worthy life of accomplishment that always feels just a little out of reach might actually be attainable. When a movie does that, when it speaks into that timely moment that perfectly captures both one's individual life as well as the broader cultural whirlwind of the social age, you just have to enjoy it, tip your hat, and post that fresh tomato.
"The Intern" tells the story of 70-year-old retiree and widower Ben Whittaker (Robert De Niro). Ben has lived a full, happy life, but retirement has proved dull, empty, and lonely, so on a whim he applies for a senior intern program at a hip, startup fashion website founded by Jules Ostin (Anne Hathaway). You can probably imagine the hilarity that ensues from the age gap, a true cultural clash. Nearly all of the jokes are on point and made in good fun. Age is not sacred – during the interview process a startup employee played by Nat Wolff, who barely looks 20, asks Ben where he sees himself in 10 years.
Awk.
But youth is not sacred either. At one point Jules wonders how in one generation men went from Jack Nicolson to the three shabby guys standing in front of her. All of the young men in the film, in fact, struggle to find their footing in the world, such as when Ben gives a hapless coworker some tips about how to make up with a girl he likes (try talking to her instead of texting a million times).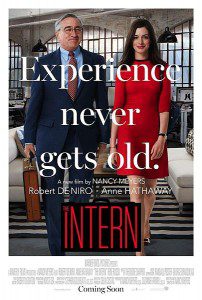 It's funny because it's both sad and true, but The Intern's appeal goes deeper than humor. It shows us that while the learning curve between old and young has grown steeper, it is not altogether insurmountable. It thus speaks to this deepening divide between age demographics with a lighthearted accuracy and healthy pinch of progressive idealism.
Put another way, the struggle is real, but you can indeed "Lean In" a la Sheryl Sandberg by creating something amazing and total you – and be happy doing it.
It all starts with De Niro, who literally shoulders the film (I mean literal in the not-literal way, of course). He plays the 70-year-old man we wish everyone his age was like. He realizes that he is out of touch. The world around him is pushing forward ever rapidly and he isn't too keen on trying to resist it like some old fogey. He has peacefully retired and grasps that his best years and the old days are past. The phone book factory into which he invested his career has been gutted and revamped as the HQ of Jules' company. But Ben isn't trying to belittle or begrudge the youth culture. He isn't trying to tell them how to live their lives. On the contrary he is quite affirming of the perceived progress society has made – impeccably so, in fact, in contrast to many of the potential CEOs that Jules interviews as potential leaders of the company. This leaves Ben free to stay busy and find purpose in helping however he can, whether it's a task as simple as picking up dry cleaning or as weighty as evaluating potential new revenue streams. His humility is – again – impeccable.
This might be a presumptuous claim for 25-year-old digital media manager like myself to make, but I think baby boomers could take a page or two from Ben's playbook. Don't despise the kids, meet them where they're at, because like or not the world is online, the Mark Zuckerberg-type is king, and there's no going back.
But at the same time guess what? You old folks still have something to offer – things like perspective and the peace and levelheadedness that comes from a life lived (emphasis on the past tense). As Jules comes to see, we need you seniors. Seriously, we do, because for all our snappy apps and trophies and Facebook friends, we millennial young guns are fragile, trembling wrecks on the inside, full of angst and insecurities. When we find ourselves breaking down in a hotel room the night before a meeting with a CEO, with fractured romances waiting for us after the flight home from San Francisco and our entire future hanging in the balance in this next big decision (or so it always seems at the time), who will be there for us? Who will have that steady shoulder to cry on?
Ben Whittaker, the guy who spent his life making phone books, that's who.