Review of Knight of Cups, Directed by Terrence Malick
"I think [Christian Bale is] really playing Everyman. We all get lost. …[Director Terrence Malick has] always found importance in people that are suffering, and I think that's part of the spiritual side of him. I think this film is very spiritual."—Jack Fisk, Production Designer, Knight of Cups, in conversation with Michael Sragow for Film Comment

"I sinned and perverted what was right, and it was not repaid to me. He has redeemed my soul from going down into the pit, and my life shall look upon the light."—Job 33:27 (ESV)

"Redeem my life. Justify it."—Knight of Cups
Knight of Cups, the latest movie from filmmaker Terrence Malick, has already unleashed a torrent of ink about Malick's late-in-life (he's 72 years old) burst of output. The film marks Malick's fourth feature since 2005 in a career that also has included a two-decades-long silence between Days of Heaven (1978) and The Thin Red Line (1998).
All four of Malick's films since the turn of the century—including To the Wonder and now Knight of Cups—were shot by cinematographer Emmanuel Lubezki and are driven (if the films can be considered to have any narrative drive whatsoever) by voice-over meditations about life's meaning and man's place in the universe. Viewers expecting more traditional narrative devices and some semblance of standard plotting have been baffled, or outright frustrated, by the filmmaker's more recent output.
Malick's late films do require patience. There's simply no one else making movies like the ones he makes, dealing with profound subjects—purpose, meaning, parents and God—in an identifiable style. But does that singularity make the films compelling? Audiences have been indifferent to these films, while critics have gone from wide acclaim for Tree of Life into a much more chilly reception for To the Wonder.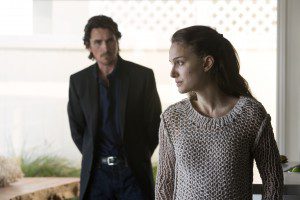 Such trends don't concern Malick, who has, with Knight of Cups, extended the trajectory toward character ruminations and internal monologues that characterized the bulk of To the Wonder. Cups sets a Hollywood writer's (Christian Bale) musings on his fractured family and quest for temporal pleasures against breathtaking imagery and stirring music. It shouldn't work, but the result, against all odds, is the apex (so far) of Malick's work with Lubezki—a marriage of form and content that gets inside one man's moral failures even as he realizes he's made for something more than earthly pleasures.
This is the story of a man who has slept through life, and is only now at the point of being awakened. The opening quote, from John Bunyan's The Pilgrim's Progress, establishes the metaphor: "As I walked through the wilderness of this world, I lighted on a certain place where was a den, and laid me down in that place to sleep; and as I slept, I dreamed a dream. I dreamed, and behold, I saw a man clothed with rags … and a great burden upon his back."
The pilgrim in Cups is Bale's character, Rick, who starkly lays out a realization in the first of many internal monologues given voice in Knight of Cups. "All these years, living the life of someone I didn't even know."
The film pulls back to show the aurora borealis from space—a God's-eye image of transcendence—and then zooms in on children playing in a back yard—an image of God's immanence. Rick is reminded of a story about a king from the east who sent his son to find a pearl, but who drank from a cup that made him forget what he was seeking in the first place. The prince fell into a deep sleep. While the son forgot his purpose, the king continued to send messages east. The prince, alas, slept on.
Malick sets this story against images of Rick's own "sleep"—parties and scenes of debauchery—as we hear more of the story. Knight of Cups is a two-hour meditation on Rick's lost state, his awakening to what he's lacking (there's an earthquake early in the film that shows Rick being awakened from sleep), and his halting efforts to recover a greater purpose in his life.
We see Rick's father (Brian Dennehy), who realizes Rick "can't figure [himself] out, can't put the pieces together," and Rick's troubled brother (Wes Bentley). Both men have been deeply affected by the earlier death of a third brother—possibly a suicide.
Though the film includes strong Christian influences, it also is influenced by other traditions. Malick divides the film into several sections, each given the title of a tarot card: the moon, the hanged man, the hermit, etc. What this says about Malick's view of the occult is difficult to pinpoint, but the tarot cards Rick consults are neither approved nor disapproved. They can be seen as the seeker's grasping attempts to find meaning in a world that hasn't clarified its purpose for him.
Additional theological musings, like one character's stated belief in the long-ago perfection of souls and the power of human beauty to evoke latent memories of such are also far from orthodox. But Malick is not giving viewers a sermon. Instead, he's pointing the way toward something more meaningful than a life of wealth, glitz and sex, without endorsing every utterance and image along the way.
But oh, those images! Lubezki's work is among the best of his accomplished career. Because the film is set mostly in Los Angeles among actors and creative types, the people themselves tend to be beautiful. That goes for Rick's several lovers in Knight of Cups, including Natalie Portman, Imogen Poots and Teresa Palmer, who plays a stripper.
The film doesn't shy away from Rick's dalliances with these and other women. We see him in bed with two women, and at a strip club. Nudity abounds, but always in the context of Rick's knowledge that worldly pleasures haven't, and won't, satisfy him. One scene of Rick chasing two women through his hotel room is preceded by his father's disdainful summation of Rick's character: "Womanizer!" Antonio Banderas shows up at a party, telling Rick that women are "flavors" and that "sometimes you get tired of them." He counsels Rick that there are no such thing as principles, only circumstances, so "treat this world as it deserves." If not held up for outright mockery, these views are clearly not approved by the film or the filmmaker.
Knight of Cups takes on more explicit spiritual overtones as Rick's dad explains to him that age doesn't always bring the wisdom one hopes to acquire over time. "You think when you reach a certain age things will start making sense, but then you find that you're just as lost as before. I suppose that's what damnation is." But the father prays in hope, quoting Psalm 51: "Have mercy on me according to your unfailing love. According to your great compassion, blot out my transgressions."
Rick recognizes that he's "spent 30 years not living life, but ruining it for myself, for others." He remembers more of his father's words. He consults a priest. He wonders, "How do I begin?" He pleads, "Father, give me courage, strength."
The film's most encouraging word is its last: "Begin."
The question posed in the title of this review implies an answer—"yes." Knight of Cups is the first film experience of 2016 that I've treasured. It's a reverie rooted in biblical longing for meaning and purpose that can be found only in God.