Recent years have seen a revival of the religious drama that goes beyond the retellings of the birth, life and death of Christ. While Christians have been served stories like Risen and The Young Messiah (both supplementing what we know of the life of Jesus Christ from the best-selling book of all time), not to mention the likes of Heaven Is for Real (based on a best-selling book) or Left Behind (another best-selling book), another set of films from overseas has told stories of believers living out their faith amid difficult circumstances. These films not uncommonly bring their narratives to life through the application of a rigorous style that gives them an urgency lacking in Christian-subculture movies, where the audience's familiarity with characters and themes too often leads to predictable, uninspired outcomes.
For instance, the 2013 film Beyond the Hills centered on two women, one of whom has become a nun and the other of whom wants her old companion back. The complex feelings exhibited by several well-meaning characters lead to a grim conclusion that challenges how we think about the ways in which we struggle with sin, and the limits of fervent belief in reaching those who are troubled in spirit. A landmark in new Romanian cinema, the film was little seen stateside but highly admired by several critics. (I put the film atop my Best of 2013 list of films: http://www.patheos.com/blogs/schaeffersghost/2014/01/the-20-best-films-of-2013/)
That same year Hannah Arendt, with a dazzling lead performance from Barbara Sukowa and striking widescreen cinematography from Caroline Champetier (Of Gods and Men), asked us to consider the "banality of evil." (It was #4 on my Best of 2013 list.) And then 2014 brought the remarkable Polish film Ida (http://www.patheos.com/blogs/schaeffersghost/2014/05/ida-packs-guilt-pain-and-faith-into-80-minutes/), about a novitiate who questions her calling. Shot in a 1.66:1 aspect ratio, in stark black and white, and starring a memorable Agata Kulesza as the nun's aunt, the film was an arthouse hit that went on to win the Best Foreign Film Oscar.
Now comes The Innocents, a story of nuns who suffer trauma in post-World War II Poland. Starring Kulesza as the convent's Mother Superior and shot, again, by Champetier, the film promised to be another visually resonant story about the costs of devotion. And to some extent, the film delivers on that expectation, mimicking the look of a black-and-white film in its early color compositions and subsequently using low-light compositions that, in certain framings, bring to mind Dutch paintings.
But the film also has drawbacks that didn't weigh down Ida and the other aforementioned films, particularly in the villainous turn one of The Innocents' character undertakes, giving the film a formulaic quality that robs some, if not all, of the story's power.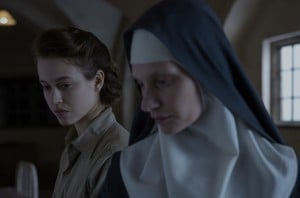 Just after World War II, a Red Cross worker, Mathilde (Lou de Laage), is called by a Benedictine nun to a convent, where she discovers a secret about several of the convent's inhabitants. (The discovery has been revealed in many other reviews, but I'm not specifying it here. The film is best experienced when viewers learn what's happening as Mathilde does.) Mother Superior is suspicious of Mathilde's presence; she wants to keep the secret within the convent's walls, even though the nuns know they need Mathilde's ongoing assistance to face the future.
That tension opens avenues to explore what Mathilde, an unbeliever, might encounter when she runs up against the nuns' testimony of perseverance through their hardship, but The Innocents puts more emphasis on the nuns' wrestling than it does on any possible internal struggles within Mathilde. She shows a commitment to helping the nuns—including by enlisting the aid of a doctor, Samuel (Vincent Macaigne), a Jew who lost his family in the concentration camps—but her interior life remains one of the film's underexplored mysteries.
The most interesting of the nuns shaken by their unprecedented situation is Maria (Agata Buzek), who tells Mathilde that faith is "24 hours of doubt and one minute of hope." As Maria becomes a more prominent character, Mathilde recedes and becomes less of a focal point of The Innocents, but The Innocents suffers somewhat by spreading its focus to Samuel, then to Maria, and then to Mother Superior without ever developing Mathilde as a fully realized protagonist.
It doesn't help that The Innocents has so few memorable images. There's nothing particularly wrong with how it looks, but after a promising start, the film's visual presentation flattens out.
We're left with a harrowing story in which facts are slowly revealed and some surprises await, but it's all rather languid where it should grow tense, or at least more gripping, than it is. The Innocents' conflicted religious characters grapple with the challenges to their faith in ways that feel unsurprising, or worse, simply rote, despite the extraordinary circumstances in which they find themselves.
Most troubling is the turn one character takes late in the film—a too familiar villainous character arc for a story that strives for most of its run time to explore the mysteries of perseverance and religious commitment.
Had we not seen strong, provocative religious dramas like Beyond the Hills or Ida in recent years, The Innocents would be easier to recommend. Instead, it suffers by comparison to those great films, despite strong performances that offset, to some degree, the weaknesses in its script. Others may have a different experience, but for this viewer, The Innocents deserved a better overall movie—one that does full justice to its extraordinary story.