John Ford's The Searchers, an American classic, sits at #12 on the most recent American Film Institute's Top 100 American Films list. A Western that explores ethnic hatred and family ties, the film is beloved by critics and highly regarded among fans of the genre.
With Les Cowboys, director Thomas Bidegain transplants this American story to France, just before and after the turn of the 21st century. Instead of an uncle pursuing a niece he sees as tainted by her years spent with the Comanches, Les Cowboys is about a father (Francois Damiens), Alain, who pursues his daughter, Kelly, who ran off with her Muslim boyfriend when she was 16 years old.
Kelly's departure in 1994 is followed by a letter explaining that her disappearance, unlike that of the Natalie Wood character in Ford's Western, was no abduction. "Don't look for me," she writes. "I have the life I've chosen now."
That life, it becomes increasingly clear, is the life of a devout Muslim, but Les Cowboys doesn't spend much time searching for what drove Kelly to leave France for a hardline life of devotion among those committed to a radical form of Islam. We know little about the family, other than that Kelly has a brother, Kid, and that her parents partake of American Country and Western dances like the one that opens the film. (The Rhone Valley is home to full-fledged Country and Western-inspired communities.)
As with Ethan Edwards and his nephew in The Searchers, Alain will spend years trying to track down his daughter. He eventually enlists Kid in his travels to find Kelly—a search that grows more desperate though after Alain learns that Kelly has taken the Muslim name Aafia, and after an investigator warns Alain that "your daughter is not your daughter anymore."
Despite the warning, family ties are still felt by both parents. When word arrives that Kelly has given birth to a child, Kelly's mother warmly refers to the child as her granddaughter, yet warns Kid, "Don't tell your father."
The film's second half departs dramatically from the Searchers parallel that has characterized Les Cowboys to that point. Radical Islam, which is just emerging in the public eye when Kelly disappears, becomes well-known after September 11, 2001. Kid sees footage of the attack on TV and soon finds himself in Pakistan, where he meets an American (John C. Reilly), whose reasons for being in the country, and motives for befriending Kid, are murky.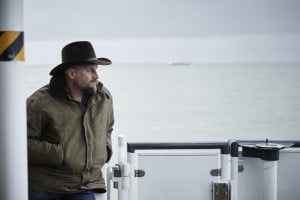 Kid also meets Shahzana (Ellora Torchia), a prisoner whose freedom he purchases, and whom he'll eventually marry. (There's a jarring moment where the
Les Cowboys
timeline flashes forward and the frightened, theretofore silent Shahzana, is suddenly speaking perfect English.) The cross-cultural romance contrasts with the religious/ethnic suspicion of the film's first half, and Shahzana becomes the film's most interesting, most eloquent character, challenging Kid about his continued efforts to fulfill his father's mission of tracking down Kid's sister. "I'm never going back to Pakistan, and you are never going to find your sister," she tells Kid, emphatically. "It's God's will!" she adds.
That's one of the few outwardly religious statements in a film where Islam looms so large. "Les Cowboys" doesn't present a strong Christian alternative to the religious devotion of its Muslim characters, but it gives viewers plenty of room to consider what's driving its characters, without spelling out answers.
While "Les Cowboys" may not compare to the overall quality of "The Searchers"—what film does?— like Ford's film, it ends with a knockout, mostly wordless sequence that gives the story closure and some sense of family reunion, or simply understanding and acceptance. It's a powerful payoff to a film that too often settles for a deliberate ambiguity where more definitive statements may have made for an even stronger viewing experience. Still, while you may not feel entirely satisfied leaving "Les Cowboys," you'll feel something—and that's more than most films deliver these days.