What does it mean to be a female superhero? This is one of the big problems of feminism: how should being a woman and being a superhero be different from being a man and being a superhero?
I guess I should say that it's a difficult problem, rather than a "big" one per se, given that there aren't exactly lots of superheroines out there angsting over their own identity outside of fiction. Still, this is a variation on a fundamental problem in feminist thought: what does it mean to be a woman as compared to being a man? When the feminist argues for equality, is that argument calling for being treated like a man? Or is it calling for women to be treated like a woman with a special and distinct role in society? In terms of superheroes, should a female superhero just be Superman with different biology; or is there a fundamentally different power/role that would go along with being female and superpowered? I won't go into the weeds of that here, particularly since we've already touched on the issue at least once in the past.
Which is fine, because the movie Wonder Woman doesn't really go into the details either. In a movie full of opportunities for reflections on feminism, male/female gender roles, and the politics of suffrage at the beginning of the 20th century, Wonder Woman instead focuses on good and evil in human nature. In fact, the "gender roles" question is so downplayed that this movie has been held up as an example of complementarianism. (The Babylon Bee has likewise chimed in on the issue.) I think that's probably going a bit far; it's likely better to say that the film just passes over feminist issues all together.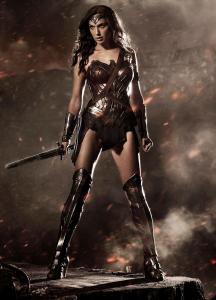 So if you haven't seen Wonder Woman yet, you should. (I know, I know, I'm behind the times and this review is several months late—I blame the wife and kids.) It is excellent. Just don't watch it expecting either feminist or anti-feminist propaganda. Instead, expect a surprisingly subtle and thoughtful reflection on original sin and the image of God in man. We see driven home the fact that an external power is not ultimately responsible for our wicked actions—those come from within. Because of the fall, we can be tempted by outside forces (namely, the world and the devil), but all they do is refine and sharpen desires that already drive us.
In the same way, we have the capacity for goodness and mercy. We are, after all, made in the image of God; and thanks to God's common grace we remain capable of the softer emotions and sympathies that make life in this world bearable. As Augustine says,
"But as for the good things of this life, and its ills, God has willed that these should be common to both; that we might not too eagerly covet the things which wicked men are seen equally to enjoy, nor shrink with an unseemly fear from the ills which even good men often suffer." (City of God, I.8)
God, by his grace, softens the effects of sin and makes a world that we can tolerate life in—but not so much that we get tied to it.
Wonder Woman notes this tension and reflects on how we ought to live in such a world. And the conclusion is that we ought not live by acts of violence and warfare—though such actions may at times be necessary. If throwing punches and dropping bombs were truly the appropriate response to the problems of life, then this world would belong to the strong and to those who were best at engaging the will to power.
Wonder Woman, by contrast, highlights courage, love, and above all self-sacrifice as the tools we ought to use in response to the problem of evil in society and in ourselves. And if this were a Gospel Coalition post about the movie, this is where I'd talk about how Jesus is the one who truly lived self-sacrificially, and in doing so set us free from the problem of evil through His atoning sacrifice. But it's not so I won't.
Instead, I'll just encourage you to enjoy this film as the excellent movie it is–and don't worry, despite the emphasis on love over punching, there's still plenty of punching.
Dr. Coyle Neal is co-host of the City of Man Podcast and an Assistant Professor of Political Science at Southwest Baptist University in Bolivar, MO.