Adult coloring books are stupid.
I'm not necessarily going to hold to that statement all through the review, but I put it first because I can't imagine writing a review of an adult coloring book without starting with a line like that. Specifically, I'm concerned about the increasingly prolonged adolescence of the American people (especially men), and the growing genre of 'adult coloring books' looks at first glance to be just another thing intended to cater to those who are not yet ready for adulthood.
And yet, I think there might be some place for a coloring book for adults. (I'll not comment on the medicinal value of such things–I am a doctor, but not that kind of doctor.) I suppose that coloring can be a legitimate way to socialize. After all, people sit around chatting (or fellowshiping, to use the acceptable Christian term) while playing a game or working on a hobby. I suppose coloring could be used as a similar communal activity. I mean, I've never seen it done. But that doesn't mean it isn't possible. And if some of the individuals we're trying to socialize with happen to be children, then maybe coloring really is a fine place to start.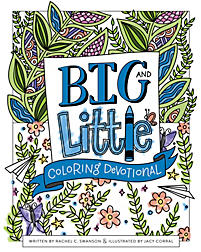 The Big and Little Coloring Devotional specifically, however, I'm not so sure about. This particular adult coloring book is for parents and children. The idea is for both parent and child to be coloring at the same time (the book flips open at the top, so it can be placed on a table with the two sitting across from each other). The children's side has a simple illustration and a Bible verse, while the adult's side has a longer meditation and a more complex illustration.
I have no comment on the quality of the book as a coloring book–it might be fine or terrible, I'm not competent to judge that. Nor do I have comments on the Bible verses–they're Bible verses. No review necessary there.
The adult devotional part of the book, however, is less impressive. In fact, it's basically like the vast majority of Evangelical devotional materials currently on the market: it's fluff. It's not bad or heretical or anything like that, it's just mostly without substance. There's more of Jesus Calling in this than of the Institutes. Which, hey–it's a coloring book, right? Should we demand deep theology from a coloring book?
In a sense obviously not. It's unlikely that anyone is using this book devotionally anyway, rather than merely as something to do with the kids. So as far as that goes, fluff is fine. Yet in another sense, if this book is to be marketed as a place where an adult can get a "quiet moment of refreshment", then perhaps some more robust devotions would be useful. For example, missing entirely is the sense of God's wrath (which would at least be understandable in a children's book–but again this isn't just a book for children). Likewise there's nothing about the church–it's all about us as individuals while the central aspect of our new life in Christ as part of a new community is ignored. Perhaps above all, the deep suffering of the Christian life–persecution, pain, martyrdom, the cross–is either ignored or watered down to a mere internal unrest. Again, this book is fluff. As with cotton candy, fluff occasionally is fine, just don't make a diet out of it.
This book was provided for free by the publisher for purposes of review. I was not required to write a positive review, nor was I required to actually color.
Dr. Coyle Neal is co-host of the City of Man Podcast and an Assistant Professor of Political Science at Southwest Baptist University in Bolivar, MO.