By Christian Hamaker
Brady Blackburn (Brady Jandreau) dreams of horses. In the first of The Rider's many gorgeous images, he awakens from such a dream—and to a harsh reality, as shown by the visible staples in his skull. Brady's nighttime dream is over, and as those bodily wounds indicate, his dreams of a life in the rodeo may be ending as well. A bucking horse has recently damaged his body and left Brady with a metal plate in his head.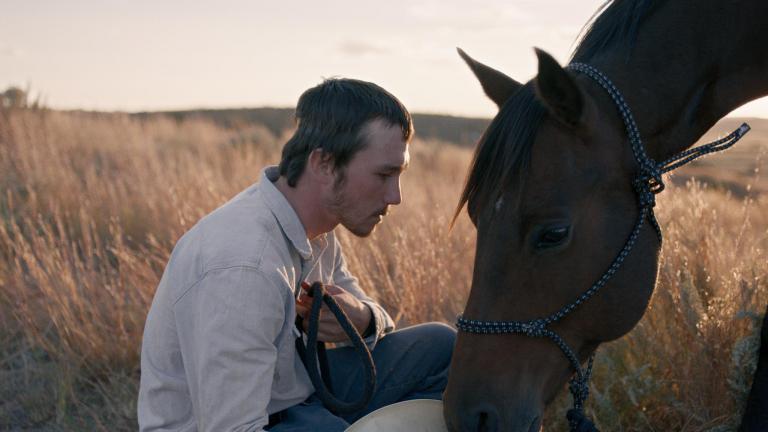 He's only in his early 20s, but Brady already faces a professional crisis. If he can't overcome his physical frailties, his prospects boil down to work as a convenience-store clerk—a drudgery to Brady, yet one that provides a respite from troubles at home. That's where Brady engages in increasingly hostile arguments with a father (Tim Jandreau) who drinks and gambles too much.
The rodeo is Brady's refuge, but his doctor has told him he's one injury away from suffering a fate that might leave him in a condition similar to that of Lane (Lane Scott)—paralyzed after a rodeo accident and unable to communicate audibly—or worse. That doesn't keep Brady from regularly visiting Lane, or from interceding on his behalf in prayer. In one scene, Brady and his rodeo buddies sit around an outdoor fire talking about Lane, and one of them says it's "best if we say a prayer every day for the guy." The men promptly remove their hats and do just that. Amid the majesty of their surroundings, acknowledgement of God never raises an eyebrow, and while the characters don't express a deep doctrinal understanding in The Rider, they recognize a basic truth. "I believe God gives each of us a purpose," Brady says. "For a horse, it's to run across the prairie. For cowboys, it's to ride."
But what does a man do when that purpose might be taken away from him? The film is at its best in addressing how Brady handles the challenge of a hard providence. When his father tells Brady, "We have to play the cards we're dealt. Some dreams aren't meant to be," the son hits back, remembering years of tough-guy, up-by-your-bootstraps bromides his dad instilled in Brady as a boy. "What happened to 'cowboy up'? 'Grit your teeth'? 'Be a man'?" Brady pointedly asks his father.
The Rider examines what masculinity means—not just in rural America, but anywhere—and shows what happens when difficult realities bump up against platitudes. Yet those heated arguments between Brady and his father are far from the film's only emotional moments—or its only emotional temperature. The Rider also provides a picture of perseverance and compassion. Brady may know that God has a purpose for his life. The challenge, as The Rider so beautifully shows, is figuring out what that purpose might be when it turns out that your plans are not His.
Elevated by the beauty of the film's locations (it was shot on the Pine Ridge Reservation in South Dakota) and the naturalistic performances from the Jandreaus (nonprofessional actors who play fictionalized versions of themselves) and the rest of the cast, The Rider is exceptional. Its depiction of a lived-in faith for characters who recognize a Guiding Hand behind all things is rare enough for American cinema. That those beliefs are expressed in a film of such natural beauty makes The Rider a uniquely moving cinematic experience.