By Christian Hamaker
"I started seeing [You Were Never Really Here] a bit more as a Lazarus story. It is a man who just exists and then he starts coming back to life. I wanted some kind of positive transformation for him."—Lynne Ramsay, screenwriter and director of You Were Never Really Here
If you didn't know you were about to watch a story of a troubled soul in You Were Never Really Here, the film itself provides a key with an early image of its protagonist dumping a Holy Bible into a trash can as a way to smother a small fire. In Director Lynne Ramsay's film, the Word of God, and those made in the image of God, are expendable.
Arriving on U.S. shores after scoring major wins for Best Actor and Best Screenplay at last year's Cannes Film Festival, the latest feature from director Lynne Ramsay (We Need to Talk About Kevin) stars Joaquin Phoenix as a troubled soul on a rescue mission. Joe (Phoenix) is an FBI agent who specializes in finding and liberating sex-trafficking victims. His latest job is locating Nina, a senator's daughter, and returning her to her father.
Joe will do whatever it takes to accomplish his task, tapping into his large capacity for violence, which he employs without remorse in tracking down his target. Not only is Joe a physically imposing specimen—we see several shots of Joe's scarred upper body—but he's emotionally damaged, as evinced by jarringly inserted flashes of traumatic moments from what appear to be Joe's childhood. There are no verbal explanations, prayers or confessions, only tortured memories that flash by quickly without elaboration.
But Joe has some reservoir of kindness and caring within him, distorted though it may be. Ramsay shows Joe caring for his dementia-afflicted mother (Judith Roberts), who, in one scene, talks with her son about Alfred Hitchcock's Psycho. (More than once we hear Joe verbally mimic Bernard Herrmann's screeching strings that play during Psycho's shower scene, as Joe makes a stabbing motion with an imaginary knife.)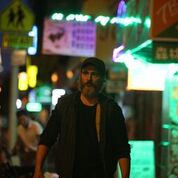 Although Ramsay's cinematic approach to this material marks
You Were Never Really Here
as more of an arthouse movie than a genre thriller, she does deliver the angry, sometimes vengeful confrontations that characterize mainstream vigilante films. In one sequence, Joe breaks into the complex where Nina is being kept and brutally kills the men who have kidnapped her. But rather than depict every bloody blow, Ramsay shows us the confrontations through black-and-white security-camera footage, mercifully cutting away from the impact of many of Joe's fatal ball-peen hammer strikes.
You Were Never Really Here has drawn comparisons to Taxi Driver, Martin Scorsese's depiction of a troubled man trying to "save" a prostitute. But the film it most reminded me of is writer/director Paul Schrader's Hard Core, the story of a religious father who sends his daughter on a church trip, only to learn that she's disappeared into an underworld of pornography. Devastated by the news, he infiltrates the pornographic-film industry so he can find his daughter and bring her back. The seedy, neon-lit Los Angeles of Hard Core is not dissimilar to the gloomy locales of Ramsay's film (shot in New York) that Joe scours in search of Nina.
Neither Schrader's film nor Ramsay's offers comforting resolution for its characters. Scars remain, not only for the exploited but for their rescuers as well. Still, Ramsay's quote atop this review is much more hopeful than the film itself, so if it's rebirth and redemption you seek, better to skip You Were Never Really Here and re-read the Lazarus story Ramsay mentions. As John 11: 38-44 reminds us, there is no redemption without a Redeemer, and the story of Lazarus points not to Lazarus, but to the one who raised him. "So they took away the stone. Then Jesus looked up and said, 'Father, I thank you that you have heard me. I knew that you always hear me, but I said this for the benefit of the people standing here, that they may believe that you sent me.'" [John 11: 41-42]
In Ramsay's film, there's a redemption of sorts, but the most damaged character may be the rescuer rather than the rescued one. It's an unsettling film that leaves us uneasy. Whether that's a strength or weakness, considering Ramsay's intentions as stated above, is for the viewer to decide.