We've asked on this blog in the past just what Biblical theology is, and what it has to do with the life of the church. These questions are approached again in condensed form in the little 9Marks book Biblical Theology: How the Church Faithfully Teaches the Gospel by Nick Roark & Robert Cline.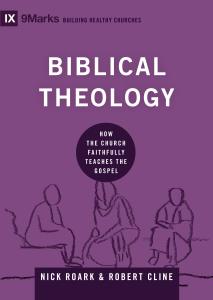 In just under 140 pages, Roark and Cline argue the need for Biblical theology, explain how it helps us understand the "Big Story" of the Bible, and explore how it affects the teaching and mission of the church.
This last is particularly important, given that at the end of the day our Biblical theology will shape our teaching and mission, whether we are conscious of it or not. The way we read and interpret the big picture of Scripture will be reflected in what is taught from the pulpit and what we do in the daily life of our church. If we read Scripture as being about material prosperity in this world, we will hear that from the pulpit and reflect that in our public activities. If we read Scripture as being about how the world gets better and better over time, then preaching will reflect that. Which means we'd better have our Biblical theological ducks in a row.
That is where books like Biblical Theology come in. Roark and Cline have given us a solid introduction to the subject. This isn't the book to end with, of course. But nor is it intended to be. As with all of the short 9Marks books, the point is to highlight a place where the modern church is particularly weak, and get us to think about how we can work on fixing these contemporary deficiencies. (In some ways, this is a good intro to the New Studies in Biblical Theology series.)
Highly recommended.
Dr. Coyle Neal is co-host of the City of Man Podcast and an Associate Professor of Political Science at Southwest Baptist University in Bolivar, MO.