While I don't follow every trend in the Evangelical world, from what I can tell we do see to be slowly moving beyond the moment when grace has been set in opposition to the law. A few years ago we saw a shower of books about how salvation involves One Way Love and how the most important work of theology in modern times is Gerhard Forde's On Being A Theologian of the Cross. Today, we seem to be experiencing a slow-trudge back towards a more robust understanding of the third use of the law. A part of this movement is Kevin DeYoung's book The 10 Commandments: What They Mean, Why They Matter, and Why We Should Obey Them.
I should point out that this is an internal discussion between Christians of good intent. Heck, in a sense this is little more than the long-standing discussion between Lutherans and Calvinists. The Lutherans emphasize our freedom in Christ from the weight of our obligation to obey the Law and the weight of our guilt from our failure to obey/our active rebellion against the Law's demands. The Calvinists emphasize our calling to a new and holy life of obedience in Christ. In one sense, the sides are talking past each other, given that Calvinists of course believe in freedom in Christ and Lutherans of course believe in holy living. And yet, there is always going to be a tension between these two truths. We are free in Christ and as Christians we are called to be holy.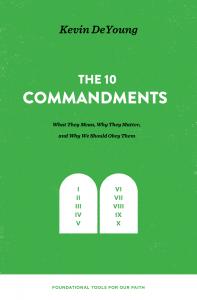 A part of that calling involves living according to the 10 Commandments. Which is were DeYoung's book comes in.
The bulk of the book of course doesn't deal with much of what I've discussed here. DeYoung is too competent a writer for that. His defense of why we should know and obey the 10 Commandments is limited to the conclusion of the introduction.
Each commandment is given a chapter including an exposition of the text, and interpretation of how it applies in the modern world, and a challenge to walk more faithfully according to the call of the revealed Word of God. He also examines how the commandment in question is ultimately fulfilled by Christ. For example, with regard to the Sabbath, DeYoung writes (summarizing Calvin):
[The Lord's Day] was instituted as a substitute for the Sabbath and carries forward the same principles. In particular, we still find that the Lord's Day is (1) a day to gather for worship, and (2) a day to rest from our labors. And, most importantly, the fourth commandment instructs us (3) to find our spiritual rest in Christ every day of the week. (72)
In other words, this book is a good, solid exposition of the 10 Commandments at a time when are in need of such guidance. I highly recommend that you pick up a copy.
Dr. Coyle Neal is co-host of the City of Man Podcast and an Associate Professor of Political Science at Southwest Baptist University in Bolivar, MO