Leland Ryken's The Soul in Paraphrase: A Treasury of Classic Devotional Poems is not written for me. Don't get me wrong, I do appreciate some forms of poetry (mostly epic and limerick). But this kind of verse is really beyond my ability to understand and beyond my taste to enjoy. This is undoubtedly a failure of imagination on my part, and as a result I suppose this book should be all the more important in making up for my own failings.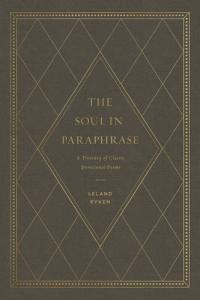 The Soul in Paraphrase is a collection of around a hundred mostly-complete poems, with occasional selections from longer works thrown in (e.g. Milton's Paradise Lost makes a brief appearance). I can't say whether or not these are the greatest poems you could read devotionally (again, this isn't my area), but most of the authors are going to be familiar names: Shakespeare, Wordsworth, Milton, etc.
The main weakness of this book is that the reflections offered are fairly short. As a result, they tend to lean towards either structural English-major-style analysis or devotional reflection—there is rarely space for both. I don't think the structural analysis should have been removed, but given the premises of the title and the Preface, more devotional reflection might have been appropriate at times. And if the argument against this claim is that Ryken is just trying to give us the tools so we can do our own devotional reflection, well, I refer you back to the first paragraph of this review.  🙂
That said, the strengths of this volume far outweigh that small weakness. If nothing else, it's full of stuff that most of us likely don't know and probably would otherwise never have read. That applies both to the poems included and the arcane secrets of English majors revealed to us. Did you know there's a "morning walk" genre of poetry?!? I had no idea! More importantly, between the Preface and the information scattered through the reflections we do get good guidance on how to read poetry devotionally (even secular poetry) as well as a good sampling of poetry from the Middle Ages up through the 19th century, with a smidgen of the 20th century thrown in just for fun.
Which means that this is a book you should pick up, read, and reflect on. And then do what I'm unliky to do: go read (devotionally) some other poetry on your own.
Dr. Coyle Neal is co-host of the City of Man Podcast and an Associate Professor of Political Science at Southwest Baptist University in Bolivar, MO