Sola: How the Five Solas are still Reforming the Church is a little book that provides exactly what the title says: an overview of the five solas of the Protestant Reformation, how they have mattered historically, and how they continue to matter for today. Heck, it should even be clear how many chapters a book about the five solas will have. The number, of course, is eight. One for each sola, an introduction, a conclusion, and a forward written by Tony Merida.
Sola is an excellent introudction to the doctrine and importance of the five solas. And such an introduction is essential. As the, well, introduction  to this book says:
"The five solas are theological declarations, but they come with massive personal and congregational implications. If the solas are true, they provide the doctrinal infrastructure for our spiritual lives. They frame our Christian identities and ministries, and are perennial touchpoints of theological and spiritual formation.
The solas are not peripheral matters, positioned to entangle us in needless, tertiary doctrine squabbles. Rather, they are the essence of the gospel. When we embrace them, we embrace the gospel. When we articulate them, we speak the gospel. When we live consciously of them, we live in the power of the gospel." (16-17)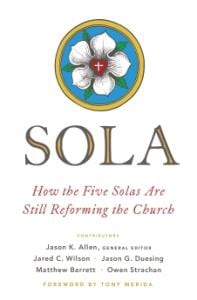 For those who don't know, the solas of the Reformation are the ideas that we are saved by grace alone (sola gratia) through faith alone (sola fides) by the work of Christ alone (solus Christus) as explained by and under the authority of Scripture alone (sola Scriptura) all for the glory of God alone (soli Deo gloria). They form the foundation upon which all solid and true theology ought to be built.
In one sense these
solas
 are opposed to Roman Catholicism, and its doctrines of salvation as faith + works (or faith + love, depending on which RC formulation you're engaging with) based on the work of Christ, Mary, and the saints under the authority of Scripture, the tradition, and the magisterium. But in a larger sense, these
solas
 stand opposed not just to the false teachings of Rome, but to the rebellion against God of every human heart. The heresies of Rome are just a single aspect of this rebellion, while the
solas
 are an articulation of the whole Gospel work of salvation. They matter both for our personal lives and for the corporate lives of our churches. Just how they matter is one of the things this book works out in a brief survey. Once you've read this book, I recommend diving into the
five-volume series
(some of which are written by the authors of this book) published a couple of years back by Zondervan exploring each of the 
solas 
in detail.
Highly recommended.
Dr. Coyle Neal is co-host of the City of Man Podcast and an Associate Professor of Political Science at Southwest Baptist University in Bolivar, MO