I love the Puritans, and I don't mind reading long books. But I still balk at the 1200 double-columned pages of William Gurnell's Christian in Complete Armour. (Even the three volume abridged version is hefty, though I'll likely at least read that someday.) Fortunately for those who have neither the time nor the inclination to read Gurnell's classic doorstop, Iain Duguid has written a short, accessible, modern exposition of Ephesians 6:10-20 that is excellent and covers much of the same ground.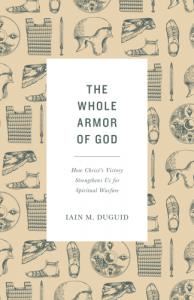 The Whole Armor of God is convicting, penetrating, and faithfully exposits the way in which God equips us to face the challenges of spiritual warfare. This is no feel-good book intended to cheer-lead for our self-esteem. In teaching us about the armor of God, Duguid pastorally peels off our sin and self-righteousness so that we can wear the armor as we are supposed to–by looking to Christ rather than looking to our own strength.
For example, speaking about the breastplate of righteousness,
"In one sense, the average person is actually right in seeing that righteousness should mark out the Christian. Righteousness should be prominent in every Christian's life, as the breastplate that protects him against Satan's fiery arrows. We are right with God, through perfect obedience. But it is not our own weak and failing righteousness that guards us, not even our ability to strap on God's breastplate well; rather, it is a perfect righteousness that comes from God, a righteousness given to us in Christ as part of the cosmic transfer deal by which our own guilt was laid on Jesus. It is this imputed righteousness that is worked out in us as the Holy Spirit renews our thinking and renews our living. In that way, we begin to live the lives we were created to live, made like God in true righteousness and holiness. By God's grace, put on the breastplate of imputed righteousness so that you too may be increasingly strengthened to stand against the devil's schemes, upheld by the Lord's mighty, omnipotent hand." (48-49)
In other words, we are challenged not to clean up our own lives, but to die to our sin and our works and to live the life bought for us by Christ.
All of this to say that Duguid's book is excellent and well worth your time.
Highly recommended.
Dr. Coyle Neal is co-host of the City of Man Podcast and an Associate Professor of Political Science at Southwest Baptist University in Bolivar, MO