I suspect that I am typical of most Christians in that I don't think about the church budget more than once or twice a year. After all, shouldn't we just turn all that "money" stuff over to the church leadership? And since most pastoral training doesn't involve finances (so says my uninformed view of pastoral training–I also assume they're not taught how to plunge toilets or change a fuse, both of which are also critical skills, especially in smaller churches), shouldn't the church leadership just find someone in the church who knows about business and money and put them in charge of all that stuff?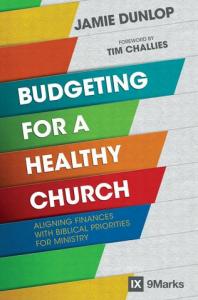 The answer to all those questions is, according to Jamie Dunlop's recent book Budgeting for a Healthy Church: aligning Finances with Biblical Priorities for Ministry, complicated. At least, it's complicated in one sense. In another sense the answer to those questions is simple: Christians ought to obey the Bible when it comes to church finances.
But this obedience is multifaceted, and the purpose of this book is to walk through the broad strokes of this multifaceted answer, while providing some helpful tools and guidelines along the way.
This means at the very least attempted to have the right motivations in budgeting and in giving. Specifically, ti means remembering that our primary attitude towards the church budget, whether we're in positions of leadership or are thinking as members of the congregation, ought to be one of faithfulness. Our primary goal should be obedience to the commands of Scripture that reflect the grace of God in the Gospel. That means specifically when referring to the church budget, building a healthy congregation. Programs, outreach, and any other number of good things can be considered, but if we're not starting with the goal of living faithful lives as a body focused on glorifying God, then we've already failed regardless of whether the bottom line is black or red.
From that foundation, we can then move towards outlining the role of leaders, the kinds of expenses we ought to be pursuing, and exploring available tools to help us with actually constructing or reviewing a budget.
In one sense, this isn't a book for everyone. It's probably most important that church leaders pick it up and read it. But in another sense, the principles here are ones that all Christians should have a least a loose hold on. At the end of the day it is the congregation that both shapes the budget and will be held accountable for its use. So it is on us to be sure that we're thinking well about the financial life of the church. And Budgeting for a Healthy Church is a great place to start.
Dr. Coyle Neal is co-host of the City of Man Podcast and an Associate Professor of Political Science at Southwest Baptist University in Bolivar, MO