Just what should we do for family devotions? No doubt for some families, devotional time is a rich event full of singing, deep prayer, and robust Biblical application. (For others, attempted devotions that don't turn into attempted homicide counts as a success.) But what about those of us who just have no idea what to do or where to begin? That's where Matt Chandler and Adam Griffin's book comes in.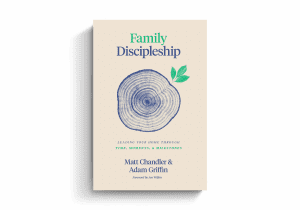 In Family Discipleship, Leading your Home through Time, Moments, & Milestones we are given guidelines for how to structure family devotional time. Actually, we're given a bit more than that. Structuring family devotions falls under the "time" category. But we are also given guidance on how to take advantage of opportunities that spontaneously arise ("moments"), as well as suggestions for celebrating the big events of our spiritual lives ("milestones"). Overall this is a useful and well-written guide for anyone who is looking to improve family devotional time, take advantage of occasional events, and mark important moments in family life.
My one hesitation about this book is over the tone of what's going on here. And this issue isn't confined to Family Discipleship–it's a common enough issue with books aimed at helping Christian parents raise their children: we're not dealing with believers. Children really can't be "discipled" in any useful sense of the word. They can be trained and taught and, especially, evangelized, but they can't be discipled the way we and others in our church can. (And yes, this objection would go away if only I believed in things like infant baptism, but what with the Bible and all….) Which means that certainly "time" and "moments" can be planned for and organized, but "milestones" will either come or they won't. You shouldn't "plan" for baptism until your child repents and believes, if that happens (and obviously we should pray fervently that it would happen). But this will also affect your use of "time" and "moments." What family devotional time looks like when you're dealing with a mix of believers and unbelievers, some of whom are children, needs to be affected by careful thought about content and approach.
Fortunately, Family Discipleship is a good place to begin such careful thought.
Dr. Coyle Neal is co-host of the City of Man Podcast and an Associate Professor of Political Science at Southwest Baptist University in Bolivar, MO