Are we too attached to this world? Do we make idols out of the things that we enjoy, rather than worshiping God as we ought? I know I certainly do (hello donuts!). But do we at times go the other direction? At times are we too dismissive of this world? To put it in Joe Rigney's words:
"how does a single-minded pursuit of the glory of God fit wit ha real and deep enjoyment of created things?" (14)
This is the question that Rigney's recent book Strangely Bright: Can you love God and enjoy this world? seeks to answer.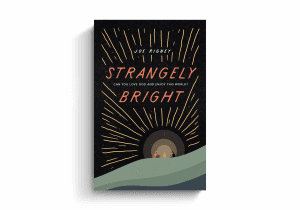 If you're looking for a once-and-for-all answer to this question, you'll have to look elsewhere. Not only is Strangely Bright far too short a book to fully answer such a complicated question, in some sense Christians are going to just have to live in this tension for all of our lives.
But, if you're looking for a place from which to begin thinking about how to worship God while enjoying the world He made, this little book is an excellent place to start. Specifically, Rigney encourages us to avoid idolatry while simultaneously worshiping our Creator through the use and enjoyment of His creation. Quoting Charles Simeon, Rigney calls on us to "enjoy God in everything and everything in God." (48) That is, we should not worship God by denigrating creation, we instead ought to see the good things of creation as a small picture of who God is and what He has done for us. This world ought to be a springboard that lifts our eyes up to the heavens.
With that said, we still want to avoid idolatry. The approach Rigney calls us to is a slip of the foot away from dulia/latria/hyperdulia eisegesis that some of our friends fall into. To help us avoid this, Rigney walks us through the Biblical disciples of self-denial and generosity, as well as giving us Biblical guidance on dealing with pain and loss. There is good in the world, but it is easier not to forget that the world is also fallen when we keep these aspects of the Christian life in view.
I suppose in one sense the most important part of the book is something I can't at this point comment on: whether Rigney's wife's pumpkin crunch cake is as good as he says it is. To date I have not yet tried the recipe at the back, but I am looking forward to doing so at some point. If it is as good as Strangely Bright promises, it might merit a follow-up review (and if it is really that good, I suspect we can look forward to Rigney's forthcoming Strangely Orange: God's Good Gift of Pumpkin Crunch Cake). That aside, this little book is excellent and should definitely be on your shelf.
Dr. Coyle Neal is co-host of the City of Man Podcast and an Associate Professor of Political Science at Southwest Baptist University in Bolivar, MO