I'm sure there are more difficult things to teach in the world than than teaching about suffering and death to children, but they don't spring to mind. So I appreciate it when authors tackle this immensely difficult task, as Lacy Finn Borgo and Rebecca Evans have done in All Will Be Well: Learning to Trust in God's Love.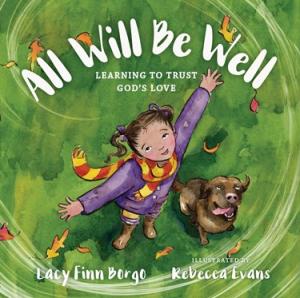 In All Will Be Well, Julian's Mima is sick and it seems like God doesn't care. Fortunately, Mima has taught Julian that no matter what God loves her, and quoting Julian of Norwich (after whom the Julian in the story is named) that "All will be well." (Side note: Eliot's translation is the one you should stick to: "And all shall be well and
All manner of thing shall be well.") After Mima dies [spoiler alert], Julian is reminded through the natural world that God still loves her, that her Mima is with God, and that "all will be well."
Look, I'm no child psychologist and certainly no expert in having hard conversations with children (or easy conversations with children). But I think this is a good place to start with having these conversations–and I suspect (again, see disclaimer about not being an expert) that it's probably a good idea to start having the conversations before they're necessary. To that end All Will Be Well looks to be a useful tool.
You will, however, want to supplement this book with more detail. Namely, why will things be well and how do we know it? All will be well because of the work of Christ on the cross, where he took the punishment that we deserve, and as a result those who believe in him need not fear suffering and death. Mima is with God because of her faith in Christ. And we know this not because of the natural world, but because God has told us this in His Word.
Keeping that in mind, this book will help lead you into useful conversations with your children.
Dr. Coyle Neal is co-host of the City of Man Podcast an Amazon Associate (which is linked in this blog), and an Associate Professor of Political Science at Southwest Baptist University in Bolivar, MO