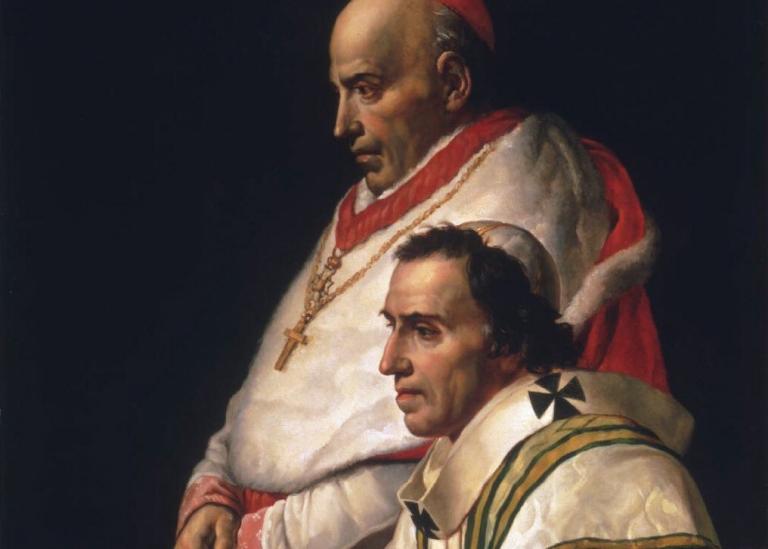 Our friends at Church Dilettante were all jittery last month (not with coffee but anticipation) at the news that there would be a conference in Paris on how to depose a pope. Canon lawyers, the article by Christine Niles gushed, would be there! You know, actual canon lawyers, who might advise on how to get rid of that pesky Bergoglio. Two people scheduled to speak at the conference even signed a letter critiquing Amoris Laetitia! Another supported the dubia! (As if we don't know what Church Dilettante had in mind by connecting the dots this way for us.)
LSD News tried to make the same connection:
The conference comes after four years of Francis at the helm of the Barque of Peter. [Four long, long, long years. Will it ever end?] During this time the Pope, and the people he has put into key positions, have steered the Church in a direction that would have been unthinkable to faithful Catholics under the two previous pontiffs of John Paul II and Pope Benedict XVI. [Virtue signaling noted.]
Turns out, it was nothing of the kind, so you can put another check in the overstuffed "wrong again" column for LSD and Dilettante. Tom Heneghan reports:
Holding a colloquium to discuss dethroning an erring Roman Catholic pontiff sounds like a call to battle at a time when prominent cardinals say Pope Francis is leading the faithful astray.
But no. "The crowd seemed to be mostly lay academics." Not that even cardinals could depose Pope Francis, but not even LSD or Dilettante would have such delusions about "lay academics."
Speakers on Thursday and Friday (March 30 and 31) went back to the New Testament and church crises down through the centuries looking for any legal precedents that might show possible ways to square the circle of papal authority.

The pope is the supreme authority in the Catholic Church but can be judged if he deviates from the faith. There is no agreement on who could be that judge.
And that would be because there is no such judge. Poor Church Dilettante was reduced to quoting Gratian's Decretal as though it were canon law: "The pope is not judged by anyone—unless he deviates from the Faith." Yes, but who judges whether the pope has deviated from the faith? Let me stop the Dilettante in its hasty effort to cut off the branch it sits on by going to Canon 1404, which says: "The first see is judged by no one." And that's period—not comma or semicolon. There is no "unless."
And the lay academics at the conference figured this out.
After two days of discussions at the center in a southern Paris suburb, law professor Cyrille Dounot told the concluding session it was impossible to find a solution to the problem in the church's long legal tradition.

"We've asked a question but we can't answer it," said Dounot, one of the three organizers of the colloquium. "Maybe we will be able in the future, but that's improbable."
Uh, yeah—I'd say it's "improbable" at best. Would that LSD and Dilettante could figure that one out. There is no deposing a pope.
Oh, and Dounot said one more thing, about this idea that the conference was some prelude to creating a path to deposing Pope Francis. That was not at all the point of the conference, he told RNS. "This is just an academic examination of a disputed question." Because that's what academics do.
And LSD and Dilettante do what they do.
***