Did you know that:
Boys are falling behind girls in almost every area of education?
70% of all D's and F's are given to boys?
85% of stimulant addressing drugs prescribed in the world are prescribed to US boys?
Did you know that a generation ago the US government invested over 100 million dollars into getting girls caught up to boys in school, but so far has invested nothing in getting our boys caught up?
Did you know that on March 11, 2009, the White House issued a press release announcing the formation of the President's Council on Women and Girls? "The purpose of this council is to ensure that American women and girls are treated fairly in all matters of public policy," the President was quoted as saying.
Shortly after, an invitation went out to a few male leaders to begin advising on a similar Council for men and boys.  Nothing has happened.
Does anyone care? Does anyone even notice?
Welcome to a new blog centered on the storyline of boys in the 21st Century, geared to parents, educators, coaches, religious leaders, and anyone else who cares about our boys and the future of boys.
My name is Tim Wright.  I have been a pastor for 30 years in the Lutheran Church.  Along with my wife I raised a daughter and a son.  We are now grandparents to a granddaughter and two grandsons (with another grandchild on the way).
Over the last 8 years I have been working with Michael Gurian, the New York Times Best-Selling Author of
The Wonder of Boys; The Mind of Boys; The Purpose of Boys;
and
Boys and Girls Learn Differently,
to name a few.  Together we have created two rites of passage programs geared to the Christian market, one for boys and one for girls (
www.TimWrightMinistries.org
).  I have also authored a new book on boys—
Searching for Tom Sawyer: How Parents and Congregations Can Stop the Exodus of Boys from Church,
endorsed by people like Michael Gurian, Tim Kimmel, Leonard Sweet, David Murrow, Gregg Jantz, and many others.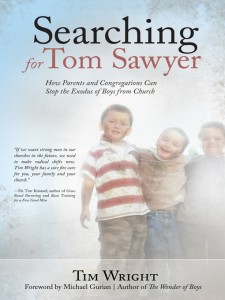 While the passion to change the storyline of our boys has yet to grab the national conscience (as have the issues of girls and women) there are many of us, at a grass roots level, who care deeply about the future of our boys and how their future impacts the future of families and our country.
I'm eager to join in an on-going discussion with you about our boys.  I'm convinced we can change their storyline and call them into heroic manhood.
Let's get at it.