Hebrews 12:1-4

Brothers and sisters:

Since we are surrounded by so great a cloud of witnesses,

—–let us rid ourselves of every burden and sin that clings to us

and persevere in running the race that lies before us

while keeping our eyes fixed on Jesus,

the leader and perfecter of faith.

For the sake of the joy that lay before him

he endured the cross, despising its shame,

and has taken his seat at the right of the throne of God.

Consider how he endured such opposition from sinners,

in order that you may not grow weary and lose heart.

In your struggle against sin

you have not yet resisted to the point of shedding blood.
While I sifted through the process of my call into the Catholic Church, one of the wiser moves I made was to reach out to a couple of my professors from my time in divinity school – for prayer, advice, and reading lists. Last fall, one of those professors reached out to check on us, knowing my husband was in his dying year, knowing I was three years into understanding myself as a caregiver for him and for our children.
It was not a good day. In fact, it was an awful day. I ached for the distance between how I wanted to feel and how I actually felt. Chris received relatively good news at the doctor that week – I can't remember exactly what it was, but the upshot was he got a few more months tacked on to his life. For everyone, this was good news, especially for him.
For me, the news thudded into my grey space of despair with a resounding smash. I'm ashamed of how I felt, but allow me to describe it.
Imagine that you know your spouse is dying. Soon. There is no longer any doubt of this. You have lived together through three-and-a-half years of dramatic ups and downs. Your children were 5, 3, and 1 when he was initially diagnosed; they are now 9, 6, and 5. They don't remember a life in which their father wasn't alternately bald and hirsute, thin and swollen, hospitalized and at home, vomiting into the trash cans and greeting them after school. You know he is dying. Within the year. But you don't know when. You have grieved his loss a thousand thousand times and he is the walking dead beside you now, and there is nothing left but exhaustion and fear along with a series of questions: will the metastasis to his brain cause a brain bleed, and will he flail to his death in front of the children? Watch his breathing now: is he dead, or just sleeping drugged? He coughed: is he going to vomit or settle back down? What if I can't lift him but he won't move to hospice; what will that do to the children? What if my stamina fails, and I finally just drop, and there is nothing left of me to take care of these little ones? When, God when will this axe that is swinging slow and uncertain over us finally drop?
I said something careful to my former professor. "It's hard. Even though the news seems good, it is still hard."
Here is what she replied:
You will know that nobody can make this easy or smooth for you; and pious platitudes won't see you through the moments of despair either. All I know from my own life and its times of walking through the valley of the shadow of death is that sometimes, our only calling is to endure. Nothing more, nothing less. I think it was Jesus's last calling, on the cross: he endured. No alleluias, no sudden moments of redemption and bliss, no one coming to save his life, — just enduring, moment by moment. Until, after the end, God turned this endurance into redemption — but that came later. So: you may have to find a place in yourself that accepts this basic calling, to endure. And it is a very basic, simple calling: you don't need to do it prettily (in fact, you won't) or joyfully or "faith-fully." All you have to do is: endure. Period.
And if you think you cannot go on, find people who will help you endure.
Paul writes to the Hebrews: You can persevere, your eyes on Jesus, precisely because he endured the cross, precisely because he endured what sin did to him. Look: you're surrounded by a great cloud of witnesses. You're not alone. Just endure.
Endurance on a cross is ugly. It's all blood and gnats and sweat and gasping for air and dragging of your soul against the great nails that hold it to the pain. It's more basic than running. It's stumbling. It's taking a breath, then another one, and refusing to do what you want to: die. Or escape. Or numb yourself totally. Anything to make the pain stop.
But perseverance was Jesus' last gift to us. He endured. One breath, and then another, holding on until it was finished. And although he was profoundly alone, he was also surrounded: Mary and John and the women around him, wet-faced and begging God for mercy. The church at prayer.
+++++++++++++++++++++++++++++++++++++++++++++++
Here is what it was like at the end: a vigil. Family and pastor in a room, as I curled my body around my husband's. My arm behind his shoulders, our younger dog's chin hooked over his legs as he breathed and endured those last hours. After his last breath, in that too-quiet space afterward, I had the strongest sense of a voice saying to us both, "Well done, good and faithful servants." God knew, we hadn't always done it well; often, we'd done it horribly. We resented each other, hid feelings we should have shared, spit out feelings we should have contained. I could list a thousand sins I'd committed against that man, and he could do the same for me.
Still, we handed the life we'd fought for over to God, collapsing as the nails were removed, and God held us and said Well done. And I remembered then, and marvel still, at the faithful throngs that surrounded us with the webbing of prayer that kept us from falling altogether.
Sometimes we are enduring, panting for breath, bringing every resource at our disposal to the simple act of continuing to live arms stretched on a cross, asking God why we have been forsaken, yet still enduring. Other times, we stand wet-faced at the perimeter of someone else's suffering, offering the prayers and faith and trust that, unseen but as sturdy as rope, allow them to persevere.
Either way, remember this: the quiet, ugly, impossible act of enduring suffering is precisely how God chooses to redeem the world. It's how love looks when it's poured all the way out. Some wrongs, some injustices, some abuses we are not called to endure. But, there is suffering we are held to by the bonds of love and faithfulness, or just by simple circumstances. And even though it may look small and ugly, even though the cross is offensive to some and foolishness to others, Jesus' endurance of it to his death rips open the curtain between heaven and earth and unleashes the transformative power of love in God's broken, beloved world. And here's a thing Catholics believe: our own human-scale sufferings can be offered, real-ly, concretely, as a contribution to that redeeming work.
My professor to me; Paul to the church; me to you:
Keep your eyes on Jesus. Endure. Know you're not alone.
You're not alone.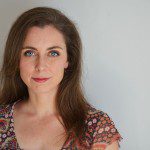 Elise Erikson Barrett is a mother of three, writer/editor, singer/songwriter, and daytime manager of things philanthropic. She is a former ordained United Methodist pastor, was recently received into full communion with the Roman Catholic Church, and finds herself suddenly very interested in church unity and ecumenism. Elise is the author of What Was Lost: A Christian Journey through Miscarriage, which won Christianity Today's "Best Book" award in Christian Spiritual Living. She just released her second album, Valley: Hymns for Travelers. You can connect with her at www.elisebarrett.com.