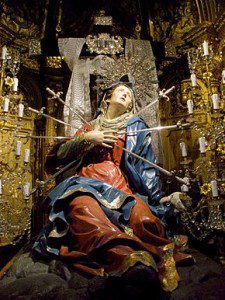 After accepting that the mystical experience I had was about being drawn into full communion with the Catholic church, I found myself attracted more and more to Mary.
Mary, to whom I'd inexplicably reached for prayer during the pulling aside of the veil between heaven and earth. Mary, whose "yes" to God opened the door for God's salvation to be born among us.
I remember walking on a South Carolina beach that summer, dusk pouring washed colors through the sky, ocean shushing and lapping my feet, pondering Mary, and suddenly stopping short as the gravity of her life washed over me – she could have said no. Theologically, perhaps this doesn't stand; her will was redeemed and therefore fully aligned with God's will – but God asked. God waited on the fully free assent of a young Jewish girl. God chose her to be the doorkeeper.
Mary, Bearer of God. I prayed through tears that I, in smaller but equally real ways, could be a portal of grace, could be one locus through which God could encounter our fallen world.
On September 15, the Catholic Church remembered the Bearer of God as Our Lady of Sorrows. Icons show her, no longer the young girl, in agony, seven swords issuing raylike from her heart. Each sword represents a piercing grief. The first are from Jesus' childhood: Simeon's prophetic warning, the terror-filled flight into Egypt from Herod's massacre, the temporary loss of her child in the Jerusalem temple. The others are from his adulthood: meeting her son as he walked the Via Dolorosa, his crucifixion, the piercing of his side and bringing his body down from the cross, and Jesus' burial in the donated tomb.
She teaches me, this Mary, and I want more and more to sit with her. How did you do it? I want to ask. Keep faith despite it all? Keep walking, though your heart broke again and again? Keep trust, when the One you'd trusted with everything turned His face away from the Son you both loved?
I sit with Mary, and I sense how courage leads us into uncharted territory. I learn about the ways that opening ourselves to love makes us more, not less, vulnerable to sin's chaotically strewn shrapnel. I see that patient trust, even during unspeakable fear, pain, and grief, is the way in which we offer ourselves to God, even when Jesus is entombed and God's face seems turned away.
I sit with Mary, and I learn about my own call, and about what it means to be church. Saying yes to God. Staying open even when love opens our hearts to swords. Holding patiently to God, even when God seems gone and our hearts are bleeding.
Mary, Mother of Sorrows, pray for us. Pray for me, another daughter pierced by sorrow, but trying to love.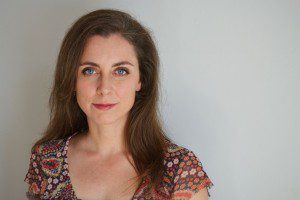 Elise Erikson Barrett is a mother of three, writer/editor, singer/songwriter, and daytime manager of things philanthropic. She is a former ordained United Methodist pastor, was recently received into full communion with the Roman Catholic Church, and finds herself suddenly very interested in church unity and ecumenism. Elise is the author of What Was Lost: A Christian Journey through Miscarriage, which won Christianity Today's "Best Book" award in Christian Spiritual Living. She just released her second album, Valley: Hymns for Travelers. You can connect with her at www.elisebarrett.com.