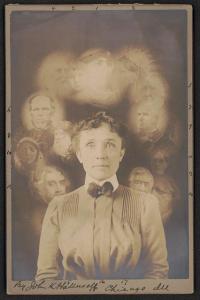 I have come for the quiet and the solitude. For two weeks, I'll live in this old school building with four other writers. My bedroom here was once a classroom, our shared dining room a cafeteria. Each day, I pass through the empty gym to shower in the locker room, and it's not hard to picture its blond-wood bleachers populated by the gangly, awkward bodies of teenagers. When my flip-flops squeak on the waxed gym floor, I jitter at my own loud presence in this place of ghosts.
The ghosts aren't metaphorical here, though. We talk about them at lunch, the other writers and I. Someone has a bedroom door that opens and closes seemingly of its own accord. There are sounds in the central corridor at night, like footsteps on the linoleum. The lights flicker, and objects disappear and reappear at random—someone's keys, another person's notebook, a third person's sweater—vanishing and returning without reason or explanation. The school's ghost is messing with us, we decide. She's having a good time with us, her uninvited guests.
The writer who runs this residency confirms all of this, says people have seen a family in the burned out house at the back of the property. "Standing right there," she says, and we all turn our heads to look out the wide, warbled glass of the cafeteria window. Beyond us, there's a field of dry grass, a fence, and then the crumbling house. We all look for a long minute. The house is yellow, roofless. Weeds and grass and a couple of saplings have sprouted inside the structure and crane toward the light, branches reaching through the broken windows. It's ghostly, indeed, but no family of actual ghosts appears in the wreckage—not while we're looking, and so we all turn back to our food, quiet now, a group of academics and atheists and skeptical city-dwellers suddenly silenced by our own uncertainty.
*
Later, I take a walk alone. It's mid-summer and warm outside. Mount Rainier is visible in the distance, gorgeous white crown looming over the green foothills. Where I am from, we revere this mountain. On the few clear, bluebird days we get during the long, gray, Pacific Northwest fallwinterspring, we don't say, "What a beautiful day." Instead, we say (cheerfully) to one another, "The mountain is out." It's a funny phrasing, but I find it charming. I like the way it gives the mountain agency, as if appearing or disappearing is within the mountain's power. My favorite days are the ones in which the marine layer that rolls inland off Puget Sounds each night takes a long time to burn off. On those mornings, the mountain is visible, but just. The salty fog is a veil, the mountain is a ghost, and I am aware in a tingly and tentative way of the thinness of my own perception. What else might make itself seen if I pay attention? What else is there, just beyond my vision, waiting for me to look up?
*
At the residency, I get into a habit of walking alone each night after dinner. I loop the street in front of the school, passing through a narrow neighborhood of old houses, a post office, a white-steepled church, a bar with the neon red Rainier Beer "R" pulsing in the window. I pass the edge of the town's lake, which most evenings is tufted in a rising fur of fog. I watch the setting sun hit the mountain's peak, go rose-gold, drop out of sight.
It's on this nightly walk that I see them: two spindly-legged shadows in the tall grass. Mother and child, appeared out of nowhere, right in front of me. I stop, my heart in my throat. They are fifteen feet away. I can hear their breath. "Hello," I say. The mother watches me, ears pricked, and for a long moment we stare at each other. Behind her, the fawn dips its head toward the ground and chews. I want to say, "Where did you come from?" I want to say, "Stand still and let me touch you." But before I know it, they've turned together and leapt—one fast, fluid motion. The grass shivers for an instant and stills, and I think of throwing stones into Puget Sound back at home—the way the water parts to swallow the stone, then re-seals, enveloping its new secret.
I wait for them—or others—to present themselves again, but only the shadows gather, and so I walk back in the quiet dark. I've seen all that I'm going to see, at least for now.
Kirsten Sundberg Lunstrum is the author of two collections of short fiction, This Life She's Chosen (2005, Chronicle Books) and Swimming With Strangers (2008, Chronicle Books). Her short fiction and essays have appeared widely in journals, including One Story, The American Scholar, and Southern Humanities Review, among other publications. Kirsten has been the recipient of a PEN/O. Henry Prize and fellowships from the MacDowell Colony, the Sewanee Writers Conference, and the 2016 Jack Straw Writers Program. With Julia Hands she co-organizes the Seattle Writer Our Democracy/Hugo House quarterly "Write-In" series. She teaches creative writing and literature and lives with her family near Seattle, Washington.
"Approaching Mystery" is a regular feature on Sick Pilgrim curated by Joanna Penn Cooper in which we post vignettes that dwell on the mystery of the everyday, that hang in an unresolved (and unresolvable) space of wonder and unknowability.
Read more of "Approaching Mystery" at http://www.patheos.com/blogs/sickpilgrim/2017/07/approaching-mystery-timekeeping/#25ffBLsikCcEjKBZ.99