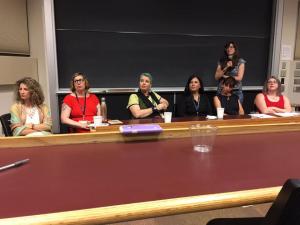 I'm a voracious reader of religion journalism and theology, but I'm not a journalist or a trained theologian. I'm an essayist, a writer, and, yes, I'm a blogger.
But I think making a clear distinction between writing journalism and theology and the writing I do is crucial to understanding the environment of "fake news" and misleading theology that writers like me—opinion writers, bloggers—have helped to create. I'm willing to own my part here.
First, I want to share with you some of my personal experience and challenges as a woman who blogs and writes about religion. Particularly Catholicism, since I, as a Catholic woman, can never be ordained in my church or have any real institutional teaching authority.
First, a little background: I have a masters of fine arts in creative writing, and it was while I was in graduate school that I started reading and contributing to Christian blogs, especially Catholic blogs, which I discovered through Amy Welborn's "Open Book." I'd just begun to practice Catholicism again after many years away from church. I went online looking for two things: information and community.
Information, because while there is an entire canon of writing on historical Christianity, I wasn't sure where to turn for contemporary work on what it means to be Catholic.
As a young single woman in secular academia, there was very little community for me in my milieu, and even less at the local parishes of Pittsburgh.
The newspapers and magazines I read weren't addressing women's issues in particular in any kind of depth. Writing by catholic women–outside of sickly sweet devotional books–seemed to be almost nonexistent. But in the comboxes of blogs I found a community of intellectual women who shared my interest in the arcane details of my faith tradition, and that's what kept me coming back. I came to trust those bloggers—and the friends I made in the comboxes–as authoritative voices who could sift and interpret the news that would interest me.
But I was moving, unaware, into a right-wing Catholic media bubble that didn't always accurately reflect the teachings of the church.
I was so very naïve.
In my mind, I was not a political person. I was not interested in politics; I was interested in religion. There was no obvious correlation, for me, between religious affiliation and political party. I didn't know that almost all the blogs I was reading were written by conservative republicans, and that the "theology" I was getting there was often selectively skewed to suit a political agenda.
I didn't know back then that to write for any Catholic publisher–blog or magazine or books–meant to align oneself with a political ideology—to declare your position on the right or the left. I was innocently pitching stories to both Crisis, a far-right conservative fighter of the culture wars, and America, which Crisis dismisses as a liberal Jesuit rag. During a job interview at a Catholic magazine, an editor asked me "So….what kind of Catholic are you?" and I just sat there, blankly, thinking, "There are different kinds?"
By the 2008 presidential election, I'd swallowed the lie that to be Catholic was to vote republican, as uncomfortable as that made me. I'd read, again and again, that a vote for Obama was an attack on Catholicism. That it was a vote for abortion and an assault on the religious freedoms of faithful Catholics. The same ideas were preached in my faith community—our priest echoed the words of the bloggers I read from the pulpit. He was reading many of the same blogs.
I also began to believe that there was only one way to be a Catholic woman. Get married—fast. Practice NFP at all costs. Sacrifice yourself on the altar of what we call "the domestic church," and by all means do so with joy or you counteract all possible graces. The rewards promised were similar to those preached by the prosperity gospel: Healthy, pious children and a marriage that would be a rock-solid sacrament, a symbol of Christ's love for his church. They make it sound so noble and romantic, so worthy of sacrifice. They really do. But when/if it all falls apart on you–because humanity–there's nobody there to help you rebuild your worldview, your personality, or your relationship with Jesus. But let's put a pin in that for a moment.
I also began to understand, during that election, that I should never trust the MSM—I had to look up what the letters stood for back then—mainstream media—to report on matters significant to my religious tradition. I was told that Catholics were misunderstood and reviled by the media, and I was trained to spot and mock religious illiteracy in the secular news—a real problem, for sure—but one that undercut the credibility of mainstream news reporting in general.
I came to believe, based on the words of a community I'd come to trust, that to vote "democrat" was to commit a mortal sin, according to my faith tradition, because the democratic party was "the party of abortion." The New York Times recently said the same thing, but Catholic blogs have been saying this for more than a decade.
"Once-solid Catholic support for Democrats has steadily eroded," the times reported. "This was due at least in part to the shift by many American Catholic bishops from emphasizing social issues (peace, the economy) to engaging in the culture wars (abortion, gay marriage). Along the way, many Catholics came to view the Democrats as unconditionally supporting abortion."
That last sentence there: "many Catholics came to view the Democrats as unconditionally supporting abortion." I'm willing to bet that they came to that view via the Catholic media bubble.
By 2016, my vision had begun to clear. I'd become more prominent as a Catholic writer, but even the average parish member with very little familiarity with Catholic theology, or even the Catechism, felt comfortable posting on my Facebook wall to protest my support for Hillary Clinton– cautioning me that she was "the enemy of the Catholic Church" and supporting their claims with links to websites like LifeSiteNews, Church Militant, The Remnant, 1Peter5, and The Lepanto Institute. Despite their official sounding names and slick platforms, these are all really just blogs run by radical fringe Catholics.
They are not in any way associated with the institutional Church, nor are they representative of the official teachings of the Catholic Church. And yet the words they published were held up by many of my friends as "facts."
And these web sites, described recently as "online militias" fighting a Catholic "civil war" of the political left in the church vs. the political right, make it their business to silence women who write about Catholicism in ways that don't suit the acceptable narrative.
Back in 2015, Catholic blogger Simcha Fisher wrote a post for the National Catholic Register, a conservative Catholic media organization, on how agenda-driven infiltrators were hijacking the news in order to make Catholics question pro-life commitment of politicians and church leaders.
In her post, Fisher reported that a site I mentioned earlier, the Lepanto Institute, had attempted to discredit the World Meeting of Families, an event organized by the Catholic Church dedicated to the "faithful celebration of the family," by publishing that the event's organizers had hired a lesbian to work for them. He cited this hire as evidence that the World Meeting of Families had been infiltrated by the gay agenda.
Fisher, who was an invited speaker at the event, wrote:
"There is zero reason to imagine that there is a gay agenda at this event… [unless you] twist every speech title, dig up old social media photos, cherry pick phrases and take comments out of context … This is exactly what the Lepanto Institute is doing."
I think Fisher imagined, back in 2015, that pointing out the difference between real news and fake news was a service to her readership. She was trying to warn her readers against trusting self-appointed internet experts, many of whom, including the man who runs the Lepanto Institute, have been denounced or discredited by church leadership. But she and her co-blogger at the Register, Mark Shea—both influential, respected voices inside the Catholic Media Bubble—were fired last year when Register readers protested their open criticism of Donald Trump. Their firing effectively sealed off the ultra-far-right echo chamber from any opposing views just in time for the election.
As the Times reported, Clinton lost the overall Catholic vote by just seven points — after President Obama had won it in the previous two elections. She lost the white Catholic vote by 23 points. In heavily Catholic states like Pennsylvania, Wisconsin and Michigan, she lost by a hair — the last by less than 1 percent. A handful more of Catholic votes per parish in those states might have won her the election.
But the Catholic blogging bubble is not just impacting American politics, and that's really what I want to talk to you about. Blog bubbles are negatively impacting the lives of Christian women.
When we launched this blog in January of 2016, I didn't intend to be political at all, but I quickly realized how many women were suffering mightily from the narrow vision of Catholicism that is presented online by bloggers. Sick Pilgrim attempted to distinguish itself by giving a platform to many different voices and points of view—women, men, gay, transgender, orthodox, heterodox, even Lutheran!–with the goal of pushing back against what we saw as increasing hysteria by having no agenda at all except to explore the truth and mystery of the individual Christian experience.
Many of our writers aren't Catholic at all, but have come to enjoy the blog as a space to question without judgment and to appreciate mystery. And many writers have become Catholic or started attending Mass again, I hope, in some small part, because we have helped to create such a space.
We do not claim to speak for the Church. In fact our mission statement states that we want to raid the church for treasures.
We have done so with the support of bishops and priests. We cosponsored a writing conference at University of Notre Dame last June that was supported by both conservative and liberal funding sources and endorsed by two bishops, one of whom delivered the opening address.
And yet.
The Catholic media bubble did not approve.
It particularly did not approve of the platform we gave to women to speak about their experiences in the church and in Catholic media.
A panel I spoke on, organized by writer Colleen Connell Mitchell, called "Not Always Sweet: Beyond Liturgical Cupcakes in Catholic Women's Writing" drew the ire of Catholic bloggers and combox warriors who labeled us an "Angry Vagina Brigade" for daring to suggest that there was a bias in Catholic publishing against women intellectuals who dare to question patriarchy or to question what the church means when it encourages us to exercise our "feminine genius."
That term, "feminine genius," was popularized by Pope John Paul II in his apostolic letter on the Dignity and Vocation of Women, which outlined for the Church the aspects of that "feminine genius" that he determined were key to aid in the thriving of humanity. Those aspects are often described as: receptivity, sensitivity, generosity, and maternity.
These ideas get tossed around a lot in the more conservative Catholic circles, particularly when one brings up the cause of women's ordination or preaching. We are told that our church's teaching on ordination will never change, that women will never preach homilies from the pulpit, and that it is up to us to explore the ways we are called to a different sort of priesthood—one that exemplifies receptivity, sensitivity, generosity, and maternity. In the same breath we are reminded of the great women of our church who have had lasting influence—especially the four saints named doctors of the church after Vatican II. They'll even go so far as to bring up Joan of Arc, and we all know where her feminine genius led her. My colleague, theologian Robert Saler, describes this as "elevating to dismiss." It's a frequent rhetorical strategy deployed against Catholic women.
In short—we are told to go out and exercise our God-given gifts for teaching and preaching, but not in our church, and only in certain "acceptable" ways. Like motherhood. Or being a catechist. Or writing spiritual books that affirm and never question or challenge church teaching–or, more frequently, that affirm current tastes in what Catholic "femininity" should look like.
And that has led many of us to the blogosphere, where we can write whatever the hell we want.
This is why I was particularly struck by a controversial article written by my colleague, Tish Harrison Warren, a priest in the Anglican church of North America, for the evangelical magazine Christianity Today's women's blog.
Harrison addressed recent controversies over celebrity women bloggers like Jen Hatmaker and Glennon Doyle Melton—who have created scandal in their support for the LGBTQ community, and in the case of the latter, in coming out as queer herself.
Harrison didn't condemn these bloggers, but she called for more institutional support, training, and official roles for women as teachers and writers within Church hierarchy as the way to avoid such scandals.
As someone who has been personally damaged by misguided theology in the Catholic blogosphere—and who witnessed the incredible influence of political invective disguised as Catholic theology on the recent presidential election—I find myself wishing for that kind of support for women in my own church.
But I'm also saddened, because I know, as a Catholic, this is extremely unlikely.
Harrison argued in her essay and in a follow up piece on her own blog that we must, as women, work institutionally, within Christ's church, for change.
But how are we to do that in a church that gives so little authority to the voices of women who exercise their vocations outside of motherhood and the domestic church?
As my colleague Rebecca Bratten Weiss wrote on her excellent blog, Suspended in Her Jar:
"…consider the condition in which we women find ourselves, emerging from the corners after 2500 years of being professionally and systematically mansplained, finally being invited into the conversation, and confronting so many predetermined ideas about the kind of beings that we are – ideas that were developed by men in dialogue with other men, not ideas emerging from a communal discourse."
On the other hand, as someone who has watched other Catholics silence Catholic women writers who are perceived as breaking lockstep with the political positions deemed acceptable among those with power—I understand the considerable backlash against Harrison's piece. Social media has given women more power, more authority, and more of a voice in the church than we've ever had.
In an an excerpt from an early draft of her essay posted on her personal blog, Harrison asked, "Does every Christian with a computer hold equal authority to teach and lead others in the doctrines and practices of the church?…
She goes on:
…This is certainly not a question that applies only to women. But if not, how do we faithfully draw lines when determining who is a teacher and church leader, and how do we draw on the truth of scripture and the wisdom of church practice to do so?"
Harrison also added that she believed that if we didn't find ways to work institutionally and to build institutions larger than ourselves, all we'd have left is personal branding– a few big names of female leaders who inordinately shape the perceptions of women in the church. And when we are left with allegiance to branding alone, what we're following is a cult of personality, not Christianity.
I think Harrison raised important questions for women writers in the Catholic Church.
I've witnessed first hand how "branding" or a social media "persona" becomes another way to silence voices of the marginalized women who do not fit that brand. Not only can we not break lockstep with political views, we can't tamper with the Catholic "brand"—which privileges self-sacrificing motherhood, a very narrow perception of what it means to be pro-life, and apparently, complete allegiance to the GOP, or we risk our reputations, and in the case of my colleagues Simcha Fischer and Rebecca Bratten Weiss, our jobs.
Weiss was a part of that panel I mentioned earlier at our Notre Dame conference, the one about Catholic women's voices that aren't always sweet. She's a blogger, yes, but she's also a trained philosopher, a brilliant writer, a farmer, a homeschooler, and co-founder of The New Pro-Life Movement, which is "whole life," committed to protecting human rights from conception to natural death.
She was also an adjunct professor of literature at Franciscan University of Steubenville, until she was recently witchhunted for her remarks on her blog, on our panel at Notre Dame and another one she organized on the tradition of vulgarity in Christian art.
Apparently, Weiss committed the great sin of being a fan of Game of Thrones—clearly inappropriate for a Catholic woman.
She also criticized the old pro-life movement and some of our co-religionists for their support of Donald Trump for president. She was consequently deemed "not pro-life enough" to work for Franciscan University, even though what she writes and teaches is in complete accord with the magisterial teachings of the Catholic Church.
She was also subjected to a lengthy hitpiece in LifeSiteNews, which relied on screenshots from private FB groups and quotes taken out of context to crucify Weiss for watching Game of Thrones and teaching Lolita in a literature class. They also came after me for circulating a Change.org petition, written by my brother, an LGBTQ activist, on my personal FB page–that petition simply called for transgender persons to be counted as persons in national census data.
Of course, this is not a problem limited to women—Fr. James Martin, a well known Jesuit priest "in good standing," was recently disinvited to speak to seminarians at a catholic college (among other venues) because of a smear campaign launched by radical right Catholic blogs and media sites. Martin noted in his response that "The blogosphere has become, for Catholics, a kind of parallel magisterium, substituting their own outrage for the judgment of those who occupy the church's legitimate teaching office."
That sounds a little like what Harrison was saying in her own piece.
Martin also said that "The communion of the church needs to be defended—not from the peril of theological discussion but rather from that of being monitored and policed by the loudest and least loving voices among us."
So no, the danger of "silencing"–a word now loathed and mocked by my radically conservative contemporaries nearly as much as the phrases "safe space" or "trigger warning"–is not limited to women. But it's far more dangerous for us, because we have little to no teaching authority in my church. We're facing a new kind of censorship–not by our church, but by those whose only power and authority is their number of "friends" or twitter followers.
Jessica Mesman Griffith is the co-founder of Sick Pilgrim and the Trying to Say God conference. These remarks have been delivered, in different forms, at both the Religion Communicators Conference, as part of a panel on "Fake News," and at Christian Theological Seminary as the lecture "Women, Authority, Blogging, and Church."