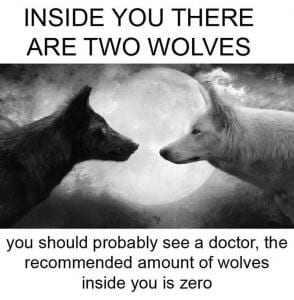 1. Inside you there are two wolves. One wolf is Catholicism; the other wolf is dead.
2. You say that like it's a bad thing.
3. The best thing about Catholicism is its people: Dorothy Day. Mother Theresa.
4. The worst thing about Catholicism is its people: Theodore McCarrick. Jean Vanier.
5. Poet Ross Gay (not a Catholic) suggests that sadness is a wilderness.
6. We are dead wolves in a wilderness of sadness.
7. Saint Thomas Aquinas ("Thomas" to his friends) says that a dead body is only a body in an equivocal sense. Technically, matter has to have form (soul or spirit) to be a real body. We call it a body, but that's just a name that it has in common with a living body.
8. This reminds me of how women aren't real persons. We are human in an equivocal sense, but really it's just a common name. It's not a real human unless it's male.
9. This is the meaning of complementarity: women are different and that difference cuts us off from agency.
10. This is why the feminine genius always means submission and never means speaking truth to power.
11. I'm an equivocal wolf body wondering in a metaphorical wilderness.
12. The resolution is the Resurrection.
13. The resolution is remembering that God came not as a man but as a child.