This is a continuation of our Lenten Series: Sick Pilgrim's Progress on pilgrimage. You can read our introduction here, week 2 here, week 3 here, week 4 here , and week 5 here
We are coming up on Palm Sunday, so my pilgrimage journey is nearing the end. Here is what I have done so far:
Fell into an internet rabbit hole reading about pilgrimages and shrines. I read about sites considered holy by Catholics all over the world, as well as by people of other faiths. I read stories about modern-day pilgrims, making the trip to France or Spain to walk the Camino de Santiago. I pored over maps both medieval and current. I took virtual tours of the Holy Land, the Camino, Lourdes… I found training programs for getting physically and mentally fit to walk a long pilgrimage.
Learned about Ireland's wayside shrines and grottoes. While I was down the rabbit hole, I spent a bit of time learning about the different shrines I saw everywhere in Ireland. Many of them date back hundreds of years, are named after local saints, and mark the spots of local wells. Many grottoes and wayside shrines to Mary date back to 1954 when the Vatican declared it a Marian Year.
Learned about the different orders that built the shrines I visited, and also explored some of the other work they do locally. I was surprised to discover that the Xaverian Brothers Missionaries lead a powerful ecumenical ministry in their community, striving for justice and unity among neighbors from different faiths in my area. I hope to return soon to engage in some of the teachings, as well as some of the social justice activities.
Visited a Russian Iconography museum This was a surprise feature of my visit to the St. Anne's Shrine. Apparently, some priests who were at the parish had served as missionaries in Russia at the start of the Cold War, and their parishioners gave them their icons to protect. The collection provided me a beginning education in iconography as a form of worship.
Prayed as a pilgrim. On the quiet, snowy Saturday morning I visited the Fatima Shrine, I prayed the rosary at their simple, yet remarkable outdoor rosary. The chain came from a retired Navy ship, with the anchor converted to the cross. The "beads" were boulders. On each boulder was a plaque engraved with the Hail Mary in a different language.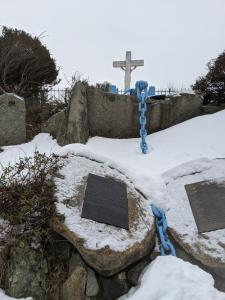 At St. Anne's, I sat in the chapel while waiting for an elderly woman with a cane and rosary to finish lighting her candles in the small shrine. It was a late afternoon, and the choir was practicing  while I waited.
When it was finally my turn to enter the shrine, I found myself in a narrow room. A bank of votive candles lined the left side of the room. A stained glass window depicting St. Anne filled the right wall. At the end of the room, encased in glass, was a statue of St. Anne in a golden yellow dress. There was a typed copy of a prayer to St. Anne for pilgrims to pray. There was also a relic of St. Anne's that was gifted to the shrine from another church in Europe. The case with the statue, relic, and prayer was flanked on either side with crutches and canes, some draped with rosaries, some draped with garlands of flowers, all left behind by pilgrims who came to this shrine for healing. I found myself moved to kneel and pray for healing for my children and for my own chronic illness.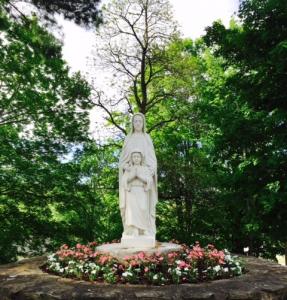 I felt compelled to make some sort of spiritual walk, as I drove on my pilgrimage to each of the shrines. So, after work yesterday, I went to a labyrinth garden at a church the next town over. Walking a labyrinth is not a new practice to me. I have done this many times in many places. A traditional form of prayer in many different traditions, walking along the loops of a labyrinth is a micro-pilgrimage of sorts.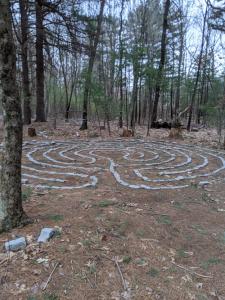 Came "home" changed. The National Shrine of Our Lady of La Salette, as I noted at the beginning of this series, is very familiar to me. I've been there dozens of times. I've been every Christmas season for as long as I can remember for their incredible light display. In the late 70s or early 80s, the priest from my godmother's parish on Cape Cod, Father Pat, was transferred to La Salette. She took me to an outdoor mass there once when she was visiting. When I was in parochial high school, La Salette was the site for our class retreats. I even attended a number of Christian concerts there over the years.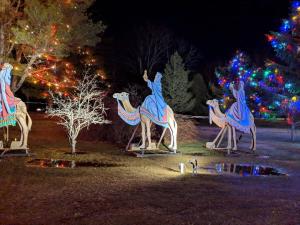 When I visited La Salette as a pilgrim, I was disappointed that I didn't have any sort of revelatory experience. It was just a nice walk on a Sunday afternoon at a place I knew well. To be honest, I felt more peace and sacred presence when I went snowshoeing at the Audubon preserve that abuts La Salette later that afternoon.
As I have been reflecting on this, though, I wonder if that is the point. I think that maybe a pilgrimage is when an ordinary believer does the most ordinary of tasks—walks (or wheels or is pushed along)—in an ordinary place with sacred intent. As a pilgrim, I am not the one who had a miraculous visitation with the Blessed Mother or has received a healing from a saint or otherwise experienced an extraordinary encounter with the spirit realm. As a pilgrim, I am just remembering that the miraculous, the extraordinary is possible. As a pilgrim, I come as an act of faith.
As I have mused on that a bit more, I realize that these shrine visits have brought about changes in me. I light more candles. I  pray more regularly. I have created a sort of altar shrine on my bedside table with the different prayer cards and other trinkets from my visits. I even sent some saint medals to friends in need of some special interventions.  
This experience did not end up looking or feeling like I thought it would. I think secretly I hoped for some sort of burning bush experience, but actually expected to find that all of this shrine stuff was bunk. Instead, I found that by sharing in the communal remembering of sacred happenings—Marian visitations, healings, miracles—I am, well, blessed. My faith is strengthened. I cannot say that I have the confident assurance that everything I have been taught has really happened. I am still full of questions and doubts. I head into Holy Week,  though, certain that I am still a believer.