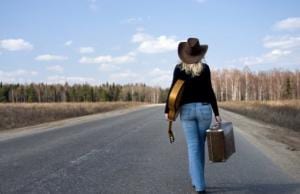 This is a continuation of our Lenten Series: Sick Pilgrim's Progress on pilgrimage. You can read our introduction here, week 2 here, week 3 here, week 4 here ,  week 5 here, and week 6 here.
When I started Lent I mentioned that I was at an impasse with my Catholic faith, and decided to go on a pilgrimage of the soul to learn new names for God, broaden my view of her, and respectfully learn about other faiths.
I did what I always do when I want to learn—I turned to books. I checked some out of the library, and bought others. I had books on comparative faiths, books written by the Dalai Lama, books of short essays on experiences with other faiths, books on deconstruction. In addition to the Dalai Lama I read Barbara Brown Taylor and Sarah Bessey, among others.
I couldn't finish them. This was not because I had too many (though I did), nor because I had other things to do (though I did). For the first time in a long time, I found them…lifeless. Dead. Uninteresting and dissatisfying. Halfway through Lent I discovered that my pilgrimage was not to be by the book.
So I started with a zoom service at a friend's Episcopal church. As I mentioned in the post at the beginning of this journey, I had not been to a "regular" service of any other faith, ever. The service was beautiful. The church is LGBT affirming, and there were two pastors, one male and one female. The female pastor delivered a moving homily about being in the wilderness. I was surprised at how much it meant to me to hear the homily in a woman's voice, and to see her in priestly garb. The church looked familiar, the garb looked familiar, the songs sounded familiar, the prayers were even familiar, the order of the liturgy was familiar…it was almost a Catholic Mass. It was like leaving the United States to travel the world, and stopping first in Canada. There are key distinctions to be sure (and I cannot understate the importance of being both LGBT and gender affirming), but the exact border can feel a little fuzzy.
I decided I needed a bigger step away from my own tradition, so I started a MasterClass on meditation led by Jon Kabat-Zinn, and after a few sessions I had a long, fruitful discussion on meditation and Buddhism with one of my brothers who practices them. He was very quick to point out (as is anyone I've talked to who practices Buddhism or meditation) that Buddhism is not a religion. It is a practice. We discussed some of the guiding ideas of Buddhism and some of the ways it is similar to and different from Christianity. We commiserated on the difficulty from either perspective of persisting on seeing those with whom we strongly disagree as still humans with dignity and worth. I came away with an even deeper respect of both Buddhism and my brother, and a renewed desire to learn more about both.
By chance I came across an ad for an annual Baltimore area "queer Seder," led by a coalition of Baltimore Jewish communities. I have always wanted to attend a Seder and it was being held on Zoom, so I requested and received permission as a non-Jewish queer ally to attend. (Side note: please, if you decide to go on your own soul pilgrimage, always ask permission before attending someone else's religious ceremony, even if it's over Zoom.)
I was surprised by the proposed length of the ritual; even more so when the Rabbi announced that it would be a heavily adapted and shortened version of a traditional Seder. The ritual was stunning, and at one point, when it would have been tradition for us to wash each other's hands, we were all encouraged to symbolically "wash" our own hands on screen, as a way to cleanse ourselves of any times in the past when we haven't been a good ally to the queer community. I actually broke down in tears, seeing a screen full of symbolic hand washing, remembering my own very bigoted past views. A trans person shared their story of coming out and the various ways they were rejected and accepted. About half an hour in, the group was going to break up into small discussion rooms with specific questions, and I decided to log off rather than risk making the other participants uncomfortable fully sharing in the presence of a visitor. Again I came away with a deep desire to learn more, and to one day participate in person in a Seder.
What have I learned? I am struck by the beauty of my fellow humans, with the myriad fantastic ways we have of relating to and talking about God. We are such odd creatures, and yet we all share longings, to be seen, to be loved, to belong, to have deeper purpose and meaning in our lives.
I never thought I'd say this, but Lent was too short. It went by far too quickly for my pilgrimage. The only thing for it is for me to keep walking, keep exploring.
I may never go home.