This is the third week of our Lenten Series: Sick Pilgrim's Progress. You can read week 1 here and last week (week 2) here.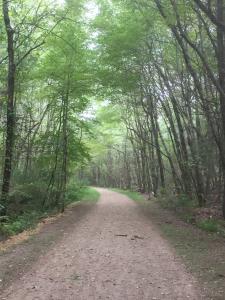 Like Mary, I, too, am at an impasse with my faith.  Like my friend, I find "it is painful, and personal, and ongoing." Unlike Mary, I have not feared what other faiths offer. I have long wandered around, eagerly engaging with other denominations and faiths through my work in education and social services, and my own insatiable curiosity about other people, and the things of God.
For several years, I worked at a Baptist summer camp that serves special needs adults, attending weekly services in a small, beautiful log cabin chapel side by side with my campers. When I worked as a banquet waitress, I was a witness to literally hundreds of Jewish bar and bat mitzvahs. I have been to enough ceremonies to recognize the differences between reformed and orthodox Jewish weddings. I've been to a traditional Hindu wedding that took three full days.  I was treated like an honored guest at a Pentecostal wedding for a Puerto Rican couple. I surprised the bride's mother by being able to recite the Lord's prayer in Spanish along with the rest of the family. I've been to Quaker funerals where we sat in silence, until the Spirit moved someone to speak about the deceased. I once accompanied a hospital chaplain to a locked psychiatric ward to offer comfort to a woman who at that moment seemed more like a caged tiger than a mother of two young children. I collaborated with local rabbis, ministers who represented every Christian denomination, and dozens of non-denominational pastors to meet basic health, social, and educational needs for our neighbors. For a decade, my office was next door to a triple-decker that housed Lao Buddhist monks who did mundane tasks like walk their dog and mow the lawn just like the rest of their neighbors, but while wearing the saffron robes of their sect.  I spent twenty-one years fully enmeshed in a non-denominational evangelical church.  These days, I work at a Jewish university.  You could say that I've been around.
For a decade now, though, I have not been part of any congregation of any sort. I have been unable to join a faith community treats any group of people as The Other, implying by word and practice that there are people who are not beloved of God; who do not bear the Imago Dei. I miss having a "church home."
As I have wrestled with that, to my surprise, I find that in many ways I still bear the markings of the Catholic faith of my ancestors and my upbringing. Recently, I realized that the virtual community of folks that make up "Sick Pilgrim," has become my de facto faith community. It's mostly enough, but not quite. I find that I am still trying to find my way home.
So, where Mary is stepping outside of the Catholic Church to seek "new names for God," by attending (at least virtually) services in denominations and faiths that are unfamiliar to her, I am trying to find my way back into the church of my childhood. For my Lenten pilgrimage, I have been visiting Catholic shrines.  Growing up, my home parish was not big into saints or Marian devotion. I don't understand either, and find that I am alternately amused and fascinated by it all. So far I have been to two shrines dedicated to Mary—the National Shrine of La Salette  in Attleboro, MA, and Fatima Shrine, run by Xaverian Missionaries, in Holliston, MA. I've been reading about the apparitions these shrines memorialize, and the pilgrims they have inspired. I'm learning a bit about the religious orders who built the shrines.
I'm on my way.