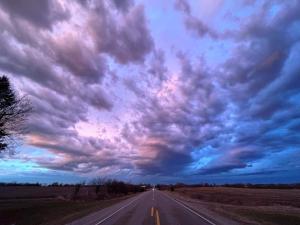 I've had a cold ever since returning from my Christmas holiday extravaganza with family in Iowa. Unclear on if it's a cold from a nephew or something more, I've taken somewhere near 10 covid tests, determined not to harm those closest to me, while also being cognizant of the impossibility of perfect safety in these times. Looking to the wisdom of the disabled and chronically-ill community, many of whom have no choice in staying home, I often wonder what the hell we're doing continuing to go out for anything? What happened to communal care? And, it's cold. And, I'm an introvert. And, what happened to communal care? And, and, and.
I've been talking with loved ones more about what it means to hold tensions and step into things somewhere on a spectrum amid that. Perhaps this looks like the times I buy the book from Amazon instead of my new local bookstore, opting for instant-gratification over patience (shoutout to Dog-Eared Books in my hometown of Ames, Iowa). Or, the evenings I make the conscious choice to forgo being around people amid a global pandemic. The moments I swing by the big-box grocery store to more conveniently get the peppers I need for this evening's meal, instead of the local Co-op. My choice to recycle despite being told my city does a terrible job of actually recycling the recycling. The ways I use gasoline, electricity, water, all while scoffing at the large corporation's contribution to global warming. All of my choices, no matter their placement on the spectrum of "good" and "bad" create some kind of a dent upon my ethical compass and impact my longer term decisions. But they all still carry tension.
Carrying tensions is part of what it means to be human: we live only to one day die, after all.
So, this got me thinking about the tensions of my faith.
Today, I spoke with my mentor, pastor, and friend about how good it feels for my faith to be more on the spectrum dedicated to authenticity than people-pleasing, and I can't help but wonder what the hell my faith even meant before this? This is the place of faith my parents called me to, a place of ownership, when they told me at the age of 12, "Okay, you're in middle school, church is your choice now. If you want to go, we'll give you rides, your friends rides, but it is totally up to you if you want to go." And, yet, of course, even in this place of authenticity, faith still holds tension.
As I pursue ordination in the UCC (United Church of Christ), I think about just how far my faith has grown, and yet just how much it has become what it's meant to be: authentic, autonomous, open to change and wonder, while also being devastatingly shaken when things get hard, or fully mistrusted when Christianity as a religion causes such perpetual harm. But, if faith rests on the spectrum which includes doubt, then perhaps these moments of mistrust are actually another form of trust. Maybe these moments remind me to begrudgingly lean into others, the other doubters, the other skeptics, that I might cling to the promise of relationship with more confidence than the promise of faith.
Sometimes I wonder how faith could ever not be a tension. It is constantly disrupted by life's events. When we cleave to something that insinuates unknowing by its very definition, what really is faith without the tension of surrender and reliance, or certitude and a total lack of confidence? Maybe the tension of faith is precisely that it cannot exist without distrust. Maybe my faith is fully reliant on my doubt.
As I go back to blowing my nose and taking another covid test, I mindlessly scroll the screen and am stopped by the haunting humor of Tiffany C Li:
"Stay indoors. But also return in person. Wear a mask. Not that one. The expensive one, that you can't find. Take rapid tests. Which you also can't find. But if you find them, don't buy them. Rapid tests don't work. You need PCR. There are zero appointments in your area."
Have faith, but know it doesn't necessarily make things better.
Have faith, but know it doesn't necessarily change anything.
Have faith, but remember your doubt is a form of faith, too.
Cassidy Hall is an author, filmmaker, podcaster, and holds a Masters of Divinity, Masters of Theological Studies, and Masters in Counseling. Born and raised in Iowa, she now works at First Congregational United Church of Christ in Indianapolis where she is pursuing ordination. Throughout her time at Christian Theological Seminary in Indianapolis, she has worked as a Teaching Assistant while studying for her MDiv and MTS degrees (December, 2021). During her time at seminary, she also served as the Secretary of the International Thomas Merton Society and continues to serve on the board of Enfleshed.
Cassidy co-authored Notes on Silence (2018) and has had her work featured in devotionals including most recently: Thirsty, and You Gave Me Drink; Homilies and Reflections for Cycle C, from Clear Faith Publishing (2021). Her essays have been published in the Christian Century, The National Catholic Reporter, Convivium Journal, The Thomas Merton Seasonal, The Thomas Merton Annual, and she has also been a contributor for The Huffington Post and Patheos. 
Before pursuing her MDiv and MTS in Indianapolis, Cassidy lived in Los Angeles where she worked on the production team of the documentary feature film, In Pursuit of Silence. The film's success on the festival circuit and beyond led to its worldwide theatrical release. Her directorial debut short-film, Day of a Stranger, paints an intimate portrait of Thomas Merton's hermitage years and received the Audience Choice Award from Illuminate Film Festival.  
She is the co-host of the Encountering Silence podcast, which explores the ambiguity of silence in our modern-day lives. And more recently, she created a podcast hosted by the Christian Century titled Contemplating Now, which examines the intersection of contemplation and social justice.