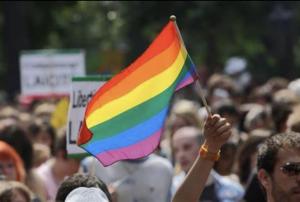 Last week, Mary wrote about how the USCCB lobbied behind the scenes to prevent the formation of a National Suicide Hotline. The reason, if you have not followed this story, is that the bishops were concerned that such a hotline would be affirming of LGBTQ persons.
To put it baldly, the USCCB opposed the establishment of a National Suicide Hotline because it might provide assistance to gay and transgender people. This is an oversimplification, but it is not inaccurate. 
Reflecting on this problem (and it is a problem), two questions arise for me. 
Why am I still here? Why do I continue to feel allegiance to an organization that is so committed to dehumanizing LGBTQ persons, women, and,

in the United States at least, minorities

? This is a personal question, one which I can answer only for myself, if I ever find the answer to it at all. 

Where is the good? This is a question not about my personal allegiances or belief in God and Catholicism. This is a question about what can be documented. It's a question about what can be counted. Where are the good things? 
This weekend's readings get right to the heart of that second question. Among the good things is the emphatic assertion – God is Love. 
In the Second Reading, St. Paul writes:
"Beloved, let us love one another, because love is of God; everyone who loves is begotten by God and knows God. Whoever is without love does not know God, for God is love. In this way the love of God was revealed to us: God sent his only Son into the world so that we might have life through him. In this is love: not that we have loved God, but that he loved us."
In the Gospel, Jesus says: 
"I have told you this so that my joy may be in you and your joy might be complete. This is my commandment: love one another as I love you. No one has greater love than this, to lay down one's life for one's friends. You are my friends if you do what I command you. I no longer call you slaves, because a slave does not know what his master is doing. I have called you friends."
These readings are unequivocally about love. They affirm that God loves us, and that love is meant to be a joy. St. Paul goes so far as to say that "he who loves is begotten by God and knows God."  
But it is the first reading, from the Acts of the Apostles, that throws the bishops' stance into sharpest relief. This scripture passage occurs in the context of the Early Church's debates about Gentiles. Was Christianity going to be a religion that excluded Gentiles as unclean, or was it going to expand its sense of who was beloved by God? Was it going to expand its sense of who belonged?
Confronted by Gentiles who believe in Christ and are filled with the Holy Spirit, Peter exclaims:
"In truth, I see that God shows no partiality. Rather, in every nation whoever fears him and acts uprightly is acceptable to him." While Peter was still speaking these things, the Holy Spirit fell upon all who were listening to the word. The circumcised believers who had accompanied Peter were astounded that the gift of the Holy Spirit should have been poured out on the Gentiles also, for they could hear them speaking in tongues and glorifying God. Then Peter responded, "Can anyone withhold the water for baptizing these people, who have received the Holy Spirit even as we have?" He ordered them to be baptized in the name of Jesus Christ.
We see in this reading that God's sense of who belongs is more expansive than our religious leaders frequently want it to be. We see that God affirms the very people who have historically been excluded. 
The difficulty facing us in these readings is not whether or not there is anything good here. The difficulty is learning how to claim the good. The difficulty is learning how to make faith our own so that our faith is not an injury to the vulnerable, nor an excuse for dehumanization. 
It's something I'm working on every day. I hope you are too. 
And I hope that, one day, the bishops catch up.
Maren Grossman is a contributor and former assistant editor at Sick Pilgrim. She received an M.A. in philosophy from Catholic University in 2007, but left grad school to homeschool her kids. Her work has appeared in the online journal Living Education, the journal Convivium, and the Ethel Zine.