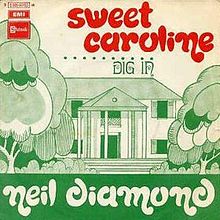 I love music. I love all kinds of music. My mind uses music like a label on a file folder. Like so many of you, different songs or artists or sometimes genres will help me recall a specific person, event, or period of my life. The Beach Boys will never fail to remind me of my late father, and "Walking on Sunshine" always transports me to a morning at summer camp, right after I got a letter from the boy I was deeply smitten with.
I love baseball almost as much as I love music, and I love the way music is such an integral part of the game. A regular topic of conversation in our house is what music to play when you get called up from the bullpen. I taught my daughter to play the traditional organ cheer "Charge!" and "Take Me Out to the Ballgame" when she was little. Most of all, though, I'm a sucker for the patriotic songs.
Every game begins with the national anthem. Whether a high school marching band plays it or a children's choir sings it or a musical celebrity performs it, it always makes me tear up. I don't consider myself a flag-waving patriot, but there's something about the national anthem at a baseball game. I think it's because baseball, more than anything else I've seen in this country, truly reflects us all as a nation. Look in the stands. The fans are rich, poor, and in between. They're every color and race, every age, gay, straight, female, transgender, democrat, republican. There are advertisements everywhere, but also tributes to our military. So, yeah, the national anthem before a baseball game gets to me.
It was not the national anthem, though that made me weep publicly, in sorrow and in gratitude for my fellow Americans. It was during a game early in the season of 2013, and Neil Diamond made a special appearance on the field between the seventh and eighth innings. Just weeks earlier, on Patriots Day, while the Red Sox were getting ready to play an early day game, as is traditional, those two twisted brothers-become-terrorists set pressure-cooker bombs at the finish line of the Boston Marathon. I had cousins, coworkers, and friends in the city to cheer the thousands of racers, including some friends. My husband works just a few blocks from there. For a period of time, we couldn't reach everyone we knew was there. My husband was caught in a citywide lockdown, unable to get home. I was in Africa, having difficulty getting any information, and struggling to get home. It was a traumatic experience for my family, our beloved city, and much of the country beyond.
So, that night, when Neil Diamond stood on that field and started to sing "Sweet Caroline" accompanied by a chorus of 37, 371 fans in the stands and millions more from Red Sox nation, watching on television or listening in their cars, I was singing "Good times never seemed so good. (SO GOOD! SO GOOD! SO GOOD!)" with them all, and was wholly undone.
Kristen Allen is a mother, daughter, wife, aunt, niece, and preschool teacher. She lives in central Massachusetts with her remarkable husband, two sons (because her daughter had the good sense to move out of town) and two incorrigible dogs. She's written about family life, education, community service, and her ongoing battle with the Almighty at The Prodigal Son's Mother (http://prodigalsonsmom.blogspot.com/), The Woonsocket Call newspaper, and other publications.