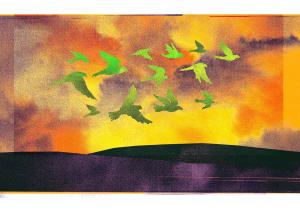 Art by the flockin' incredible Brian Jocks.
As a lover of good stories, I recognize that the Bible is full of them, but I have a qualm about those stories: I don't get excited by the ones where God is speaking directly to people and telling them exactly what to do. Jesus literally calls, and they follow. I take no comfort in these stories. And really, even if you had to do something you didn't want to or got persecuted for it, the fact that you had direct instructions from God makes the story a little less dramatic. In other words, it's not as good.
There was a time when I was going to become a nun. Not in a little girl dreaming kind of way but as a high school graduate actively talking to religious communities and deciding whether I would enter college or the convent. I looked at cloistered communities and while drawn to the silence and prayer, I couldn't imagine not being in the world and not seeing my family.  Something about it wasn't quite right for me. I kept looking and that summer I went on a retreat at the Boston Motherhouse of The Daughters of St. Paul. The Sisters were fierce, loyal, prayerful, and fun. They carried with them a vision of joy and love and were quirky, complicated women who were in the world and serving the world. During the retreat, we ate together in the dining hall, tables full of nuns. We worked in the bookstore. There were dogs and cats as pets, which was unexpected but delightful. We prayed in the chapel. We witnessed sisters making their perpetual profession. We walked the hilly grounds of the Motherhouse and prayed in the cemetery for the sisters gone before. We played games and told jokes in the rec room. I could finally talk to women my own age and not feel like I had to hide a part of me. We visited the tiny retreat house, full of relics, and said the kinds of prayers one does when standing on the rocky shore next to seagulls looking at calm waters that go on forever.
Yet for all the goodness and peace I felt, I couldn't commit. I wanted God to give me a definite sign. To erase all doubt that kept creeping up in the corners. To speak directly to me. The more I waited for something the louder the silence got. So I started college and my life went a little off the rails. I lost a baby. I lost the faith that rooted me to the world. I was miserable and angry. The Catholic Church had always been my guidepost, my foundation for how to be a believer. But after everything, there didn't seem to be enough acknowledgement from the Church on how tough it is to be alive and how easy it is to get it wrong, or acknowledgment that what is right is often filled with much grey area. It might have made it easier for me to find my way back again and forgive myself. But even in the misery there was unexpected grace: meeting a friend who pulled me out of the depths and showed me joy, blue jays that came to the yard every morning, the birth of my son, a flock of green parrots streaming across the sky, reading a poem that unexpectedly spoke to exactly what was in my heart. These were the reminders that there must be something bigger than us and I longed for that time where I held confidently to that belief. I tried to become that person again, a good Catholic, but never finding peace or the right place in the Church. Letting go is not something I am good at. It can be easy to become haunted by the past, dwell on what could have been, turn choices over and over again and use it as an excuse to stay stagnant. Better to stop moving than to get back on that long, twisted road travelling into a darkness.
It took me decades to realize I was mad at God for not making it clear to me what path I should take when discerning my vocation. That not only did I think I was a failure for some of my actions but that Jesus had failed me. It took even longer to realize I could have a place in the Catholic Church but it had to look very different from before. I should have paid more attention instead of dwelling in the past and placing blame. I should have linked hands sooner with the people who owned up to being human, fallible, mess it all up Catholics. The people who were doing what was in their heart even if others said it was wrong or they were treated like outcasts. But I did get one thing right, like the disciples who dropped their nets and followed Jesus, I said yes. I said I want to be a part of this. I still say yes even though I don't have any more answers than I did. I still have the long road ahead of me. But the thing about everything burning to the ground is that I get to start over and rebuild my faith piece by piece and this time I'm a little less afraid of stepping on that long, twisted road.
*****
Emily Webber is currently in South Florida dealing with colossal iguanas, alligators, two giant house cats, and her nine-month old son while trying to write. Her fiction has been published in The Writer magazine, Maudlin House, and Five Points. A chapbook of her flash fiction is available at Paper Nautilus.