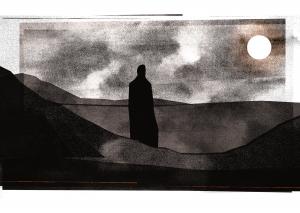 Art by the brooding, contemplative Brian Jocks.
12 And the Spirit immediately drove him out into the wilderness. 13 He was in the wilderness forty days, tempted by Satan; and he was with the wild beasts; and the angels waited on him. 14 Now after John was arrested, Jesus came to Galilee, proclaiming the good news of God, 15 and saying, "The time is fulfilled, and the kingdom of God has come near; repent, and believe in the good news."
My family recently spent a week in Big Bend National Park in western Texas. As we drove closer to the park, I noticed trailers and other small dwellings dotting the landscape around the highway. The contrast between the desert sky, the jagged mountains, and the open fields filled with thorny plants and rusty trucks was stark. My husband had taken my older three children to the park the year before, so I asked him about it and he told me that people have been moving near the park in increasing numbers to get away from bigger cities and forge an independent life. I was immediately drawn to the idea and started imagining a life in the desert. I wasn't sure how my kids would appreciate having a yard filled with thorny plants, but I figured we'd teach them how to handle their new surroundings. They would love climbing around in abandoned cars, I was sure of it.
I've long been attracted to the solitary life, particularly in an extreme setting. Growing up in Alaska, my image often included a cabin surrounded by snow, but has expanded to include many different landscapes. I love the idea of living a quiet life where the biggest struggles seem to be the landscape and my inner demons. I've read countless memoirs of people doing just that and have imagined myself living alone in locations all around the world. These memoirs are rarely about mothers of small children, but I'm attracted to them nonetheless.
Today's passage begins with Jesus being tended by angels in the desert. This is the image I like. My idealized image of the desert is very much in line with being tended by angels in a serene environment. It's the place I imagine myself when I daydream.
But Jesus doesn't stay in the desert. And I hate that about him.
I want to stay in the desert, the angels waiting on me. I don't want to face the pain of John's arrest, of needy people in need of healing, of proclaiming the good news in a hurting world. My default is to stay, to hide, to keep to myself. Lent is the season most appealing to my monastic tendencies. I love taking up new disciplines and seeing how they take shape, as long as they don't involve other people. I know this isn't the life Jesus calls me to, though, so I've been trying to say yes to more during Lent as a way of opening myself up to the messy life Jesus calls his followers to. It's hard and I fail a lot.
Despite my personal preferences, I think the Gospel reading is so fitting for the first Sunday of Lent. It reminds us that we aren't meant to stay in the desert, whatever that means for us. We're called to leave, sometimes to places we don't want to go. Maybe our time is now, maybe it will take a lifetime to leave, but we're called to leave and enter the mess of the world. We're called to the hard life of being Christ in the world.
I'll continue to drag my feet, hide behind my monastic practices, and dream about a life in the Texas desert. I know this about myself. But each Lent I feel the pull to leave the comfort of my self-made desert and enter the world of suffering, as Jesus did.
*****
Shana Hutchings lives in the Midwest with her family where she enjoys baking, reading, and going for long walks alone.