Several years ago, I happened upon naturalist Sallie Wolf's website detailing her "moon project." For 20 years, Wolf has observed the moon, desiring as she put it, to live like a preliterate person, without access to books or the internet, learning only through the power of her own observation. She developed a visual tool for charting the moon's position in the sky, a semicircular diagram that she called "my watchful eye."

For years, along with all the other records and musings and watercolor sketches she kept in her journal, she made copy after copy of this watchful eye, each one with slight variations, each one keeping track, trying to make sense of that celestial body that moves silently and often invisibly above our heads.
Eventually, experimenting with different artistic ways of recording her moon data, Sallie graphed it on musical staff paper, and as soon as there were marks running down the lines, there were notes calling out to be played. A cousin and his son put words to these notes and sang them. The result sounded like some ethereal Gregorian chant.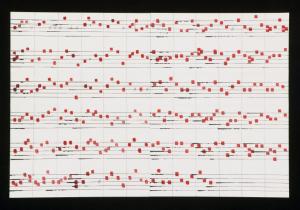 Reading through her website, I was transfixed. I longed to hear this incredible melody more fully rendered, so I took all of this to my friend, Patrick Godon, who is not only the music director at my church, St Gregory the Great in Chicago, but is also performing as the principal pianist for the Chicago Symphony Orchestra. Together we raised money to support this project, and after a year of hard work, Patrick composed an entirely new piece, which takes as its theme the lunar notes Sallie Wolf charted for all those years.
We debuted this piece last spring, but you can hear "Wolf's Moon" for yourself on the radio. Together with the flute, horns and piano, I will be performing the narration on March 12 on Chicago's WFMT 98.7 station at some point during 9-10 pm CT. Or you can stream it live here: https://www.wfmt.com/listen/live-stream/.
To promote the initial performance, I wrote the following blurb, which will hopefully intrigue you enough to tune in:
Have you ever wondered what the moon sounds like? In a gorgeous original composition for flute, piano, tuba, French horn and narrator, Patrick Godon imagines just that. Inspired by Chicago naturalist and illustrator Sallie Wolf, who beautifully recorded years of the moon's north-south shifts on musical staff paper, Patrick creates a sometimes ethereal, sometimes ecstatic melody. As the flute follows the actual lunarnotes, you have the visceral sense of hearing the moon speak, or rather sing. The two horns enter like wolves, half-valve, mournful, crooning up at the sky. But as the howls accelerate, they become otherworldly, like some distant, interstellar wind. Later the horns and piano join with the flute in what might be a dance of earth and moon, or a dance of planets, or a dance of a person looking up at the moon day after day, sometimes glimpsing it, sometimes thwarted by clouds, but continuing to wait to see what might come to pass. Wolf's Moon is unlike any other piece of music you will ever hear. It is at once data and song, at once of our world and of the heavens, at once melody and atmosphere, both spare and rich. Sallie Wolf once asked herself, "What might I see if I looked every day?" And now Patrick beautifully answers, "If you looked everyday, you might hear this." In Wolf's Moon, you literally feel the dedication of artists, Sallie's decades of observations, Patrick's long-trained and finely tuned ear, and the dedication of our moon that for eons has silently risen and fallen but now, finally, is given voice. Come hear and be transported by this ode, this prayer, this bizarre and beautiful lunar song.
Amy Alznauer is the winner of the Annie Dillard Award for Creative Nonfiction, the Christopher Award, and the SCBWI Laura Crawford Memorial Mentorship. She is now writing children's books and has three books under contract which will be coming out in 2019 and 2020, the first of which will be a fully illustrated biography of Flannery O'Connor. She is also the managing editor for The Prairie Wind, which is the publication of the Society of Children's Book Writers and Illustrators in Illinois. She teaches mathematics at Northwestern University and is artist-in-residence at St. Gregory the Great.