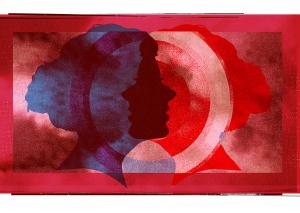 Art by the crimson and reflective Brian Jocks.
My sophomore year at Taylor University, a small Christian college in Indiana, I sat between two friends on a couch, watching a movie in our dorm. I was eating a snack-size package of bland vanilla cookies — the only sweet thing they'd had for sale at the front desk. They weren't very good, but I couldn't stop eating them. I didn't know why, didn't investigate why. But I was the only one eating anything on that couch, sitting between two friends with bodies much smaller than my own, one of whom I wished would be more than a friend. I knew that it was because I could not stop eating cookies — the reason he would never be more than a friend.
At night I had alternating thoughts before sleep. I'd fantasize about my friend sneaking down from the floor above me where he lived. I envisioned him climbing up into the top bunk beside me, above my sleeping roommate. He'd hold me and we'd kiss, and I'd know I was worthy of affection, attention, maybe even love.
I also imagined breakfast in the dining commons: the build-your-own waffle, eggs with cheese, sugary peaches that came with whatever that dried granola substance was. Nearly every student on our small campus ate our three meals in the commons within the strict hours it was open. It was a relief to eat when others ate– to know now was the appropriate time to feed myself– although I'd sneak peeks at my friend's plates to make sure mine wasn't more loaded with food than theirs.
I went to see a therapist on campus. In our first session, "Kim" gave me a book of personal essays on compulsive overeating. Suddenly my fears and my behaviors could all be grouped together, and they had a name! She told me to read the book, come see her next week, and we'd talk about whether any of it hit home. I saw myself in their stories. There was recognition but no healing.
For a few sessions, Kim only asked questions, and I dug into my relationships with food, family, and my peers. My fears of being un-datable and my sneaking suspicion that it was because I was "too big."
I grew impatient. In her office, I might've been uncovering truths about myself, but I wasn't gaining new tools with which to handle them.
Finally, at the end of maybe our fifth or sixth session, she gave me homework. "Go back to your dorm," she told me, "and find a mirror. Look yourself in the eye and tell yourself that God loves you."
I never went back to see Kim.
For God so loved the world that They gave Their only Son, that everyone who believes in him might not perish but might have eternal life.
What does it mean to abide in God's love?
I want to say I was right for the reasons I never went back: knowing God loved me did not reassure me that someone else would – that I was worthy of romantic love and affection. I did not believe embracing God's love was the answer to my unhealthy view of my body or my relationship to food.
But the truth is, I can't even begin to fathom what truly embracing and abiding in God's love might be like — who I might be if I more consistently, more whole-heartedly invested in my relationship with God; listened to the still, small voice; let it humble and embolden me.
Still, I don't think Kim was going to teach me how to abide in God's love.
I believe she was under the impression that God's love was supposed to be the platform on which my entire self-worth was based (a problematic idea I think is common in American Christian communities). I needed my own: a foundation of self-worth based not on who God is, but who I am: a queer and curvy woman, adorably awkward, regrettably anxious, and proudly bold.
So why does all of this come to mind for me when I read John 3:16?
Because if God's love is defined by Jesus's sacrifice, then his sacrifice should also inform how I am supposed to live in God's love.
My platform of self-worth feels a lot more solid when I reject the idea that God would create me inherently unworthy of Their love. Even in my sinful state, why should I need a go-between?
For God so loved the world that They gave Their only Son, that everyone who believes in him might not perish but might have eternal life.
Since my senior year at Taylor, when I rejected the belief that Christianity was the only right spiritual path, I've been uncomfortable with this verse, unsure what the death of Jesus meant to me.
My self-image is somehow intimately tied into whether I accept and abide in the love of God, and growing up within evangelical Christian communities, my image of others was supposed to be rooted in whether or not they agreed with me. I struggle with the former and full-out reject the latter.
At times, I've felt like a fraud. How can I call myself a Christian when I'm uncomfortable with the very idea of salvation?
In his book The Heart of Christianity, Marcus Borg writes:
Jesus is, for us as Christians, the decisive revelation of what a life full of God looks like. Radically centered in God and filled with the Spirit, he is the decisive disclosure and epiphany of what can be seen of God embodied in a human life. As the Word and Wisdom and Spirit of God become flesh, his life incarnates the character of God, indeed, the passion of God. In him we see God's passion.

And we can say that he is the decisive revelation of God for us as Christians without needing to say that he is the only and exclusive revelation of God … To paraphrase William Sloane Coffin, a contemporary author and activist: for us as Christians, God is defined by Jesus, but not confined to Jesus.
Borg became the first in a line of theologians, followed by folks like James Cone, Marcella Althaus-Reid, and Kelly Brown Douglas, that I've consumed, hungry for their vision of Jesus: his compassion, his affection for Abba, his understanding of justice. The workings of salvation are still a mystery to me, but I think that I'm beginning to understand what it means to be a follower of Christ.
For God so loved the world
It's been 15 years since I graduated from Taylor, and I might have an eating disorder. I still have plenty of issues around food and body image. But I've done significant work with two (secular) therapists who have never felt the need to attribute the label. Probably because I'm in no danger to myself. Overall, I'm pretty physically healthy.
Maybe staring into a mirror and telling myself God loves me would help me — I'm not sure. But what has helped are all the people I've confided in who have confided back, and all my loved ones over the years who have affirmed through their words and actions that I'm lovable and desirable, just as I am.
Through all of them, I feel the love of God.
*****
Jera Brown
is a queer Christian activist, intersectional feminist, and freelance writer whose work engages sensitive issues around sexuality and spirituality. She is the editor of
Sacred and Subversive
, a multi-faith blog and anthology project offering queer perspectives on the future of faith communities and
Church of the Scarlet Letter
, her personal blog about being a queer, kinky, polyamorous Christian.