April Fool's! I mean, Happy Easter!
April is almost over, but not yet. So it's time for me and other sick pilgrims to reflect on the small joys that are keeping us going.
Honestly, this post isn't always simple to write. Personally, I've been more focused on surviving monotony than on the little things that make me smile. I've been kind of in a funk – so this post is a little late.
With the end of April fast approaching, I didn't want to make my boss, the Sick Pilgrim headmistress Jess, even more disappointed in me. I sent out an S.O.S. to my fellow Sickies, and they delivered. Boy, did they deliver.
Sometimes monotony makes me focus on myself. If I am already in a funky mood, it starts to feel like I'm watching a bad movie on repeat.
Instead of feeling like I was watching X-Men Apocalypse again, my friends helped me break my self-centered loop. And they rock for that.
*****
Sam Rocha is the incarnation of NAFTA: a Mexican-American living in Canada, where he teaches philosophy, writes, and plays music. His last name is pronounced CHA, like CHA CHA CHA.
Music keeps me alive. It is a constant IV in my veins. When it comes to music, I believe in American exceptionalism. I love the Americana aesthetic, whether it is made in the Americas or not, across its various folk cultures, but especially from the rural roots of it all. If you think that good music is stuck in the 60s and 70s or some romantic era gone-by, then you are dead wrong. Here are two treasure troves of good fresh music.
Tiny Desk:
It might seem too obvious, but if you're not a religious Tiny Desk listener, you're missing out on the best mixed live music on the internet. Top concerts for me are Anderson .Paak and the Free Nationals, Natalia Lafourcade, Benjamin Clementine, Diego el Cigala, and Nate Smith + KINFOLK. Tank and the Bangas had their break-out from this series. I am praying for the day they have Hiatus Kaiyote on. KEXP's live radio concerts are a close rival to these, but I think they are tops and they keep me alive.
Scary Pockets:
All covers, all the time. Pop tunes in a low volume funk style shot live off of a studio floor. Keyboardist Jack Conte is the mainstay, with a really strong rotation of instrumentalists and vocalists. Sam Wilkes on bass is a special treat when he's laying down the funk. The arrangements are fresh and tight and, above all, fun.
*****
Marybeth Chuey Bishop lives in Annapolis with her husband and children, two dogs, and some scruffy plants. She likes to walk, wear socks with kraken or Poe on them, and write with her blogging partner-in-crime Kristen at Crone Café. You can find them on Facebook or at cronecafe.wordpress.com.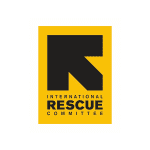 Giving as grieving. My mom died about a month ago, so this Mother's Day is going to be rough. One of the things that is keeping me moving through all the happy Hallmark and Teleflora ads is this gift package offered through The International Rescue Committee. For $63 I can donate three Newborn Baby Kits to mothers in remote areas that include clothing, baby soap, and diapers. Thank you to Sarah Babbs from Fumbling Toward Grace for the wonderful inspiration to honor my mom.
April was National Poetry Writing Month, and I participated in a poetry-Writing Rodeo and Poem Stampede through Convivium School. (If you haven't checked out their online classes, I highly recommend them. It's a convenient way to try out something new or hone abilities you already have, the timing is flexible, and the instructors are attentive and encouraging.) But back to poetry—I suck at it! I always have! But it was so much fun to learn more, keep trying, get feedback, and stretch in a new direction. Sort of like the rack for your brain. [Editor's note- Marybeth sucks at nothing.]
*****
Kristen Allen is a harried mother, bird watcher, preschool teacher, and an occasional contributor to Sick Pilgrim. You can see how she stumbles through her days, leaning on coffee, pies, and her brilliant writing-partner and sister-friend, Mary Bishop over at the Crone Café. [(editor's note- We love crones here at Sick Pilgrim. They and their blog's success fill us with paternal glee.)]
Playoff hockey. Who would have thought that the brand new team from Las Vegas would be so good? And did you catch that series between Toronto and Boston?! [editor's note- No.] The goalie for the Leafs, Frederik Andersen was superhuman, and gave my beloved B's the fits. That Game 7 was one for the history books. GO BRUINS!!!
Daffodils, tulips, and these guys—Rupert and Nigel—returning to my garden.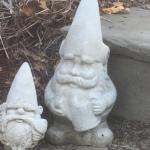 Watching preschoolers engineer their own awesomeness. This here is a plate, a dish of ice cream, and a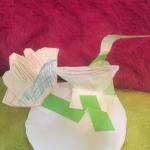 milkshake that one of my wee charges, Marie, made for me this week. She drew it all (check out the perspective in the bowl and glass!), cut it all out, and figured out how to make it 3D. That bendy straw, man, it just tickles me.
*****
Have a great May, pilgrims. Here's to never giving in to monotony.