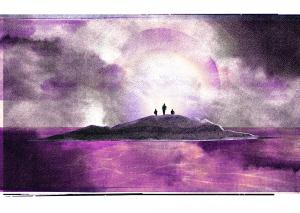 Art by the stranded and purple Brian Jocks.
I'm writing this in a tiny cottage in Dorset, in southern England. My sister and I came here this week to visit the little country church of East Coker, and thus complete a literary pilgrimage that began over twenty years ago, when she and I and a group of friends visited The Dry Salvages, a clump of unremarkable rocks off the coast of Massachusetts, from which T.S. Eliot took inspiration and a title for one of his Four Quartets, a collection of long meditation-poems tying place to spirit, exploring the nature of time.
It was a grey, windy day in March when we traipsed into that small New England town, asking around for the rocks we'd come to see. "What do you want to see the Salvages for?" one man asked. It was not easy to explain: "You know T.S. Eliot? The poet? No? Well, okay, there's this poem…"
Once we'd found our way, we stood out on the rocks and passed the book around, pretentiously declaiming the poet's words as the sea drowned out our young voices. "I do not know much about gods…" Afterwards, we went back to a twee little shop and bought some rather horrible hats. I'm pretty sure I remember thinking I knew all about gods.
A few years later, my sister had moved to England, and a friend and I, with my mother, visited her there, and traveled to the country estate of Burnt Norton. The rose garden was pallid in late winter, but at least the guide in the village building knew why we were there: for T.S. Eliot's poem. The poet's adopted country of England remembers him better than his birthplace does. How deep do our roots go, after all?
There are voices in the rose garden, but it's never entirely clear whose. Perhaps we find it more beguiling when we never know: "Human kind can not bear very much reality."
It would be another eighteen years before I returned to England to visit my sister again, and make a third stop on our journey, this time at the tiny church of St. John's in Little Gidding, where long ago King Charles I took refuge while fleeing for his life from the revolutionaries who ultimately would have his head. A small religious community tends the place, and the walls are adorned with quotations from this last of the Quartets, the one in which the dead speak with tongues of fire.
We visited the Quartets sites completely out of order, since "Burnt Norton" is actually the first in the collection, and "Little Gidding" is the last, but I think Eliot would have approved this, because the central theme of the poems is the illusory nature of time, chronos. "In my end is my beginning," he writes in East Coker, and appropriately, since the grey church by a green field was where his remote ancestors worshiped, and where he – having tracked them down – is now buried, interred, ashes now.
…So here I am, in the middle way,

Having had twenty years-

Twenty years largely wasted…
Oh, ouch.
I read this aloud, sitting inappropriately on one of the lichen-spotted coffin-shaped graves beside the church, and then afterwards read it again silently, thinking about those twenty years. About how much I knew then, how ambitious and arrogant I was, marching off to get my honors and degrees, sure that glorious triumphs lay ahead of me. How I used to be a person who would wear a white floppy hat. How professors I used to respect would later betray me. And so did some of the friends who had stood out on those grey rocks, and helped me choose my awful hat.
(And yeah, I betrayed myself, a time or two).
"Listen, Eliot," I said to his ashes, as I left. "You ought to know that some of the shitheads who supposedly love your work are now supporting a slobbering vulgarian tyrant. If time past is present in time future it seems to reside in a passionate commitment to repeat our worst mistakes." Also, Eliot's friend the great poet Ezra Pound supported Mussolini, so there goes my faith in literature as enlightenment.
After our visit to East Coker, we drove on down into the country, and walked ten miles over the green undulating ridges of Monarch's Way, to Cadbury, believed to have been the location of King Arthur's Camelot. There were a lot of sheep, newly shorn, and a mysterious white falcon that local walkers said they couldn't identify. Up on Cadbury cows grazed, and I was reminded of Tolkien's description of the Barrow Downs, where sheep graze on the unquiet hills – and of T.H. White's less unsettling account of the Castle of Forest Sauvage, where the old clean bones of the watchman lie beneath the grass. He keeps his watch no longer. You keep it now, for him.
I dug my fingers down into the dirt, probably cowshit turned to good soil, time past in time present. Thinking of Arthur and his failed dream, I rubbed the dirt across my wrists, not quite sure why, maybe thinking it might ward me against danger, or that the ash of the long-dead might mark me with their knowledge.
I suppose I should be thinking about the dead with their tongues of flame, about Christ the Tiger, the Word within the Word, but I am thinking these days about where incarnation happens, about dung and dirt, about Merlyn and Morgan le Fay, the Old Ones who knew things about the earth, that there is power in it. It outlasts us, maybe carrying something of chairos as it wheels through the chronos of our making, like the dancers on the field Eliot wrote of:
"If you do not come too close, if you do not come too close,

On a summer midnight you can hear the music

Of the weak pipe and the little drum

And see them dancing around the bonfire…

…Feet rising and falling.

Eating and drinking. Dung and death…"
War and betrayal, bone gone to ash, waste lands, white falcons carrying white feathers: the dead have seen it all, seen it circle again and again.
We keep their watch for them, looking out – for what?
For the rose in the garden.
For the dancers in the field
For the god in the river.
For the tongues of flame.
For whatever it was we set out looking for.
For the gift half-guessed, incarnation.
Fill in the blank.
*****
Rebecca Bratten Weiss is a writer and eco-grower residing in eastern Ohio, but often pretends to be in other places. She has co-authored two novels, as well as poems and essays in a variety of publications, and edits the arts journal Convivium, as well as teaching online for the Convivium School.