In these descriptive essays, guest contributor, Susan L. Miller, captures the incarnational dimension that lies at the heart of both Catholicism and art. It is sometimes difficult for us to see fashion as art. In a sense, fashion is too physical, too concrete. It clothes bodies after all. What's more, there is an aspect to fashion that is extremely particular. Clothing does not cover some kind of universal and abstract idea of "body." It covers this *particular* body – the body of a pope, or a celebrity, or a woman. It can shock us to consider fashion an art form, but there is a parallel here to the shocking nature of the Incarnation. Christ was a particular person, and we are assured that he is to be found in the particularity of each person. Grace works mysteriously, and it is part of the work of grace to help us to find God in the particular, whether that's in a pair of red shoes worn by a pope, or a dress worn by Kim Kardashian, or in a person we see every day.
The Heavenly Bodies show at the Metropolitan is unlike any prior Costume Institute exhibition, evoking the variety and exuberance of the Catholic perspective in fashion and costume design, especially through the contributions of Catholic women artists.
The work of secular designers is upstairs, arrayed among the Medieval Wing's impressive statuary. Downstairs, there is an entire collection is on loan from the Vatican, which stipulated that it be shown separately so that there would be no ornate presentation or additional staging around it. This means that the upstairs portion of the exhibition, the work of 20th century designers, is free to gild the lily all it wants. The lily is indeed gilded, but there are serious intentions beneath all this beauty.
Entering either side of the Medieval wing, through the Byzantine hall or the Late Roman and Early Byzantine hall, you are confronted by mannequins that tower over the room, placed high so that their jeweled dresses won't invite eager fingers.
The temptation to touch these pieces is real. Already, some patrons have picked away the letters that label each piece, frustrated at not being able to finger the gowns themselves. Each dress in the Byzantine wing is a metallic Versace from the 1997-98 autumn/winter show. In the Roman wing, dresses from the 2013-14 Dolce and Gabbana show mimic Sicilian icons in the Monreale Cathedral.
The Versace gowns of the Byzantine wing are shiny, gold, and studded with crosses. (If you have looked at Met Gala photographs, you may have seen Kim Kardashian West in a version of one of these gowns. Donatella Versace designed West's gown as an homage to her brother Gianni, who was assassinated in 1997.) Their gold metal mesh, applique amber crystals, and gold silk charmeuse are glitzy and lavish, though minimalist in execution (for Versace.) Knowing that these dresses were among Versace's last creations lends them gravitas. Although covered with crosses, they exude a sense of glamour and fun, making the woman inside the dress seem more goddess than worshipper. In between the two halls, a small gallery exposes several jewel-encrusted "evening tops" from Gianni Versace's icon-inspired collection, from autumn/winter 1991-2. While the dresses are impressive and sexy, the evening tops are cartoonish. For example, one features a halter top in which a Bishop's crozier curls across the wearer's collarbone.
In the Roman wing, the Dolce and Gabbana dresses handle iconography more adeptly. Each dress is covered with hand-sewn pailettes, seed beads, mother-of-pearl encrusted stones, and metallic embroidery. These dresses fall to the knee, and on each chest the designers assembled mosaic-like designs of the saints drawn from churches in Sicily. The designers have embroidered every inch of fabric with decorative patterns that mimic the frames of icons, but the central focus is always on the iconography itself. Any woman wearing these gowns would ultimately be worn by the gowns. They are too riveting to enhance the beauty of the wearer, unlike the gold mesh Versace dresses. As art objects go, however, these are truly reverent–you can imagine the devotion to craft that goes into such hand-work. Like the 30-pound Jeremy Scott dress Cardi B. wore to the Gala, these dresses demand serious commitment on the part of the wearer. They constitute a bodily penance in and of themselves.
In addition to the Versace and D&G pieces, there is also a choir-loft full of Balenciaga gowns, designed for an actual Spanish choir. (It's a shame they're so high above the room. The gift shop employee told me it took her a week to see them, and she works at the museum daily. Many patrons must overlook them entirely.) These angelic gowns are paralleled by two rows of garments below. One row is inspired by the soutane, a clerical garment of black cloth, usually buttoned with 33 buttons to indicate the 33 years of Christ's life. This detail shows how important symbolism is in clerical garb, although some of the soutane-inspired garments eschew this convention in order to play with proportion.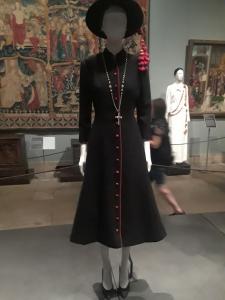 A dress by Sorelle Fontana takes the long soutane and updates it with a chic midi-length hem, red silk satin buttons, and red piping. This must have been revolutionary in 1956-7, when the gown was shown in the "Cardinale" line. (One wonders if the Fontana sisters were pushing for more female inclusion in the church.) Another soutane-inspired garment, "Surprise De L'Icine" by Gaultier, takes the traditional silhouette and attaches an icon to its bodice. The icon can be opened or closed to reveal its image, turning the wearer from modest priest to window of faith.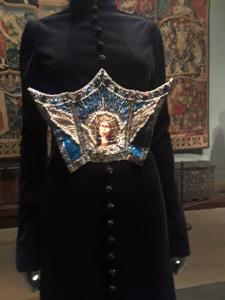 Again, Gaultier uses the shape of the female body beautifully; the curved frame of the icon fits just beneath the curve of the breasts. An elderly Catholic couple next to me refused to be offended by the garment's suggestion of the female form. "It's beautiful," said the gentleman.
The variety of garments inspired by nuns' habits is even broader.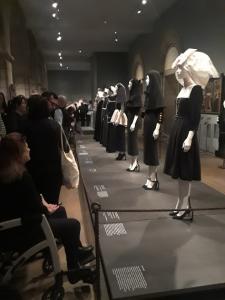 A 2014 Moschino creation by Rosella Jardini (a conservative black and white dress with a decidedly NOT conservative white hat) was inspired by the Sisters of Charity wimple. The seriousness of the sober, knee-length dress is leavened by the floppy wings of the hat and its enormous, soft white bow at the crown of the head. Other designers took the habit in different directions. Simple, sleek designs by Dolce and Gabbana and Cimone resemble Italian widow's weeds as much as wimples, while Thom Browne designed a white-cross-embossed floor-length dress with intricate spirals quilting the bodice, all in black stitching. A Ricardo Tisci dress bears a bodice of glass stones across white shirting, and a black jersey veil that becomes a floor-length skirt if thrown off of the head. The sexiness of this ensemble can be turned up or off, depending on the wearer's choice, but it shows that a moment of subversive fun can fundamentally change the way we see nuns and their bodies. If a habit is meant to conceal, these habits still exhibit a ton of personality.
Two of the most breathtaking dresses in the exhibit were never intended to be worn, at least not by a human. Tisci designed one for the statue of Our Lady of Graces in Pagianello, Italy. The other is an Yves St. Laurent garment for the statue of the Virgin del Rocio in the Chapelle of Notre-Dame de Compassion in Paris.
Tisci's is a white gown, embroidered with gold thread and covered with a sky-blue cape embroidered in the same patterns. The work in these garments is painstaking, delicate, and surprising. If you look closely, you will see that the blue cape is not only beaded and embroidered with roses, but its satin is also patterned with rows of tiny stars, nodding to Mary's role as Queen of Heaven. St. Laurent's garment is even more impressive, in part because of a weighty, marine-inspired crown designed in collaboration with Goossens. The crown frames the face with three giant topaz-colored teardrop stones, embedded crystal stars, two baroque pearls where earrings should be, and a crest made of a giant fan coral rising out of golden seashells. (Mary's role as Star of the Sea seems relevant to this imagining of her crown.) All of this is framed by a corona of spiky glass icicles. The gown beneath has long sleeves and intricate quilting, a sash of the same material, and a cape made of gold lace–textural and regal, it is truly a gown made for a Queen. The holy purpose of these garments differs in its ritual intention, but their aesthetics are matched by other gowns on display, especially those by Dior and Valentino.
There are so many exquisite moments of fashion here. A Dior by Galliano design based on the Pope's mitre and cope puts Rihanna's Met Gala outfit to shame.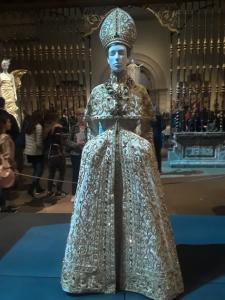 The Galliano is hand-embroidered with dazzling motifs, including a cross on the back, and lettering at the hem which, the curators point out, reads "Dieu est mon Maitre" (God is my Master.)
There is a beautifully draped collection of Rodarte dresses inspired by Bernini's Ecstasy of St. Theresa, as if an array of St. Theresas came to rest together for a moment.
The most beautiful of them is a pink chiffon dress with a gold metal breastplate exploding with golden rays at the abdomen. The Mulleavy sisters, who direct Rodarte, bring an important female history to light here, making a woman's revelations central to their narrative of Catholic experience.
A relatively simple dress by Jeanne Lanvin honoring Fra Angelico was one of my favorites; blue silk crepe georgette fabric is studded with gold and silver paillettes. Perhaps it is its association with Brother Angel that makes this dress so emotional for me.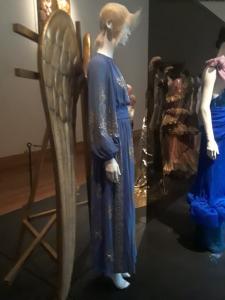 I spent many hours in the Fra Angelico exhibit in this same section of the museum in 2005-2006, and angels in those paintings directly inspired this dress. Like the exhibit in the Cloisters, this one gains by the juxtaposition of its gems within the existing collection: a Thierry Mugler Virgin Mary dress rising above the entrance to the Lehman collection, an Alexander McQueen/Shaun Leane rose-and-thorns headdress and rose-studded torso carapace next to a reliquary arm of St. Valentine from the 14th century.
I haven't yet addressed my very favorite piece, an Ex Voto dress by Jean-Paul Gaultier, assembled with real tin Ex Voto pieces crocheted into a tunic, with a witty juxtaposition of their symbols over the real body. The right breast is covered by a sacred heart, the left by a tin plate with two breasts, the abdomen with a tiny baby, the vulva with a heart, mimicking its shape and suggesting that sexuality should be about love.
All around that heart, ex votos of men and children form a family. Over the wearer's heart is a lenticular-printed image of Christ, a technology that is often used in kitschy representations of the saints, but which often enables deep devotion nonetheless. In this playful and frankly beautiful ensemble, Gaultier takes the body-made-symbol and returns the symbols to the body, showing us just how vital and physical Catholic practice can be.
Susan L. Miller is the author of Communion of Saints: Poems, and has poems in the anthologies Collective Brightness: LGBTIQ Poets on Faith, Religion, and Spirituality and St. Peter's B-List: Contemporary Poems Inspired by the Saints. She teaches creative writing at Rutgers University and lives in Brooklyn, NY, with her family.
Photographs are her own.