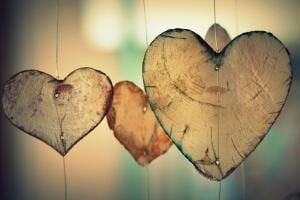 I first memorized the scriptures in 1 Corinthians 13 when I was a freshman in high school in 1981. That was the year that Lady Diana Spencer married Prince Charles in a spectacle that basically the entire world was obsessed with for weeks. Fitting for a fairy tale royal wedding, this passage on love was read at the ceremony. It was a reading at my own wedding nine years later. It has been a reading at pretty much every wedding I have ever been to.
St. Paul didn't write this passage for weddings, though. He wrote it for the Church at Corinth. They sound a bit like the Church today.  There were divisions in the church over which minister to follow. There were bitter arguments about morality, about speaking in tongues, about the rules for marriage, and about the rules for receiving the communion. There was even in-fighting over whether or not you could eat meat that had been offered to idols.
Basically, the well-meaning Christians of the Church in Corinth were concerned about being RIGHT (and making sure that the Other Guy knew how very wrong he was).  Paul went point by point with the arguments, because, well, because he is Paul and loves a good argument. Before he got too far, though, he came to this point [Scripture from the United States Conference of Catholic Bishops; Paul's inner monologue—in italics—is a dramatization by the author]:
Brothers and sisters:
 Who is our brother? Who is our sister?  Men, women, homosexuals, addicts, Asians, Republicans, fishermen, tax collectors, prostitutes, ditch diggers, Democratic Senators from the northeast, single mothers, teachers, preachers, evangelists, children, homeless men, pro-life advocates, thieves, charismatics, doctors, brown skinned people, you argumentative fools, all of us, yes?
Strive eagerly for the greatest spiritual gifts.
Remember these? Wisdom, understanding, counsel, fortitude, knowledge, piety, and fear of the Lord leading us to joy, peace, patience, kindness, goodness, faithfulness, gentleness, and self-control. THIS is what we should be fighting for–Not who gets to preach, whether or not speaking in tongues is a thing, and for crying out loud, idols aren't real. Meat sacrificed to idols is just meat. Eat it, don't eat it. I don't care.  
 
But I shall show you a still more excellent way.
Forgive me, Lord, I let your Church down.  Gosh, you people have lost your way. You are caught up in the rules, not in Christ.
If I speak in human and angelic tongues,
but do not have love, I am a resounding gong or a clashing cymbal.
God is love. If we don't have love, we don't have God. We are just making a lot of noise for nothing.
And if I have the gift of prophecy,
and comprehend all mysteries and all knowledge;
if I have all faith so as to move mountains,
but do not have love, I am nothing.
We're smart. We all believe. Does it matter?  Do we have love?
If I give away everything I own,
and if I hand my body over so that I may boast,
but do not have love, I gain nothing.
We are generous. We donate to charities. We are pro-life. But do we have love? None of our good works matter without it.
Church, do you know who God is?! Have you forgotten why you even converted?
Love is patient, love is kind.
God is patient, God is kind.
It is not jealous, it is not pompous,
God is not jealous or pompous. You people, though, jeez! Lord have mercy.

It (God) is not inflated, it (God) is not rude,it (God) does not seek its own interests,
it (God) is not quick-tempered, it (God) does not brood over injury,
it (God) does not rejoice over wrongdoing but rejoices with the truth.
It (God) bears all things, believes all things,
hopes all things, endures all things.
Love never fails.
GOD NEVER FAILS.
If there are prophecies, they will be brought to nothing;
if tongues, they will cease;
You charismatics, without love, you just sound wacky.
if knowledge, it will be brought to nothing.
You intellectuals and theologians, without love, you are just obnoxious.
For we know partially and we prophesy partially,
but when the perfect comes, the partial will pass away.
We think we know so much, but we don't. The more I learn of Christ, the more I know how little I really understand.
When I was a child, I used to talk as a child,
think as a child, reason as a child;
when I became a man, I put aside childish things.
Stop acting like a bunch of quarrelsome kids, Church! Grow up!
At present we see indistinctly, as in a mirror,
but then face to face.
At present I know partially;
then I shall know fully, as I am fully known.                                                                                                                                                                                                                        So faith, hope, love remain, these three; but the greatest of these is love.
Stop arguing about all this stupid stuff like you know anything.  You don't.
One day, we will be face to face with our Creator. THEN we will know the Lord the way the Lord knows us.
Until then, faith, hope and love. LOVE each other. All of you.
* * * * * *
Beloved Church, we've been arguing for a long time now. It's not working. It's time we tried the more excellent way. Faith. Hope. Love. Mostly love.
Kristen Allen is a proud mother of three grown children, a teacher of tinies and undergrads at a university lab school, and a fierce advocate for women, children, and families. She is an occasional contributor to Sick Pilgrim, and has written for Ethel Zine. You can see how she wrestles with her faith, leaning on coffee (and gin), and her brilliant writing-partner and sister-friend, Mary Bishop over at their blog Made for Ordinary Time.
Image courtesy of Pixabay