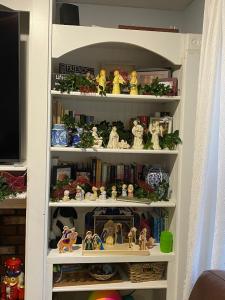 Thanksgiving was bittersweet.
Traditionally, it is the holiday we celebrate with my Personal Chef's clan in midcoast Maine. The oldest sister and her husband fly in from out west. The oldest niece comes up from Virginia. We drive up from Massachusetts. Three, and now and again four, generations of the family spend the holiday together. It's something I look forward to each year. Only, the folks out west couldn't find flights, the sister who hosts was under the weather, and my in-laws (both in their 90s) were a bit anxious to leave the house.
We made a quick change in plans.
Our children, their significant others, and my bachelor brother settled on a time to gather that worked around their other commitments. My husband pulled together a feast. (Have I mentioned that he is a chef? I have, right?) Discovering he would be alone that day, we invited my husband's best friend (also a chef, so, yay!). It was a much smaller gathering than usual. Still, the food was fantastic. The conversation was lively. My grandsons were beyond delightful. Our kids fed the old cocker spaniel too many table scraps. We called my husband's parents in Maine. We called my parents in Florida. We pretended not to notice the crack in my mama's voice when she said she loved us.
Gearing up for Christmas.
Everyone has their own take on holiday décor. My father was something of a minimalist, who despised colored lights on a tree. My dear friend Mike feels that you should be able to see something festive everywhere you look. His decorating style has been dubbed "Santa Barf" by our mutual friends. I have a cousin who starts decorating for Christmas sometime around Labor Day. I wait until the day after Thanksgiving to begin. As a younger woman, my style, too, could be regarded as Santa Barf. Over the years, though, I have downsized significantly. (Though my children may argue with that.)
Keeping to tradition.
The day after Thanksgiving, I woke up a little blue. I poured my first cup of coffee, and finished cleaning up from the feasting. Eventually, my youngest woke up, emerged from his downstairs lair, and greeted me with, "Good morning, Mom. Do you want me to grab the Santa Barf from the attic?" I laughed, and my mood brightened.
At that moment, I decided to double-down on the goofy traditions we've established over the years. For starters, I searched the internet for a streaming version of "Godzilla vs Mothra." Decades ago, when the kids were little, there was a day after Thanksgiving that was too cold and rainy to play outside. Instead, we watched this movie from the 60s, regaling our kids with stories about "Creature Double Feature"—a Saturday morning television show that played old B monster movies. Since then, we've watched this particular film over the holiday weekend, usually while hauling out the Christmas decorations.
When the movie ended, it was time for the Christmas music. I cannot remember when this started, but the first Christmas album of the season, played while starting to decorate HAS to be Jimmy Buffett's "Christmas Island." After that, anything goes. (This year, it was a rock and roll holiday playlist.)
The first thing to do was to put my Christmas dishes in the cupboard, and pull out the snowman mugs. I got my first set of Christmas dishes back in 1986 for a party in my first apartment. I now have place settings for 16. We use them everyday until New Years.
Then there is the Christmas card basket. Every year, I pack up the Christmas cards with the rest of the decorations. On this Friday after Thanksgiving, I sit on my couch and reread every Christmas card, grin at every family photo, and laugh at every Christmas letter (my brother-in-law's is LEGENDARY). The teacher in me is then compelled to set aside the cards with cute pictures on them for my students to use in their art projects. I recycle the rest. This year, reading the cards sent to me during the Christmas we were socially distanced from almost everyone we love made me tear up a bit.
Now that I have a VERY busy toddler grandson, the placement of decorations has had to change up a bit. My nutcracker collection has moved to the top shelves of a bookcase. My nativity set collections are also out of reach—well, except for the children's set I got just for him. It's on his toy shelf. We assume there will be action figures and monkeys from the barrel-o-monkeys joining the Wise Men in the scene soon.
At some point that day, my husband put together the tree. (We got a fake tree a few years ago when my parents moved to Florida. Before the pandemic, we would travel to see them for Christmas, so it was safer than leaving a tree nobody was home to water.)
It was a pretty satisfying day. The traditions have only just begun, though.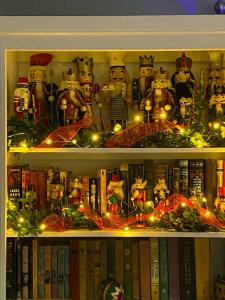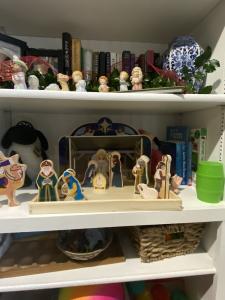 Trimming the tree
On Saturday, I decorated the tree. There is no theme for me. I hang the oddball collection of ornaments that we've gathered over the years. There are the tiny, antique glass ornaments from my husband's parents. There are the surviving ornaments from our first Christmases together, more than thirty years ago. There are the teacher gift ornaments, the annual ornaments from my mother to our kids, and the homemade ornaments our children made when they were younger. Now we have a new collection going—photo ornaments my daughter makes for us each year . I finally retired the angel tree topper that had lost her halo, had a broken wing, and whose lights stopped working years ago. I replaced it with a big, sparkly beaded star. The tree skirt is a stunning, hand made quilt in reds, whites, and greens that my sister-in-law made us when we were newlyweds.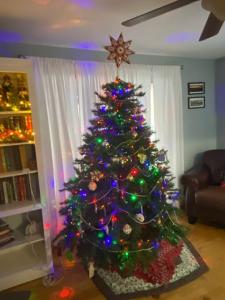 Greening the place.
On Sunday, I trekked out to the garden to cut the holly, boxwood, and juniper for our advent wreath. I also filled vases, an old maple sap bucket, and my mantle with holly.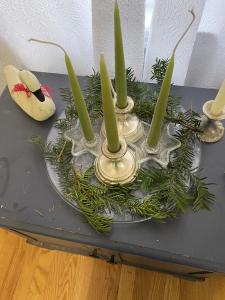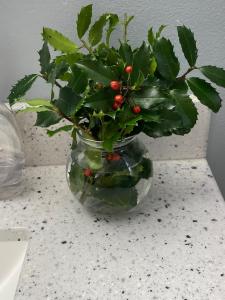 Boxwood Tree Day.
The first Sunday of December is "Boxwood Tree Day." That is the day that my father's sisters gather to make Christmas tree centerpieces out of cut boxwood boughs. Their aunts (my grandmother and her sisters) started the tradition back when there were still rotary phones. Most of us are not naturally crafty, so we grumble about it every single year. Still, we put on our ugly sweaters, make an appetizer or bake a treat, collect our craft supplies and go. The aunt who hosts blasts the John Denver and the Muppets Christmas album, hands us a drink, and we get to the business of catching up and half-assed decorating.
Seriously, it's one of my favorite days of the year.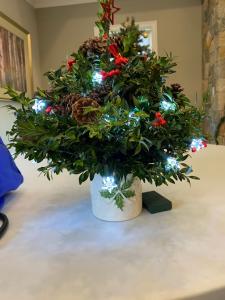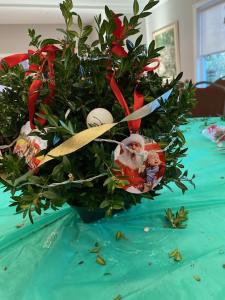 Between now and Christmas Eve, I will continue to follow traditions. On Sundays we will light the advent candles. We will watch our way through the collection of Christmas movies we have. My cousin's young sons will join me for "Ninjabread Day" where we make gingerbread cookies and share some sort of holiday hoopla (last year we drove around with travel mugs of hot cocoa looking at Christmas lights). I will continue my new favorite tradition–joining a friend for their church's Christmas Eve service. Two years ago, I joined a streaming midnight mass with a friend in upstate New York. Last year, I attended a Lutheran service in Iowa via Facebook live.
What holiday traditions are keeping you going?