Welcome readers! Please subscribe through the buttons at the right if you enjoy this post.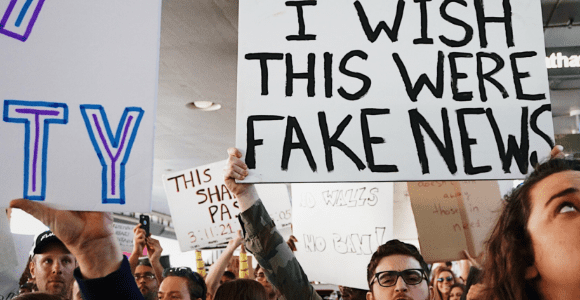 In Matthew's gospel, we read of Jesus saying, "Leave them; they are blind guides. If the blind lead the blind, both will fall into a pit." (Matthew 15:14, cf. Luke 6:39)
The earliest record of a saying like the one we're considering today is more than 200 years older than the time of Jesus: "Abiding in the midst of ignorance, thinking themselves wise and learned, fools go aimlessly hither and thither, like blind led by the blind." (Katha Upanishad; The Upanishads written between 800 BCE-200 BCE.) [1]
Two other early references to this metaphor appear in North India and Rome during the first century BCE. In North India, the Buddhist Pali Canon recorded an oral tradition story in 29 BCE:
Suppose there were a row of blind men, each holding on to the one in front of him: the first one doesn't see, the middle one doesn't see, the last one doesn't see. In the same way, the statement of the Brahmans turns out to be a row of blind men, as it were: the first one doesn't see, the middle one doesn't see, the last one doesn't see. (Canki Sutta) [2]
In Rome, a similar phrase is found in the writings of Quintus Horatius Flaccus (Horace), a leading Roman lyric poet during the time of Augustus, who lived from 65 BCE to 8 BCE:
"Caecus caeco dux" ["the blind leader of the blind"]. Epistles 1.17.3-4
The early Jesus community that treasured the sayings of Jesus included this metaphor as one Jesus used. 
As I've written before, I want to recognize and name how the gospel stories of resistance have also been used, sometimes even unintentionally, as tools of oppression against people with disabilities.  Sayings like this one cause people with disabilities, especially those that are blind, feel less than. Rather than using various disabilities as metaphors for social evils (as the gospels do), we can do better.  We can just name specific social evils instead.
Jesus wasn't talking about physical vision. He was talking about perception, ignorance, and an unwillingness to learn, and the danger this becomes when one is in a position of influence. I've experienced this personally. In my small town of Lewisburg and statewide here in West Virginia, I've witnessed ignorant leaders influencing the masses that follow them, inciting them to be afraid of those they are unwilling to genuinely "see" for who they are.
A few years ago now, our local city council began the process of updating the city's nondiscrimination ordinance. Lewisburg's nondiscrimination ordinance already included discrimination based on race, gender, sex, and religion. The city felt the need to also include gender identification and sexual orientation, to broaden the current nondiscrimination ordinance to include members of the LGBTQ community. This effort came when a coal miner with over a decade of employment was hazed, vehicle vandalized, and fired after getting married when the Supreme Court legalized same-sex marriage last summer. In West Virginia, a person can be evicted from their housing or fired from their job because of their orientation.
During the campaign to change this ordinance, one of the council members, who is not the mayor or our small town, asked my wife and me, "Every person is somebody's child. How would you like your child to be treated?" Regardless of what differences may exist among people, everyone should have a fair chance to qualify for work, to provide for themselves, and have a safe roof over their head at night. My family believes that, and not just for our own children.
Not long after that conversation, a local minister of the largest Baptist church in Lewisburg began to incite his congregation to fear. Choosing not to perceive members of the LGBTQ community for who they are, he began a campaign of dehumanization and mischaracterization. Out-of-town lobbyists we invited, rallies were held, signs were placed all over town. The message, like Seth Brundle's in the 1986 horror film The Fly was, "Be afraid. Be very, very afraid." 
Some of the most moral, ethically upstanding people I know belong to our local LGBTQ community, so the minister's campaign was nothing short of slander. 
Yet, many of the folks here in small town West Virginia don't have the exposure or education to be able to know people unlike them for themselves. This was a classic example of deeply misinformed people leading deeply misinformed people.
Despite that campaign of misinformation our city council ended up unanimously voting to update our city's nondiscrimination policy. I'm also happy to say that it has been over two years now in our sleepy little town and the world has not come to an end.
After this decision though, many of the people who were working locally to incite fear and misinformation moved their effort to the state level to try to undo the local vote. Lobbyists got legislators to introduce a new bill that was a West Virginia version of the "religious freedom" bills that have been popping up all over the U.S. Over and over again, those responsible for this bill denied their bill was connected to the discrimination ordinance but was simply designed to "restore" religious freedom they claimed had been lost (yet they could not show where or how).
This new bill passed in the state House but was voted down in the Senate. What made the difference? The Senate amended the bill to state that its provisions could not be used to undermine nondiscrimination ordinances in the name of religious liberty. Legislators then dropped the bill, proving that it had nothing to do with religious liberty, but was rather designed to give people a legal loop hole for continuing discrimination against others in the name of their  "sincerely held religious belief."
Yes, each person should be free in matters between themselves and their God, with at least one exception. When one's sincerely held religious beliefs endanger another human being, one is never free to practice those beliefs. Once, child sacrifice was a sincerely held religious belief. For some people, racism is still a sincerely held religious belief. Subjugation of women is a sincerely held religious belief, and homophobia and heterosexism are also sincerely held religious beliefs.
Religion has done good. And religion has done great harm. We must encourage the good while we limit the harm. The freedom to practice what one believes is a value that must be held subject to the greater value of "do no harm to one's neighbor." Anyone our religious beliefs would endanger has the right to be protected from our sincerely held religious beliefs. While we possess freedom of religion, they also possess the right to live in freedom from our religion.
So what does this have to do with the blind leading the blind?
I took a day to go and visit my state capitol and speak directly with my local representatives in both the House and the Senate about our religious freedom bill. What I was overwhelmed with as I left that day, beside disillusionment of the system, was how "blind" two of my three local representatives had been to understanding what was really behind this bill. Only one of the three understood. The truth did eventually come out, but in the meantime, the depth of ignorance and lack of exposure of my local and state leaders left me speechless.
In both secular civil governance and religious faith and worship the misinformed are too often lead by the misinformed. There are plenty of examples of this in Jesus story:
The faithful, radical Zealots who felt the only way to liberate Palestine from Roman domination was through violence.
The Jerusalem-centered aristocracy who, in order to preserve their own place in society, copted the Temple to add religious legitimacy to Rome's imperialism.
The wealthy elite who failed to share their surplus with the poor and instead used their capital to exploit the poor and make greater wealth.
The group of Pharisees and Sanhedrin members who subscribed to the teachings of the school of Shammai, and who not only drew strict lines between Jew and Gentile but also drew lines between themselves and other Jewish people they perceived as not orthodox enough.
Today, where the gospels use the metaphor of "blindness," we can speak instead of someone's inability or unwillingness to listen to the stories of those whose experience is different than your own is what these metaphors are describing. Could it be that the cure for being socio-politically misinformed (or Fake News) is choosing to listen to the stories of those unlike ourselves? Not listening to what other say about them, but actually listening to them? 
I believe that those who desire to follow the teachings of the 1st century Jewish Jesus of Nazareth must learn to listen to each other. Especially, we must learn to listen to those who, as in Jesus's time, are presently being marginalized and subjugated by social structures of privilege.
We must learn to stop debating about people who are being oppressed or marginalized by the status quo, and begin listening to them instead.
---
[1] Juan Mascaró.
The Upanishads
(Penguin Classics, 1965) p. 58 [2] 
Canki Sutta (Majjhima Nikaya 95)
, translated by Thanissaro Bhikkhu