Welcome readers! Please subscribe through the buttons at the right if you enjoy this post.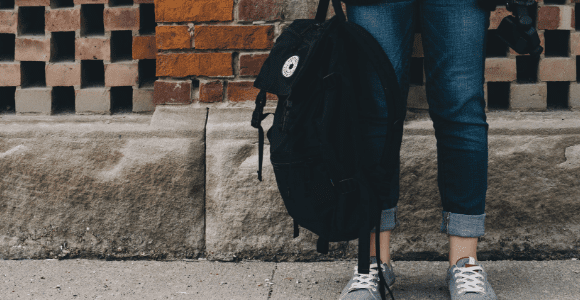 We can learn much about our interdependence from this instruction given in Matthew's gospel: "As you go, proclaim this message: 'The kingdom of heaven has come near.' Heal the sick, raise the dead, cleanse those who have leprosy, drive out demons. Freely you have received; freely give. Do not get any gold or silver or copper to take with you in your belts—no bag for the journey or extra shirt or sandals or a staff, for the worker, is worth his food. Whatever town or village you enter, search there for some worthy person and stay at their house until you leave." (Matthew 10:7-10, cf. Luke 10:4-9)
This is a part of what scholars refer to as Jesus' Mission Instructions. These instructions show Jesus including others in the community he was seeking to create. (See Sheep Among Wolves and the Power of Community) Again, Jesus didn't perceive himself as a one-man-show. He was concerned with growing a community shaped by the values and social teachings he was promoting. In these mission instructions, we get a taste of Jesus' and the Jesus communities' actual practice in Galilee as he traveled from Jewish village to Jewish village. We assume that Jesus "practiced what he preached": if there had been a gap between how Jesus lived and what he taught, it's unlikely that the early Jewish Jesus community would have been so captivated by what he taught, or preserved it.
Let's begin with Matthew's mission instructions first.
Matthew's Instructions
Initially, those who formed the Jesus community would have gone out into areas they did not know to get familiar with certain villages. Over time, some houses in these areas became known as the homes of Jesus followers or homes welcoming of Jesus followers. Those going out were going out cold, as it were, totally dependent on the hospitality of those that took them in.
This is not the safest way to meet new people. In our modern Western, capitalistic culture, which places a high priority on individualism and independence, this method is counterintuitive. Yet the form follows function. I'm convinced that this method put into practice the mutualism, mutual aid, and interdependence that Jesus taught. We cannot use independent, self-reliant, individualistic methods to build a world where we demonstrate that mutualism, resource sharing, mutual dependence is how life on this planet truly flourishes. The world we are working toward and the path by which we travel to arrive at that world must be of the same substance.
It was in the soil of non-alienation and mutually beneficial relationships that the mustard seed of Jesus' subversively named "empire of God" was to sprout and grow. And so those sent out to various villages practiced total dependence on others. Domination of one another begins with denying our dependence on one another. And the way of domination ends when we embrace and begin to lean into our mutual interdependence. Life is a shared experience. Rather than a zero-sum game where there are winners and losers, life is found in mutuality. We share resources, exercise our own ability to think and act, empower others to think and act, and are empowered by others to think and act as well.
The Matthean Jesus community grew out of the early Jewish Jesus community and so reflected their mission practices with, as we will see, a few updates.
Over time, these mission instructions about this method must have been abused, because, in chapter 11 of the Didache, it states:
"But concerning the apostles and prophets, act according to the decree of the Gospel. Let every apostle who comes to you be received as the Lord. But he shall not remain more than one day; or two days, if there's a need. But if he remains three days, he is a false prophet. And when the apostle goes away, let him take nothing but bread until he lodges. If he asks for money, he is a false prophet."
It's not possible to harmonize Matthew's instructions on taking no money bag or purse (no gold or silver) and where to lodge with the Didache's decrees that staying in a home more than two days and asking for money for the trip marked an apostle as a "false prophet." The most we can say is that the original saying implies mutuality, the exchange of care for the sick in exchange for food and provisions. Between Matthew's instructions and the Jesus-communities who cherished the Didache, there must have been an imbalance in this exchange that the Didache strove to bring back to the center.
Matthew reflects this in the statement that those sent out were to give without payment as they had received without payment: don't put a price tag on the blessings and don't monetize the teachings of Jesus. And Matthew also preserves the early Jesus community's emphasis on the apostles and the people's interdependence and mutual generosity. Matthew does update the instructions with the Greek word trophe or food whereas Luke's gospel is believed to keep more of the original idea with the word misthos or wages in his phrase, "the worker deserves his wages."
These instructions delicately balanced the people's hospitality and generosity with the "price" set or demanded for the ministry of those who were sent. Jesus was not to be transformed into a product to be sold (as he is with TV evangelists today within our culture). Givers would not be deprived of the voluntary embrace of the value of interdependence. And those genuinely laboring in this Jesus revolution were also worthy of being taken care of and provided for. They would not be neglected or made to go without. Having taken the first step towards giving freely, they weren't to be left holding the bag; their work was to be valued and supported. Their support was to be wholly dependent on the choices of others, and they were simultaneously to be considered worthy of others' hospitality and generosity. This was not charity, but mutuality. There is a difference.
Stephen Patterson captures the idea in his book The Lost Way: How Two Forgotten Gospels Are Rewriting the Story of Christian Origins:
"What does it actually mean for the empire of God to come? It begins with a knock at the door. On the stoop stand two itinerant beggars, with no purse, no knapsack, no shoes, no staff. They are so ill-equipped that they must cast their fate before the feet of a would-be host . . . These Q folk are sort of like ancient Cynics, but their goal is not the Cynic goal of self-sufficiency; these itinerants are set only for dependency. To survive they must reach out to other human beings. They offer them peace—this is how the empire arrives. And if their peace is accepted, they eat and drink—this is how the empire of God is consummated, in table fellowship." (pp. 74-75)
Luke's Instructions
Luke's gospel includes two separate sets of mission instructions, not just one. One comes from Mark, the gospel directed at Gentile Jesus followers:
"When Jesus had called the Twelve together, he gave them power and authority to drive out all demons and to cure diseases, and he sent them out to proclaim the kingdom of God and to heal the sick. He told them: 'Take nothing for the journey—no staff, no bag, no bread, no money, no extra shirt. Whatever house you enter, stay there until you leave that town. If people do not welcome you, leave their town and shake the dust off your feet as a testimony against them.' So they set out and went from village to village, proclaiming the good news and healing people everywhere." (Luke 9:1-6)
The other instruction set is like Matthew's:
"After this the Lord appointed seventy-two others and sent them two by two ahead of him to every town and place where he was about to go. He told them, 'The harvest is plentiful, but the workers are few. Ask the Lord of the harvest, therefore, to send out workers into his harvest field. Go! I am sending you out like lambs among wolves. Do not take a purse or bag or sandals; and do not greet anyone on the road. When you enter a house, first say, "Peace to this house." If someone who promotes peace is there, your peace will rest on them; if not, it will return to you. Stay there, eating and drinking whatever they give you, for the worker deserves his wages. Do not move around from house to house. When you enter a town and are welcomed, eat what is offered to you. Heal the sick who are there and tell them, "The kingdom of God has come near to you." But when you enter a town and are not welcomed, go into its streets and say, "Even the dust of your town we wipe from our feet as a warning to you. Yet be sure of this: The kingdom of God has come near." I tell you, it will be more bearable on that day for Sodom than for that town. Woe to you, Chorazin! Woe to you, Bethsaida! For if the miracles that were performed in you had been performed in Tyre and Sidon, they would have repented long ago, sitting in sackcloth and ashes. But it will be more bearable for Tyre and Sidon at the judgment than for you. And you, Capernaum, will you be lifted to the heavens? No, you will go down to Hades. Whoever listens to you listens to me; whoever rejects you rejects me; but whoever rejects me rejects him who sent me." (Luke 10:1-16)
Many scholars believe that Luke did not revise these initial instructions from the early Jewish Jesus community as Matthew does, but leaves them in their original form. James M. Robinson's book The Gospel of Jesus explains why:
"These constant clarifications in the mission instructions in Matthew are largely absent from the parallel text in Luke, for Q's mission instructions are actually no longer being followed in Luke's gentile church as it moves about in the big wide world beyond Galilee. Because Luke's gentile Christian church had long since gone over to the practice exemplified by Paul in the book of Acts, it would have been less involved in updating the archaic mission instructions of the Jewish Christians found in the Sayings Gospel Q. As a result, Luke remained closer to the original language of Q's mission instructions—thank goodness!"
By the time Luke's gospel was written the Gentile Christian Church was practicing Paul's mission methods, not the early Jewish Jesus community's method (see 1 Corinthians 9:1-6, 12). Paul took a more independent, self-reliant approach of working for a living rather than depending only on the interdependent hospitality and generosity of those who would take him in.
It is also curious that Luke is the only gospel to reverse the earlier mission instructions. Later in Luke's gospel, we find:
"Then Jesus asked them, 'When I sent you without purse, bag or sandals, did you lack anything?' 'Nothing,' they answered. He said to them, 'But now if you have a purse, take it, and also a bag; and if you don't have a sword, sell your cloak and buy one.'" (Luke 22:35-36)
Luke's gospel seems to use this reversal to create harmony between the instructions of the earlier community and Paul's later independence. This passage has since become one that many people use to try to justify violence against one's enemies.
Since Luke is showing that the earlier instructions to be obsolete, he has no need to update them as Matthew does. Luke 10 is believed to be more closely represent the original: he simply describes the movement's early practices before the changes Paul brought.
Interdependence
But I believe the original instructions should not be abandoned. The interdependence of the original Jewish Jesus community versus the independence of later methods is relevant to our struggle today. The harms of capitalist, patriarchal, individualist, dominating ways of structuring society are becoming more obvious to many people. And one of the most destructive fruits that our western individualism has perpetuated in human relationships is the suppression of our natural interdependence.
I want to return to Stephen Patterson's words one more time as we end this week. What the early Jewish Jesus community sought to preserve in the sayings of the Jewish Jesus was a way of forming societies or community rooted in mutualism and interdependence. Patterson notices just how remarkable this approach was given the culture Jesus taught in.
"In the ancient world, those who lived on the margins of peasant life were never far from death's door. In the struggle to survive, food was their friend and sickness their enemy. Each day subsistence peasants earn enough to eat for a day. Each day they awaken with the question: Will I earn enough to eat today? This is quickly followed by a second: Will I get sick today? If I get sick, I won't eat, and if I don't eat, I'll get sicker. With each passing day the spiral of starvation and sickness becomes deeper and deeper and finally, deadly. Crossan has argued that this little snippet of ancient tradition is critical to understanding why the followers of Jesus and their empire of God were compelling to the marginalized peasants who were drawn to it. "Eat what is set before you and care for the sick." Here is the beginning of a program of shared resources of the most basic sort: food and care. It's an exchange. If some have food, all will eat; if any get sick, someone who eats will be there to care for them. The empire of God was a way to survive—which is to say, salvation." The Lost Way: How Two Forgotten Gospels Are Rewriting the Story of Christian Origins (p. 75)
Today, let's lean more deeply into our shared lives. Let's find ways relevant for our world today of acknowledging and tapping our interdependence and shared power, the power of community. As we do this, let's not forget the instructions Jesus's early movement was rooted in: "Carry no purse' not knapsack, nor sandals, nor stick, and greet no one on the road."