Welcome readers! Please subscribe through the buttons on the right if you enjoy this post.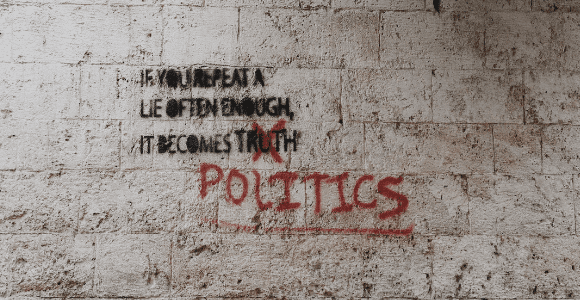 In Matthew's gospel, Jesus assures his listeners:
"So do not be afraid of them, for there is nothing concealed that will not be disclosed, or hidden that will not be made known. What I tell you in the dark, speak in the daylight; what is whispered in your ear, proclaim from the roofs." (Matthew 10:26-27, cf. Luke 12:2-3)
This passage is one that I return to often. I find great encouragement in the words of Thomas Carlyle: "For if there be a Faith, from of old, it is this, as we often repeat, that no Lie can live for ever" (The French Revolution, A History; Part 1, Book 6, Chapter 3). I truly do hope that truth and light will ultimately win, and I think Matthew's and Luke's use of this saying has much to offer us this week.
Matthew
In Matthew's gospel, this saying is in chapter 10. Jesus is seeking to inspire his followers as opposition mounts and their courage is starting to wane. At this moment, Jesus calls them not to fear but to boldly speak out "from the rooftops." This reminds me of how Dr. Martin Luther King, Jr. often spoke negatively about "keeping silent", too.
"We will have to repent in this generation not merely for the hateful words and actions of the bad people but for the appalling silence of the good people. Human progress never rolls in on wheels of inevitability; it comes through the tireless efforts of men willing to be co-workers with God, and without this hard work, time itself becomes an ally of the forces of social stagnation." (Letter from a Birmingham Jail [1963])
"And some of us who have already begun to break the silence of the night have found that the calling to speak is often a vocation of agony, but we must speak. We must speak with all the humility that is appropriate to our limited vision, but we must speak." (Beyond Vietnam: A Time to Break Silence [1967])
"There comes a time when silence becomes betrayal." (Why I Am Opposed to the War in Vietnam [1967])
"Now, of course, one of the difficulties in speaking out today grows the fact that there are those who are seeking to equate dissent with disloyalty. It's a dark day in our nation when high-level authorities will seek to use every method to silence dissent. But something is happening, and people are not going to be silenced. The truth must be told . . ." (Ibid.)
"Deep down in our non-violent creed is the conviction there are some things so dear, some things so precious, some things so eternally true, that they're worth dying for. And if a man happens to be 36 years old, as I happen to be, some great truth stands before the door of his life — some great opportunity to stand up for that which is right. A man might be afraid his home will get bombed, or he's afraid that he will lose his job, or he's afraid that he will get shot, or beat down by state troopers, and he may go on and live until he's 80. He's just as dead at 36 as he would be at 80. The cessation of breathing in his life is merely the belated announcement of an earlier death of the spirit. He died . . . A man dies when he refuses to stand up for that which is right. A man dies when he refuses to stand up for justice. A man dies when he refuses to take a stand for that which is true. So we're going to stand up amid horses. We're going to stand up right here in Alabama, amid the billy-clubs. We're going to stand up right here in Alabama amid police dogs, if they have them. We're going to stand up amid tear gas! We're going to stand up amid anything they can muster up, letting the world know that we are determined to be free!" (Sermon in Selma, Alabama; March 8, 1965; the day after "Bloody Sunday," on which civil rights protesters were attacked and beaten by police on the Edmund Pettus Bridge.)
In the 1st Century, Jesus emerged among the Jewish economically impoverished and politically oppressed. He came in the wake of Hillel's golden rule and applied it to the poor. He came announcing the "rule of God" which Jesus repeatedly defined as people taking care of people. He called the rich to redistribute their wealth and inspired the poor to share or pool what meager resources they had among themselves for their survival. People were to prioritize each other over and above power, property, profits, possessions, prosperity, and privilege.
This message always produces enemies. Recently I shared with a congregation what I considered to be a very mild presentation on our responsibility to the poor. However, I was speaking to a very wealthy congregation, and repeatedly I received the question of whether or not I found the topic of helping the poor to be very popular. My response was that popularity is irrelevant. Popular or not, helping the poor is what our Jesus taught. If our gospel is not good news to the poor, then we must question whether our Jesus is the same as the one in the gospel stories.
We must get this right. Jesus' preferential option for the economically oppressed of his day is our springboard as we apply his teachings to our lives today and to all who are oppressed, marginalized, subjugated, and disinherited. Today, whether it's age, ability, education, gender, sex, orientation, race, gender identity, and expression, or whatever that becomes a basis for oppression, marginalization, exclusion, or discrimination, Jesus' followers are called to solidarity. We're called to walk alongside whoever is being subjugated and do the work of survival, resistance, liberation, restoration, and transformation with them.
Yes, breaking our silence in these areas is at times very unpopular. The social pressure may be immensely strong to just avert one's gaze, shut one's mouth, and go along to get along, but as Dr. King said the day after Bloody Sunday, the moment we begin to be silent about the oppression that any part of the human family faces, that is the moment something inside of us begins to die. For me, solidarity is not purely altruistic. It is not what reclaims the humanity of those on the undersides of our society; it also reclaims my own humanity. We are part of each other. And that is the reality I desire to lean into.
I do get feedback from time to time—some may call it hate-mail; I think that's a little too strong—questioning why I speak out with the groups I choose to stand in solidarity with. I speak out because I cannot keep silent. The personal cost is great, yes, but I would rather lose acquaintances than be the shell of a dead person, or, as we covered recently, like the "whitewashed tombs, which look beautiful on the outside but on the inside are full of the bones of the dead and everything unclean" (Matthew 23:27).
So I take Matthew's passage very seriously. Come what may, we simply cannot keep silent.
Luke
Luke's encouragement is a little different from Matthew's. What Luke does is to point Jesus' words toward the hypocrisy of the religious teachers of that day. He encourages Jesus' followers with the hope that others' hypocrisy will one day be uncovered. Luke's saying isn't a call to speak out. It's rather a call to endure and to keep holding on. One day, Luke says, the truth will come to light.
Luke's version of the saying brings to mind King's own optimism and Carlyle's statement that "No lie can live forever":
"Somehow the arc of the moral universe is long but it bends toward justice. We shall overcome because Carlyle is right: 'No lie can live forever.' We shall overcome because William Cullen Bryant is right: 'Truth crushed to earth will rise again.' We shall overcome because James Russell Lowell is right: 'Truth forever on the scaffold, wrong forever on the throne. Yet, that scaffold sways the future and behind the dim unknown standeth God within the shadow, keeping watch above his own.' With this faith, we will be able to hue out of the mountain of despair a stone of hope. With this faith, we will be able to transform the jangling discords of our nation into a beautiful symphony of brotherhood. With this faith, we will be able to speed up the day. And in the words of the prophecy,
'Every valley shall be exalted and every mountain and hill shall be made low. The rough places will be made plain and the crooked places straight, and the glory of the Lord shall be revealed and all flesh shall see it together.'
"This will be a great day. This will be a marvelous hour. And at that moment, figuratively speaking in biblical words: 'The morning stars will sing together and the sons of God will shout for joy.'" (Second sermon at Temple of Israel of Hollywood; February 26, 1965)
What I believe we must guard against in King's words as well as Luke's is the mistake of embracing inevitability in all of this. Not all truth rises. Some truths are lost forever. And when the truth does rise, it doesn't rise on its own. Truth rises when others choose to resurrect it and lies fade when we choose to pursue the truth.
Human progress does not roll on the "wheels of inevitability." It can be delayed; it can be prevented. It can be abandoned, and it can be chosen. We can choose whether to become a compassionate, just people who live healthy, mutually interdependent lives with one another and our planet, or take a path of extinction. We can choose to embrace truth, justice, and compassion, or we can choose the path of individualistic, independent survival in a zero-sum system, one where for one to win another must lose.
In Matthew's gospel, Jesus describes two paths: "Wide is the gate and broad is the road that leads to destruction . . . But small is the gate and narrow the road that leads to life . . ." (Matthew 7:13,14) The redactors of the Torah chose a similar language: "This day I call the heavens and the earth as witnesses against you that I have set before you life and death, blessings and curses. Now choose life, so that you and your children may live" (Deuteronomy 30:19).
I think of whistleblowers today.  I think of those who are taking risks to speak out because what they see happening isn't right.  Today, we too must choose between a path of life or death. Shaping this world into a just, compassionate, safe, home for us all is only an impossible task if we choose to believe it to be! This world is what we collectively choose to make it and each of us has a part to play. This is where I believe Jesus' teachings still hold relevance for us today. 
The world has changed since he taught his followers, but we still tend to dominate one another rather than care for each other. Jesus envisioned a world where people take care of people and that world is still available for us to choose. He showed the way, and the results of our choice will be seen in our collective future and the future of our children. We are in this together, along with the generations that have come before us and the generations who will come after us.
In light of our above passage, seek truth, compassion, and justice. Then make the choice not to remain silent. Name truth. What you have discovered in the dark, bring out into the light so that others may hear and speak it, too. Proclaim it from the rooftops! It is in our "speaking in the light" what we have "heard in the dark" that we make true the statement, "Nothing is covered up that will not be exposed."