Welcome readers! Please subscribe through the buttons on the right if you enjoy this post.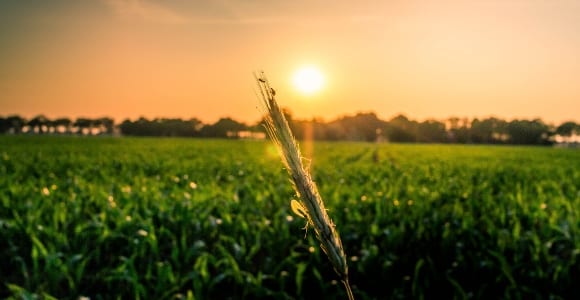 ---
"Some will say, 'This sounds like socialism!' I'm reminded of the words of historical Jesus scholar John Dominic Crossan, 'Do not, by the way, let anyone tell you that is Liberalism, Socialism, or Communism. It is, if you need an -ism, . . . Enoughism . . . Enoughism would be a more accurate description.'"
---
This passage in Luke has been on my mind this week:
"'Truly I tell you,' Jesus said to them, 'no one who has left home or wife or brothers or sisters or parents or children for the sake of the kingdom of God will fail to receive many times as much in this age, and in the age to come eternal life.'" (Luke 18:29, 30)
Many Christians today read these words and hear Jesus saying that if we give up something for Christianity, we will somehow have more materially in this life than we could possibly imagine. This has led some to embrace what others have labeled a "prosperity gospel": if someone follows Jesus and becomes a Christians they will have the best life now. I believe these interpretations are mistaken.
First, this passage is not about embracing Jesus in name. Nor is it about things, including religions, that have Jesus' name attached to them. In Luke, Jesus's gospel is about embracing "the kingdom," Jesus's vision for human society. This was a human community founded on the golden rule and love of others as connected and part of oneself. It also involved material, distributive justice, wealth redistribution, and mutual aid or resource-sharing. This society's members committed to care for one another, to make sure everyone had what they needed to thrive.
This passage is not a magic formula: sending a TV preacher money does not mean that you will be materially successful. Jesus's assurance is that if following Jesus' vision for human community causes one to lose privilege, power, security, and family affirmation, then the intrinsic return of belonging to a society rooted in love and caring cooperation rather than survivalist competition is distributive justice. No one has too much while others don't have enough, and we all gain a better human society or community.
It may be helpful to look at Mark's record of these words:
"Truly I tell you,' Jesus replied, 'no one who has left home or brothers or sisters or mother or father or children or fields for me and the gospel will fail to receive a hundred times as much in this present age: homes, brothers, sisters, mothers, children and fields—along with persecutions—and in the age to come eternal life.'" (Mark 10:29,30, emphasis added.)
Did you catch it?
"Along with persecutions!"
This isn't a promise that the road to the equitable society Jesus imagined will be smooth, but that the end quality of community we're creating is worth the struggle and difficulty to get there. Whenever we begin to critique the status quo, those who benefit from wealth, power and privilege inequalities will fight back. Those who mistakenly feel they have the most to lose will be the most threatened. At the end of the beatitudes in Matthew where Jesus calls us to envision what human society could look like, he encourages those who reach out to begin shaping these communities with the words:
"Blessed are those who are persecuted for justice's sake, for theirs is the kingdom of heaven. Blessed are you when people insult you, persecute you and falsely say all kinds of evil against you because of me. Rejoice and be glad, because great is your reward in heaven, for in the same way they persecuted the prophets who were before you." (Matthew 5:10-11)
Consider how the book of Acts describes the early Jesus community beginning to take shape:
"All the believers were together and HAD EVERYTHING IN COMMON. They sold property and possessions TO GIVE TO ANYONE WHO HAD NEED. Every day they continued to meet together in the temple courts. They BROKE BREAD IN THEIR HOMES AND ATE TOGETHER with glad and sincere hearts, praising God and enjoying the favor of all the people. And the Lord added to their number daily those who were being saved." (Acts 2:44-47)
Jesus's followers formed tightly knit communities where people took care of each other. If someone suffered great material or relational losses for following Jesus, they became part of a community that cared for them in this life.
This is hard for many today to visualize because our culture is so individualistic. First-Century followers of Jesus held all things in common. If someone suffered loss for following Jesus, within their own Jesus community they would be cared for.
It is vital that we break out of our individualism to see this.
Consider these words from Matthew:
"Do not store up for yourselves treasures on earth, where moth and rust destroy, and where thieves break in and steal. But store up for yourselves treasures in heaven, where moth and rust do not destroy, and where thieves do not break in and steal." (Matthew 6:19-20)
If we remain individualistic in our thinking and living, taking care of ourselves is a matter of survival. What if we were to actually begin to create communities where we committed to taking care of each other? Our current means of surviving would become obsolete.
Some will say, "This sounds like socialism!"
I'm reminded of the words of historical Jesus scholar John Dominic Crossan:
"Do not, by the way, let anyone tell you that is Liberalism, Socialism, or Communism. It is—if you need an -ism—Godism, Householdism or, best of all, Enoughism. We sometimes name that biblical vision of God's World-Household as Egalitarianism but, actually, Enoughism would be a more accurate description." (The Greatest Prayer: Rediscovering the Revolutionary Message of the Lord's Prayer, p. 3)
It would also be wise to remember Paul's words to the Corinthian church:
"Our desire is not that others might be relieved while you are hard pressed, but that there might be EQUALITY. At the present time, your plenty will supply what they need, so that in turn their plenty will supply what you need. THE GOAL IS EQUALITY, as it is written: "The one who gathered much did not have too much, and the one who gathered little did not have too little." (2 Corinthians 8:13-15, emphasis added.)
Helping someone pushed to the edges of society today means creating the type of world I'd prefer to live in for tomorrow. I agree with Gareth Higgins and Brian McLaren who recently wrote, "Most of us would rather not live in a kill-or-be-killed world, an enslave-or-be-enslaved world, a dominate-or-be-dominated world, an impoverish-or-be-impoverished world. If we had the chance to build a live-and-let-live world, a world of generosity and justice and neighborliness where we do to others as we'd have them do to us . . . we would gladly choose that option . . . A less violent future is available. It's within reach." (The Seventh Story: Us, Them, & the End of Violence, p. 61)
Stop for a moment and dream with me. What would a society shaped by "enoughism" look like? Would a few have more than they could ever need while a majority of others barely scratch out enough to exist? What would a world where everyone has enough to thrive be like? What would most of our collective resources or taxes be spent on? How would we choose to use our personal resources? How would power and responsibility be distributed, and how would we structure our communities?
Where we can begin today is creating communities where we abandon staunch, individualistic survival and begin viewing each other, with our differences, as connected, as part of one another. We aren't simply passing through. Another world is possible, here and now, if we choose it.
I'll end with these words from James Robinson in his classic volume The Gospel of Jesus: A Historical Search for the Original Good News:
"[Jesus'] basic issue, still basic today, is that most people have solved the human dilemma for themselves at the expense of everyone else, putting them down so as to stay afloat themselves. This vicious, antisocial way of coping with the necessities of life only escalates the dilemma for the rest of society. All of us know the result all too well, for we have experienced it ourselves in one form or another: the breakdown of mutually supportive human relations that results in the distinction between the haves and have-nots; the ruling class subjugating serfs, sharecroppers, and blue-collar workers; the battle of the sexes; dictatorships of one kind or the other; exploitation in the workplace; and on and on." (Kindle Locations 138-142)
The world we live in presently doesn't have to look the way it does.
We can do better.
We may not be able to change the entire world overnight, but we can, right now, today, and in our lives, begin with displaying the beauty of what a world shaped by Jesus' teachings could look like.
And in the end, isn't the world of "enough" the kind of world we really want?
Thanks for checking in with us.
Wherever you are, keep choosing love, compassion, action and reparative, and distributive justice.
Another world is possible if we choose it.
And don't forget, all donations to Renewed Heart Ministries for the months of November and December are being matched dollar for dollar. Through this generous offer, you can make your support go twice as far during these final two months of 2019. Also, we'd like you to consider becoming one of our monthly supporters through our Shared Table fundraiser going on right now. You can find out more about this special offer to our supporters by going to renewedheartministries.com.
I love each of you dearly.
Have a wonderful weekend.
I'll see you next week.