Welcome readers! Please subscribe through the buttons on the right if you enjoy this post.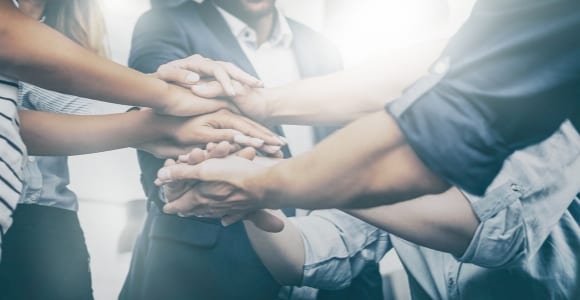 "You have said so," Jesus replied. "But I say to all of you: From now on you will see the Son of Man sitting at the right hand of the Mighty One and coming on the clouds of heaven." (Matthew 26:64, emphasis added)
This curious passage in Matthew's gospel is almost a direct quote from the apocalyptic book of Daniel. Let's unpack it a bit.
The gospel authors repeatedly use a title to refer to Jesus: the "son of man." They use it more than 81 times in the four canonical versions of the Jesus story that we have. It is the only phrase the gospel authors used anywhere near as much as they used the phrase "the Kingdom." What could this phrase have meant to the early Jesus community? I believe the meaning is tied to Daniel 7:13.
"As I watched in the night visions, I saw one like a SON OF MAN coming with the clouds of heaven. And he came to the Ancient One and was presented before him. To him was given dominion and glory and kingship, that all peoples, nations, and languages should serve him. His dominion is an everlasting dominion that shall not pass away, and his kingship is one that shall never be destroyed. (Daniel 7:13, 14, emphasis added)
In Daniel this phrase, "son of man," applies not only to an individual but also to a "community" founded around this individual:
"The kingship and dominion and the greatness of the kingdoms under the whole heaven shall be given to THE PEOPLE of the holy ones of the Most High; THEIR kingdom shall be an everlasting kingdom . . ." (Daniel 7:27, emphasis added)
"Son of" is a Semitic idiom meaning "Of or pertaining to the following genus or species." The "son of man" can therefore be translated as "the offspring of this man" and as a "beloved community" that emerges from that person. I prefer this interpretation myself: communities have more power than heroes. 
If you have a few moments, go back through the gospel stories and reread all the times they use the phrase "Son of Man" and try to understand in collective terms what Jesus is saying. In other words, look at this phrase not as the gospel authors talking about Jesus in isolation but as them describing Jesus AND the community organized around his teachings. It's not Jesus OR the community, but Jesus AND this community: the Son of Man AND the people of the holy ones of the Most High (cf. Daniel 7:27).
The gospel authors referred to the "coming" of the son of man too. Consider our opening passage:
"You have said so," Jesus replied. "But I say to all of you: FROM NOW ON you will see the Son of Man [and the community] sitting at the right hand of the Mighty One and coming on the clouds of heaven." (Matthew 26:64)
Here, Jesus is not talking about some event in the future on literal clouds. He is quoting Daniel 7 and saying, "What Daniel is referring to in verse 13 is taking place right now before your very eyes!" This son of man and the community that overcomes the predatory beasts of empire in Daniel 7—Jesus says they'll see "from now on!" 
How does this apply to us today?
The predatory animal nature of the established empire, the status quo, the establishment, however you want to refer to it, ended up crucifying Jesus. This seems to be the common story thread in history each time justice movements threaten the establishment. 
But one of the reasons I still love the Jesus story is that this story doesn't end with yet another crucifixion, but it rather ends with an overcoming of the elite's efforts to stop the Jesus revolution. The resurrection event brings hope back into the community. The teachings of their Jesus now live on in them. Jesus' alternative vision for a human community rooted in distributive justice now will live on in them.
Today, as has often been the case throughout history, the establishment still is trying to squelch change. Justice work still meets setbacks daily. I recall the radical words of Dr. Martin Luther King, Jr., in The Trumpet of Conscience:
"These are revolutionary times; all over the globe people are revolting against old systems of exploitation and oppression. The shirtless and barefoot people of the land are rising up as never before. 'The people that walked in darkness have seen a great light.' We in the West must support these revolutions. It is a sad fact that because of comfort, complacency, a morbid fear of communism, and our proneness to adjust to injustice, the Western nations that initiated so much of the revolutionary spirit of the modern world have now become the arch-antirevolutionaries." (Quoted in The Radical King by Dr. Cornel West, p. 215)
Ched Myers writes of how afraid the inhabitants of the region of Gerasenes were of the liberation changes Jesus represented and how they "began to plead with Jesus to leave their region" (Mark 5:17):
"Whether personal or political, liberation has a cost, and there will always be those unwilling to risk it. ("Say to This Mountain": Mark's Story of Discipleship, p. 60)
When liberation comes to their region, they plead for it to leave and instead choose to return to how things had been up to that point. The risks of change were great. Under Roman imperial rule, calling for change or revolution or even reformation also meant risking the real possibility of deathly retribution from Rome. Rome's heavy hand toward any hint of uprising or movement toward change showed extreme intolerance for such activity, especially along the marginal regions of its territory. I can understand why those in the region of Gerasenes were not simply reluctant, but also expressed strong opposition to Jesus being in their region. They basically kicked him out. 
Followers of this Jesus are also invited to be part of this distributively just way of organizing human society. We are invited to display what a world changed by the ethics of love, compassion, connectedness, and distributive justice could look like, in the here and now. And yet countless Christians today don't even recognize when modern calls for change echo the values of the Jesus story. (See When Change Feels Too Risky.) 
When we fail to recognize the resonance between the Jesus story and modern change movements, Christians become supporters of the status quo and real-life opposers of the societal changes the Jesus story actually calls for.
We too often spiritualize the teachings of Jesus rather than allowing them to challenge our political, economic and societal systems. We mistakenly believe Jesus' teachings were about gaining post mortem bliss in a future heavenly realm, rather than about bringing liberation from oppression in the here and now, today (see Luke 4:18-19). The early, growing Christian movement, after being met with repeated failure, chose a more spiritualized application to Jesus' teachings. They gave up hope for present change and begin focusing apocalyptically on change in the future.
Nonetheless, the gospel authors saw Jesus' teachings as speaking of a new way to organize human life together. This "community" wasn't about Jesus doing it all for them but was about their participation in Jesus' vision for human community (cf. Matthew 26:64; Daniel 7:13,14, 27). Jesus' teachings in the Sermon on the Mount, and scattered throughout each of the gospels, describe the values of this new community.
The gospel authors believed Jesus had given us a way to heal our world. Today, there is still work to do. Our world is right where we belong: this is our home. And we are called to display a world characterized by love, connectedness, compassion and distributive justice. We are called to recognize where this is already happening around us and to stand in solidarity with those already doing it, whether they or their work are "Christian" or not. We are called to humbly learn from those who have been applying these values longer than we personally have. We are called to learn from their experiences and stories. Lastly, we are called to invite those not participating in Jesus' world-healing-work to this journey alongside us.
The title "son of man" held much meaning for the gospel authors. At its source, it's not about a lone hero who does something revolutionary on our behalf. It's a call to participate, with others, in a community of healing justice.