Welcome readers! Please subscribe through the buttons on the right if you enjoy this post.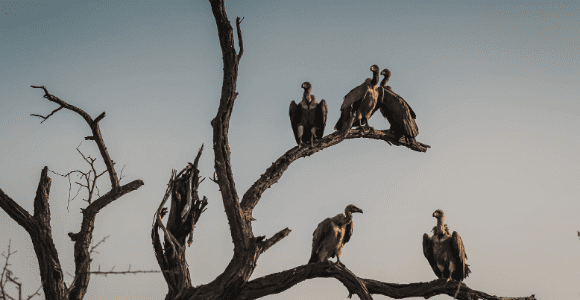 We at Renewed Heart Ministries are wishing you peace during this critical time.
To read how RHM is responding to Covid-19, click here.
There is nothing more powerful and resilient than when people come together to prioritize "the least of these." Remember to wash your hands, remain home as much as possible, and if you do need to go out, practice social distancing of at least six feet.
Stay well. And if you can, stay home.
This week we are considering the next passage we come to that is held in common by both Matthew's and Luke's gospels. It holds very curious imagery.
"Wherever there is a carcass, there the vultures will gather." (Matthew 24:28)
"'Where, Lord?' they asked. He replied, 'Where there is a dead body, there the vultures will gather.'" (Luke 17:37)
Eagles and Vultures
Scholars have pointed out that the word translated in this week's text as "vultures" can just as accurately be translated as "eagles." "Eagles" would have been a locally appropriate term and Jesus' audience would have recognized it from the banner of the oppressive empire subjugating them–Rome's bronze eagle.
Whether a vulture or an eagle, Rome's symbol, was a bird of prey—a bronze eagle.
And before we get too far into this passage, I want to make clear that I believe all oppressed communities have the right to choose for themselves what manner of resistance or means of liberation will best serve their aims. Though I believe in the power of nonviolence, it is never the violent oppressors' place to impose on the oppressed the restriction of nonviolent resistance. At the same time, again, I teach and believe in nonviolence. That means I believe oppressed communities have the right to self-determination and I believe nonviolence is a force more powerful than violence. I hold this tension as someone living in a social location often benefiting from others' oppression and as someone who realizes nonviolence can be used to oppress too. Oppressors can use nonviolence to force the oppressed to stay passive and so use it as a conduit of more violence upon the vulnerable. This is why, as a teacher of nonviolence, I also believe strongly that oppressed communities have the right to determine their responses for themselves.
Jesus was not a Roman citizen, and so when he taught nonviolence, he was not teaching from the social location of the Roman oppressor, but from the perspective of an oppressed Jew. Jesus' nonviolence sprang from the tension that exists for all who face oppression: the tension between liberation and survival. For Jesus, nonviolent resistance gave those who were oppressed and working toward liberation the best odds for surviving and experiencing liberation once they achieved it. To use violent forms of liberation was suicidal when one was subjugated by Rome.
Liberation and Survival
In Delores Williams' book, Sisters in the Wilderness, she captures this tension when she writes, "How do I shape a theology that is at once committed to black women's issues and life struggles and simultaneously address the black community's historic struggle to survive and develop a positive, productive quality of life in the face of death? … Womanist theology challenges all oppressive forces impeding black women's struggle for survival and for the development of a positive, productive quality of life conducive to women's and the family's freedom and well-being" (Kindle location 195, 235).
She states unequivocally that, like Black liberation theology, womanist theology is also concerned with liberation. Yet there is a tension between liberation and survival. "Like black male liberation theology, womanist theology assumes the necessity of responsible freedom for all human beings. But womanist theology especially concerns itself with the faith, survival and freedom-struggle of African-American women" (Ibid., 239).
What good is liberation if to accomplish it, you cease to exist? This is a vital question for all communities that face various types of oppression. Some answer by pointing to future generations that will benefit from our sacrifice today. Other womanist theologians answer by retelling the Hebrew story of the slave woman Hagar. Hagar wrested herself free from the oppression of God's chosen people, Abraham and Sarah, and she was liberated. Yet, as a runaway slave, she almost died in the wilderness. She had no resources for survival.
What does the God of the story tell Hagar?
"Then the angel of the LORD told her, 'Go back to your mistress and submit to her.'" (Genesis 16:9)
Williams rightly critiques liberation theologies that do not hold a people's survival in tension with their liberation. These theologies portray God as only liberator. In contrast, Williams writes, "God's response to Hagar's story in the Hebrew testament is not liberation. Rather, God participates in Hagar's and her child's survival on two occasions."
It was not until the second liberation scene of the Genesis narratives that we see God helping Hagar to "make a way out of no way," and so accomplishing both her survival and her liberation (see Genesis 21:9-21). "Thus it seemed to me that God's response to Hagar's (and her child's) situation was survival and involvement in their development of an appropriate quality of life, that is, appropriate to their situation and their heritage."
Jesus, Liberation, and Survival
I believe Jesus' teachings about nonviolent resistance were informed by the fact that for his followers to use violent resistance against Rome was to court certain failure, and not just failure, but also suicide. Over and over, Rome leveled to the ground any movement that even hinted at taking up arms against it. Some scholars believe that it was the combination of Jesus being linked to armed transgressors and his Temple protest that resulted in his crucifixion at the hands of Rome (see Luke 22:36-37).
Using violence against Rome was, according to the Jesus of the story, to place a higher priority on pursuing liberation without any regard for the survival and quality of life of those who were engaging that work. He saw using violence against his Jewish community's oppressors as an all-or-nothing, consequences-be-damned approach. Jesus's social vision for the human community was to be rooted in the nonviolent transformation of society. Yes, his way might end on a cross, a cross that his followers would also have to bear if they were threatened. But in his Romans/Jewish context, to use violence as the means of liberation under Rome meant committing to the certainty of being placed on a cross, the certainty of violent death as the definite and inevitable outcome.
Both nonviolence and violence have a failure rate. And most often, when violent liberation efforts fail, their failure is exponentially more catastrophic than when nonviolent liberation efforts fail. Communities that face oppression must weigh the success and failure rates of both kinds of efforts and choose for themselves which they believe has the best odds. Those who teach nonviolence, like me, often believe that nonviolence is more powerful and produces a better outcome if it should also fail. Nonetheless, it is up to oppressed people to determine whether they believe that to be the case or not.
History is strewn with the stories of violent and nonviolent liberation movements. I believe that people power is always more powerful than tyranny and oppression by a few. It is also true that the people do not always have access to the same kinds of power that those at the top of the status quo do. Military power is just one example. The Jesus of the gospels, in his own societal context, believed in and taught nonviolent resistance as the best possible means of channeling people's power. I believe there is much that we can learn from the Jesus story as we engage in the work of survival, resistance, liberation, reparation, and transformation.
Again, it is up to the communities that face oppression to determine what methods they will use to liberate themselves. It must not be determined for them by their oppressors. Jesus stood within his own oppressed community and taught that nonviolence was the better way.
Ultimately, history tells us, though evidence shows there were those in first-century Judaism who practiced some form of nonviolence, Jesus' Jewish society did not ultimately embrace nonviolence as the path toward liberation. The Jewish Roman War ended in devastation for Jerusalem, and the Barchokba Revolt, which followed a generation later, was even worse: a Roman genocide of the Jewish people.
To recap: Oppressed communities possess the right to self-determination. And nonviolence can be a path toward both liberation and survival.
"Violence is not an absolute evil to be avoided at all costs. It is not even the main problem, but only the presenting symptom of an unjust society. And peace is not the highest good; it is rather the outcome of a just social order . . . The issue, however, is not just which works better [violence or nonviolence], but also which fails better. While a nonviolent strategy also does not always "work" in terms of preset goals-though in another sense it always "works"—at least the casualties and destruction are far less severe." (Walter Wink. Jesus and Nonviolence: A Third Way; Facets; Kindle Locations 316-495)
These words were a warning to all who choose, specifically under Roman oppression, to use violence as a means of changing the world:
"Wherever the corpse, there the vultures [eagles] will gather."