Welcome readers! Please subscribe through the buttons on the right if you enjoy this post.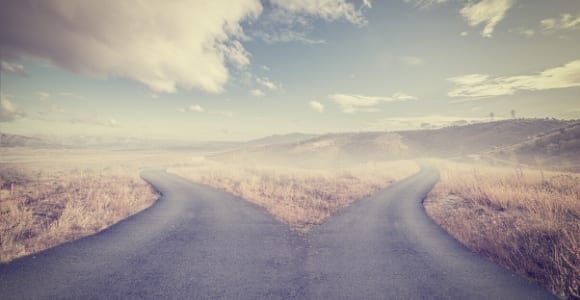 In Matthew's gospel we read:
"Then Jesus went about all the cities and villages, teaching in their synagogues, and proclaiming the good news of the kingdom, and curing every disease and every sickness." (Matthew 9:35)
This is a picture of Jesus as an itinerant teacher: he travels from place to place proclaiming the good news of "the kingdom."
The rhetoric of "kingdom" was meaningful to the original gospel authors and their audience. For us, this language is deeply problematic and we need to find a different language to express the ideas behind it.
The empire of God contrasted with the empire of Rome. Distilled to its core, the "kingdom" was Jesus' vision for a just human society here and now. Not everyone in Jesus' audience was disadvantaged by the Roman system. Many benefitted from how power and privilege operated in Jesus' society, and they didn't perceive the gospel or good news of Jesus' new social vision as "good news."
In the gospel stories, Jesus meets deep resistance and anger from the very beginning (see Luke 4:28-29; Luke 13:14). The elites met him with suspicion and accused his teachings of being dangerous. This sector of his society raised "complaints," and warnings about the change Jesus was calling for. While some saw that what Jesus was sharing was truly good, others felt he was "deceiving" everyone (John 7:12). Consequently, Jesus faced censure and rebuke from the establishment. He endured being labeled as a heretic and outsider, whose views, if adopted, would end the entire nation. This group's initial response to Jesus' teaching and popularity was fear.
"The law and the prophets were in effect until John came; since then the good news of the kingdom of God has been being proclaimed, and everyone is attacking it. (Luke 16:16, personal translation, emphasis added.)
In Matthew's version, Jesus assured these leaders:
"Do not think that I have come to nullify or demolish the law or the prophets; I have come not to nullify or demolish the law but to fulfill it. For truly I tell you, until heaven and earth pass away, not one letter, not one stroke of a letter, will pass from the law until the whole is brought into existence. Therefore, whoever breaks one of the least of the commandments I am about to teach here, and teaches others to do the same, will be called least in the kingdom; but whoever does them and teaches them will be called great in the kingdom. For I tell you unless your righteousness exceeds that of the scribes and Pharisees, you're not even going to be able to enter the kingdom. (Matthew 5:17-20)
Mark's Jesus may have opposed certain popular interpretations of the Torah, but, as in Matthew, he was not nullifying the law and the prophets. Rather he was interpreting in ways that were felt to be a return to them.
"I will send my messenger, who will prepare the way before me . . .  I will come to put you on trial. I will be quick to testify against . . . those who defraud laborers of their wages, who oppress the widows and the fatherless, and deprive the foreigners among you of justice . . ." (Malachi 3:1-5, cf. Mark 1:2)
Note the crimes in these verses: exploiting workers, oppressing the vulnerable in a patriarchal system, and ill-treating migrants.
The passage in Malachi continues:
"You are robbing me. Bring the whole tithe into the storehouse, that there may be food in my house." (Malachi 3:9-10)
Many believe that the tithe referred to here is the poor tithe, a tithe more like a tax that was collected by the Temple priest for redistribution to the poor, fatherless, widows, and "foreigners." These are the groups, in context, that are being spoken of in verses 1-5. The instructions for this tithe or tax to be collected and the redistributed to these social groups are found in Deuteronomy:
"At the end of three years you shall bring forth all the tithe of your produce in that year, and shall lay it up inside your gates. And the Levite, because he has no part nor inheritance with you, and the stranger, and the orphan, and the widow, who are inside your gates, shall come, and shall eat and be satisfied; that the Lord your God may bless you in all the work of your hand which you do." (Deuteronomy 14:28)
"When you have finished tithing all the tithes of your produce in the third year, the year of the tithe, you shall give them to the Levite, the stranger, the orphan, and the widow, so that they can eat to satiety in your cities." (Deuteronomy 26:12)
Not only were the people's profits to be taxed and the proceeds redistributed to the poor, widows, fatherless, and foreigners—what some folks today call a success tax— the counsel in Deuteronomy 14 also continues into chapter 15 where every seven years all debts were to be canceled.
These social policies of the Torah unilaterally restructured accumulated wealth and were designed to prevent the people of the Exodus from ever returning to a system of slavery. They were designed to dismantle inequality, redistribute the wealth, and guarantee enough for everyone. Attempts to hold a surplus and control the forces of production and accumulation of resources would be regularly interrupted. These are the Jewish roots of Jesus' teachings on debt forgiveness and redistributing wealth.
Yet no matter how deeply Jesus' social vision was rooted in his own Jewishness, the social changes embodied in his teachings threatened too much for the elite of his day.
Jesus met the anger of the elite class with determination. He saw people to be won from fear of change to love and compassion for the excluded and exploited.
In John, the elites' fear is palpable:
"You do not understand that it is better for you to have one man die for the people than to have the whole nation destroyed." (John 11:50)
The good news that Jesus proclaimed despite their fear announced his social vision.
In the stories, though those disadvantaged within that system responded positively, misrepresentation and fear followed Jesus' followers after Jesus had gone. They, too, were met with accusations by those who felt threatened:
"They are all defying Caesar's decrees, saying that there is another king, one called Jesus." (Acts 17:7, emphasis supplied)
The disciples had experienced something in Jesus' political, economic, social, and theological teachings. They were proclaiming not the Pax Romana (the Peace of Rome), but the Peace of Jesus and his vision of a just future (Acts 10:36). They were not praising Caesar as Lord but rather proclaiming a different "Lord" (see Acts 10:31, 36). These believers were not chiming in with all the rest and proclaiming Caesar as "Son of God." Instead, they named Jesus as "Son of God" (Acts 9:20). And they did not proclaim Rome or Caesar as the "savior of the world," but instead claimed that Jesus and his vision was the "savior of the world." (1 John 4:14)
What does this mean for us today?
Are you seeing calls for societal change threatening the status quo today? Are you seeing concern and fear from the establishment toward movements for distributive justice or for a larger swath of people?
Well, I'll tell you a little secret. Change is about just that: change. But the economic changes found in Jesus' teachings were supposed to lead to life, not to a world where some have more than they could ever use and many go without. We can choose to leave things the way they are. We can also choose to shape our world into a safer, compassionate, just home for everyone.
I'm watching things unfolding around us today and hoping these words from Luke's gospel will not also be spoken about us:
"If you, even you, had only known on this day what would bring you peace—but now it is hidden from your eyes." (Luke 19:41-42, emphasis added)
If we don't make changes soon, Mother Nature will make changes for us. But when we leave this level of change to nature, it doesn't come softly, and it's hardest on people who are vulnerable and exploited.
It would be much better, for everyone, if we chose change today.
We have choices to make.
Another world is possible.