Welcome readers! Please subscribe through the buttons on the right.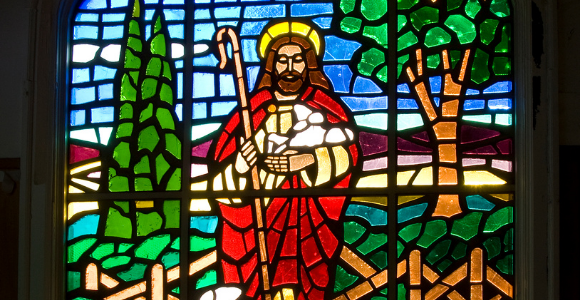 Our reading this week is from the gospel of John:
"I am the good shepherd. The good shepherd lays down his life for the sheep. The hired hand is not the shepherd and does not own the sheep. So when he sees the wolf coming, he abandons the sheep and runs away. Then the wolf attacks the flock and scatters it. The man runs away because he is a hired hand and cares nothing for the sheep. I am the good shepherd; I know my sheep and my sheep know me—just as the Father knows me and I know the Father—and I lay down my life for the sheep. I have other sheep that are not of this sheep pen. I must bring them also. They too will listen to my voice, and there shall be one flock and one shepherd. The reason my Father loves me is that I lay down my life—only to take it up again. No one takes it from me, but I lay it down of my own accord. I have authority to lay it down and authority to take it up again. This command I received from my Father." (John 10:11-18)
Our passage's focuses on the image of Jesus as a shepherd. This was a popular image of Jesus before Western Christianity became fixated on crucifixes. Rebecca Ann Parker and Rita Kashima Brock write in the prologue of their groundbreaking book Saving Paradise: How Christianity Traded Love of This World for Crucifixion and Empire about how they saw early Christians use this imagery over and over:
"It took Jesus a thousand years to die. Images of his corpse did not appear in churches until the tenth century. Why not? This question set us off on a five-year pilgrimage that led to this book. Initially, we didn't believe it could be true. Surely the art historians were wrong. The crucified Christ was too important to Western Christianity. How could it be that images of Jesus's suffering and death were absent from early churches? We had to see for ourselves and consider what this might mean. In July 2002, we traveled to the Mediterranean in search of the dead body of Jesus. We began in Rome, descending from the blaze of the summer sun into the catacombs where underground tunnels and tombs are carved into soft tufa rock. The earliest surviving Christian art is painted onto the plaster-lined walls of tombs or carved onto marble sarcophagi as memorials to the interred. In the cool, dimly lit caverns, we saw a variety of biblical images. Many of them suggested rescue from danger. For example, Abraham and Isaac stood side by side in prayer with a ram bound next to them. Jonah, the recalcitrant prophet who was swallowed and coughed up by a sea monster, reclined peacefully beneath the shade of a vine. Daniel stood alive and well between two pacified lions. Other images suggested baptism and healing, such as the Samaritan woman drawing water from a well, John the Baptist dousing Jesus, depicted as a child, and Jesus raising Lazarus from the dead. Jesus also appeared as a shepherd carrying a lamb on his shoulders like Orpheus. We could not find a dead Jesus, not even one. It was just as the angel had said to the women looking for Jesus at his tomb, "Why do you look for the living among the dead?" (Luke 24:5). "He is not here" (Mark 16:6). He most certainly was not." (Italics added.)
Even today when you do a simple image search for Jesus, you'll get ten or more images of a Jesus on a cross for every single image of a shepherd. Early Jesus followers had a very different focus: not the cross of Jesus but a living Jesus whose resurrection overcame and reversed everything his death accomplished. (See The Good News of Forceful Nonviolent Resurrection)
In this week's passage from John, the focus isn't the death of Jesus but Jesus taking life back up after his death. Even the purpose of Jesus' laying down of life was that he might take it up again. The focus is not death, but taking hold of life—resurrection.
In this week's passage from John, the focus isn't the death of Jesus but Jesus taking life back up after his death. We'll consider this further, next.