Welcome readers! Please subscribe through the buttons on the right.
(Read this series from the beginning at Part 1 and Part 2.)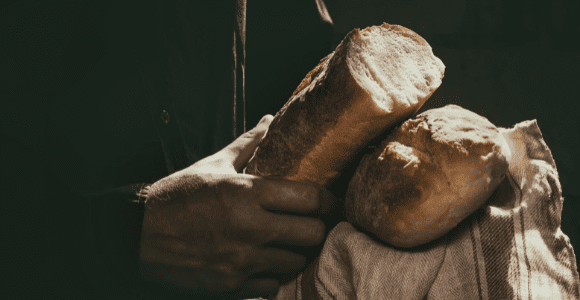 It is much larger than this, too. As a Jesus follower, I have encountered these teachings in my own journey with Jesus. Others exposed to Jesus through harmful expressions of Christianity have encountered these values from other sources. I can say that they, too, are partaking in the bread of life, even if they aren't associated with "Jesus."
What is bread that is only temporary and what is bread that leads to life everlasting? What are sustainable, renewable, long-term ways of supporting life? Could these practices from Jesus be a way for us to interpret Jesus' words in John's gospel?
Lastly, we once again bump into the myth of redemptive self-sacrifice in this week's passage:
"This bread is my flesh, which I will give for the life of the world."
It's good to deny greed for power and resources from the powerful and privileged. I see those kinds of denials as a way for the powerful to reclaim their humanity or "self" rather than sacrifice it. Likewise, I do not interpret Jesus as prescribing self-sacrifice for those who are marginalized, victimized, or disenfranchised. In a system where so many people's full humanity or "self' is already being sacrificed, I do not believe the message for them is one of greater, voluntary sacrifice of themselves, but rather, as we find in Matthew's Sermon on the Mount, Jesus brings a call for them to reclaim their full humanity in their struggle for justice. (See Imagery of a Good Shepherd and A Primer on Self Affirming, Nonviolence (Parts 1-10))
Joanne Carlson Brown and Rebecca Parker correctly warn of the damage that unhealthy interpretations of John's gospel can produce:
"Christianity has been a primary—in many women's lives the primary—force in shaping our acceptance of abuse. The central image of Christ on the cross as the savior of the world communicates the message that suffering is redemptive. If the best person who ever lived gave his life for others, then, to be of value we should likewise sacrifice ourselves. Any sense that we have a right to care for our own needs is in conflict with being a faithful follower of Jesus. Our suffering for others will save the world." (God So Loved the World?, p. 1)
If you would like understand this analysis more deeply, I recommend reading their critique in its entirety.
So what does the bread of life look like for us today?
Rightly understanding our history including our society's racism is the bread of life.
A living wage is the bread of life.
Open, free, and fair elections where voting rights and voting access is protected is the bread of life.
Affordable and accessible health care for all is the bread of life.
Getting vaccinated when we can be is the bread of life.
Common sense preliminary background check on all gun purchases is the bread of life.
Funding those trained in mental health to respond to crisis situations in our communities, ending police militarization, and investing in non-policing forms of public safety and community support is the bread of life.
Clean, renewable energy is the bread of life, especially for those monetarily profiting from the fossil fuel industry now. What does it profit you if you gain all the money in the world but have no planet to live on?
What is the bread of life that results in concrete, life everlasting for humanity rather than temporary gain? What does that mean to you?